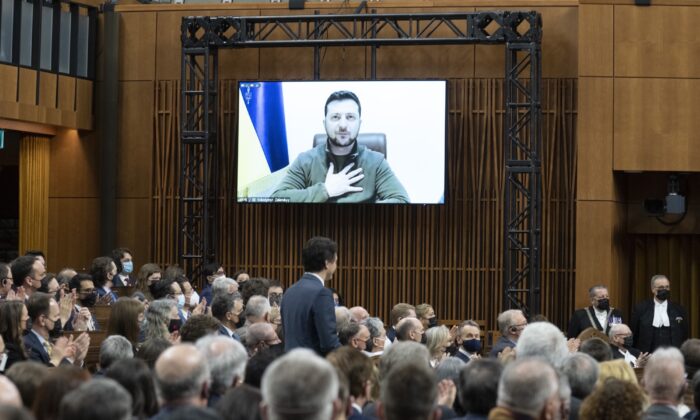 Ukraine President Volodymyr Zelensky thanked Canada for its support but said the country must do more to help Ukraine as he delivered a virtual address to the House of Commons today.
Zelensky sought to strike an emotional chord as he addressed Prime Minister Justin Trudeau and Canadian politicians in a joint session of Parliament, asking his audience to imagine what it is like to live under war and the sound of Russian bombs and missiles.
"Justin, can you imagine hearing—you, your children—hearing all these severe explosions? Bombing of airports, bombing of Ottawa airport, tens of other cities of your wonderful country—can you imagine that?" said Zelensky.
The Ukrainian president repeated his ongoing plea for the imposition of a no-fly zone, asking "how many more cruise missiles have to fall on our cities until you make this happen?"
This option has not been on the table for NATO allies, since it would likely draw the alliance into war.
While thanking Canada for its "steadfast" support, providing military censors and humanitarian assistance while imposing severe sanctions on Russia, Zelensky said "unfortunately this just did not bring the end to the war."
"Basically, what am I trying to say [is] that you all need to do more to stop Russia, to protect Ukraine, and by doing that to protect Europe from Russian threat."
Zelensky also pleaded with the Ukrainian diaspora in Canada, asking for its "practical support."
"This is a historical moment and we need your practical support. We hope that with your practical steps you will show that you are part of the modern Ukrainian history."
The president's address was followed by a roaring three-minute standing ovation, with shouts of "Slava Ukraini!" (Glory to Ukraine).
Before Zelensky spoke, Trudeau gave a speech and announced additional sanctions on 15 Russian officials. He also commented on the contribution Ukrainians have made to Canada, saying the 1.4 million Ukrainian-Canadians make up the second-largest Ukrainian diaspora in the world.
"Your courage and the courage of your people inspires us all," Trudeau told Zelensky.
"You're defending the right of Ukrainians to choose their own future, and in doing so, you're defending the values that form the pillars of all free democratic countries: freedom; human rights; justice; truth; international order."
Conservative interim leader Candice Bergen also spoke and said that supporting Ukraine is "not a choice," but a "moral duty," and allies must do more to "secure Ukraine's airspace."
"We need to protect at a minimum the airspace over the humanitarian corridors so that Ukrainians can seek safe passage away from the war zones and to allow humanitarian relief to reach those areas under siege," she said.
Zelensky is set to virtually address the U.S. Congress on March 16.
No NATO
Zelensky was on another call on March 15 with the UK-led Joint Expeditionary Force, which comprises Denmark, Finland, Estonia, Iceland, Latvia, Lithuania, the Netherlands, Sweden, and Norway.
He said his country must accept that it will not be granted NATO membership, which was a critical Russian concern used to justify its invasion of Ukraine.
"Ukraine is not a member of NATO. We understand that. We have heard for years that the doors were open, but we also heard that we could not join. It's a truth and it must be recognized," Zelensky said.
On March 7, Russia presented its conditions for a pull-back and it included Ukraine enshrining neutrality in its constitution, which would include not joining blocks like the European Union or NATO, and recognizing Russian sovereignty over annexed Crimea and the independence of the breakaway republics of Donetsk and Luhansk. Negotiations have been ongoing between Moscow and Kyiv.
Original link : Zelensky Asks Canada to Do More for Ukraine in Address to Parliament