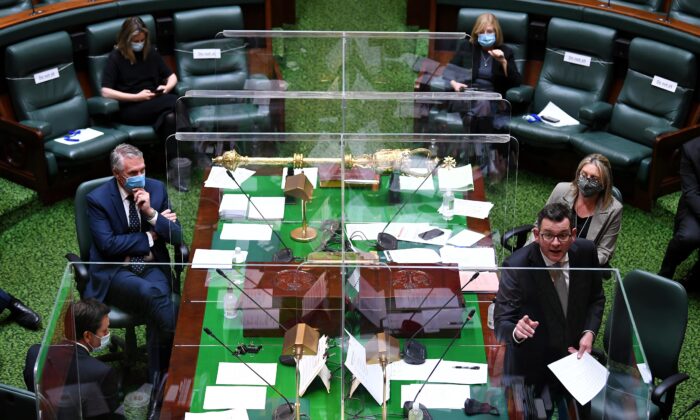 COVID-19 vaccines will soon become mandatory for all staff and members of Parliament in Victoria after a motion passed the lower house with overwhelming support and just one dissenting vote.
Victoria's state government is hoping to impose the vaccine mandate under its emergency powers, which will force all staff and politicians to receive one dose of the vaccine by Oct. 15—or have an appointment for a vaccination booked before Oct. 22—while their second dose must be booked before Nov. 26.
MPs not vaccinated will be suspended from entering the grounds of Parliament until the second sitting day of the 2022 parliamentary year. In the meantime, they will need to work remotely.
Three MPs are likely to be affected and shut out of Parliament until next year.
motion received support from both major parties, Labor and Liberal, as well as the Nationals, Greens, and Independent MP Suzanna Sheed.
Liberal Party's Louse Staley and Tim Read of the Greens raised concerns with freedom of speech and the right to consent to healthcare but still fell behind the motion.
Only MP Neil Angus, the Liberal for Forest Hill, opposed the motion and voted against it. He has also chosen not to receive the vaccine.
Leader of the Opposition Matthey Guy said he could not force the 60-year-old to get a medical procedure.
"I have certainly had a personal conversation with him no doubt about that. But I'm not about berating people. When it comes to vaccinations, my point of view is clear, educate people," Guy told reporters on Oct. 14.
"He has the right in the Liberal Party rules to disagree with this party if you follow certain processes. He's done all of that. Don't agree with this point of view, clearly, but Parliament will make that determination, and you'll have to live with that parliamentary consequence," he said.
motion will now go to the upper house, where it will meet with opposition from two Liberal Democrat MPs David Limbrick and Tim Quilty. Both have vowed not to hand over their vaccine passports if the motion passes and have called the move "profoundly undemocratic."
"We're not doing this for our own personal reasons because we're both fully vaccinated, but we believe that the human rights of Victorians to voluntarily choose medical procedures is a fundamental right that we need to defend," Limbrick told reporters.
issue of vaccine mandates has sparked ongoing protest and unrest in the capital Melbourne. In late September, demonstrations escalated over several days in the city after construction workers began protesting against vaccine mandates in the building sector.
Police and authorities have been criticised for their heavy-handed response, which has seen questionable tactics deployed against protestors or those deemed to be breaching public health orders.
As a result, two members of the Victoria Police have resigned publicly in recent days, concerned with the breach of human rights of Victorians under government-mandated health orders.
Pezou : Vaccine Mandate For Victorian Politicians Passes Lower House of Australian State Parliament