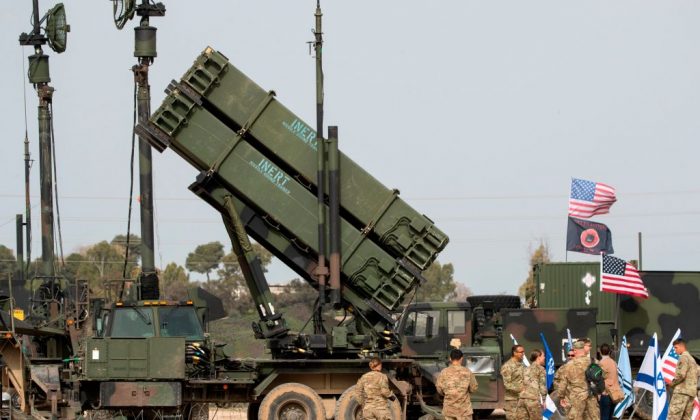 The United States is sending two Patriot surface-to-air missile batteries to Poland in a bid to "proactively" counter "any potential threat" to NATO and U.S. forces in the military alliance's territory.
"At the direction of the Secretary of Defense and at the invitation of our Polish allies, General Wolters, Commander of US European Command, has directed US Army Europe and Africa to reposition two Patriot Batteries to Poland," U.S. European Command (EUCOM) spokesman Capt. Adam Miller said in a Pentagon statement to news outlets.
"This defensive deployment is being conducted proactively to counter any potential threat to US and Allied forces and NATO territory," the statement added, noting that the missiles "will in no way support any offensive operations."
Patriots are considered air defense missile systems designed to counter incoming short-range ballistic missiles, advanced aircraft, and cruise missiles. First manufactured in the 1980s, Patriots are the primary surface-to-air missile systems employed by the U.S. and several of its allies.
The Pentagon statement added that "this is a prudent force protection measure that underpins our commitment to Article Five and will in no way support any offensive operations" while asserting that "every step we take is intended to deter aggression and reassure our allies."
Article Five is NATO's collective defense mandate that requires all member states to treat an attack on one of its members as an attack on the whole alliance.
The decision to deploy the Patriot missile batteries comes as the Russia–Ukraine conflict has raged for two weeks as of Wednesday. The United States and NATO have said they will not enforce a no-fly zone over Ukraine, which shares a land border with Poland, as it will escalate the conflict. Ukraine is not a member of NATO or the European Union.
A no-fly zone would require that the U.S. Air Force and NATO allies shoot down violators, including Russian planes and other aircraft, which would likely lead to a wider conflict. Russian President Vladimir Putin and Foreign Minister Sergei Lavrov have warned that a third world war would likely include nuclear missiles being fired.
Polish officials will likely be somewhat reassured by the Patriot deployment after the country announced Tuesday that it would transfer all of its MiG-29 fighter planes to a U.S. Air Force base in Germany, ostensibly to be used by Ukraine's military. But the Pentagon later said that no such plans were approved by the U.S. military.
Pentagon spokesman John Kirby, in a statement, described the decision as untenable.
"The prospect of fighter jets 'at the disposal of the Government of the United States of America' departing from a U.S./NATO base in Germany to fly into airspace that is contested with Russia over Ukraine raises serious concerns for the entire NATO alliance," Kirby stated. "It is simply not clear to us that there is a substantive rationale for it."
Original link : US Patriot Missiles Dispatched to Poland Amid Russia–Ukraine Conflict