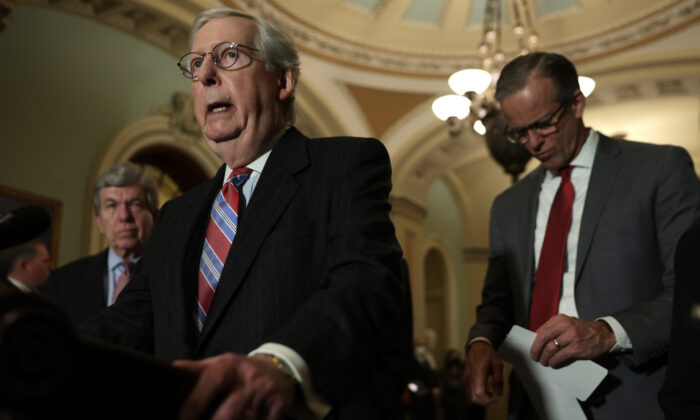 Congress's aid package for Ukraine and its Eastern European allies now stands at $14 billion, Senate Minority Leader Mitch McConnell (R-Ky.) has said.
McConnell announced the deal on Tuesday, telling reporters that the figure would include loan guarantees to help NATO allies including Poland purchase U.S. aircraft to replace warplanes transferred to Ukraine.
"Where we have ended up is $14 billion," McConnell said.
Speaking shortly after McConnell, Majority Leader Chuck Schumer (D-N.Y.), said the bill would include "a little less" than $14 billion and a little more than $12 billion.
The spending will be part of a $1.5 trillion government-wide spending bill that lawmakers hope to vote on this week, that will fund the federal government for the full fiscal year and also provide further aid to Ukraine.
The figure is higher than the sum initially requested by the Biden administration, $6.5 million, and the $10 billion figure in the White House's formal request to Congress.
"It needs to be passed and it needs to be passed quickly," McConnell told reporters, criticizing the speed at which the aid package has moved along.
"It's been like pulling teeth to get out of House Democrats what the Ukrainians obviously need at this particular time," McConnell said. "We've been slow—much too slow. But the package, I gather, will be coming over from the House … I think it's an important step.
Democrats and Republicans rallied solidly behind Ukraine, with Russia's attack devastating parts of the country and prompting Europe's worst refugee crisis since World War II.

Republicans however accused President Joe Biden of moving too slowly to help Ukraine and NATO nations assisting it, and to impose sanctions against Russia and its president, Vladimir Putin. Democrats say time was needed to bring along European allies that rely heavily on Russian energy sources.
Biden on Feb. 26 also approved sending  $350 million in weapons to Ukraine—two days after Putin launched a full-scale invasion against the country. The U.S. State Department sent hardware including Javelin anti-tank weapons, anti-aircraft systems, ammunition, and body armor.
House leaders were hoping that the chamber could approve the legislation on Wednesday, sending it to the Senate. Debate there could last days.
Top House Democrats were warning their members they might have to unexpectedly return to Washington on Friday night from the party's political retreat in Philadelphia to approve the package or pass yet another short-term bill preventing a federal shutdown. Temporary financing for federal agencies expires at the end of the day Friday.
The Associated Press contributed to this report.
Original link : Ukraine Aid Package Totals $14 billion, McConnell Says