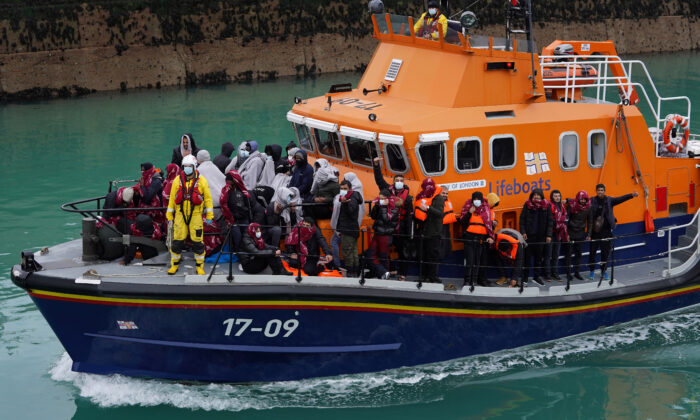 UK's Royal Yachting Association (RYA) has cautioned sailors about rescuing channel crossing migrants as it's feared a proposed change in the law may expose the sailors to prosecution if they bring the migrants to the British shore.
Telegraph said the association advised sailors to "stand off and report" migrants instead of carrying out rescues themselves.
It comes after a Labour MP pointed out that the government's effort to update the country's immigration law may result in good samaritans getting penalised.
Crossing the English Channel in small boats has become the main route for migrants to enter the UK with more than 23,000 illegal immigrants succeeding so far this year. government has argued that there's no reason for asylum seekers to embark on the perilous journey from European countries which can provide protection.
To tighten the law against people smuggling, the current version of the government's new Nationality and Borders Bill (pdf) proposed changes to the Immigration Act 1971—which criminalises "knowingly and for gain" facilitating asylum seekers to enter the UK—to remove "and for gain" and to increase the sentence from up to 14 years to life imprisonment.
While the government said the proposed change is aimed at criminal gangs circumventing the law, it has caused confusion and fear among charities.
During the second reading of the bill in July, opposition MPs have argued that the proposal would criminalise crews of organisations including the Royal National Lifeboat Institution, and it violates international treaties that require vessels to provide assistance to people in distress at sea.
Telegraph quoted  RYA's cruising manager Stuart Carruthers as saying sailors could "have a massive bureaucratic problem" if they end up bringing illegal immigrants into the UK.
"Our advice is to be very careful going to the rescue. You are not under any obligation to do it but you are under an obligation to report it and explain why you are standing off. You are not required to put yourself in danger," Carruthers told the newspaper.
"It sounds very harsh, but you could have a massive bureaucratic problem and be tied up in bringing illegal immigrants into the country. Our advice is to stand off and report."
Labour MP Neil Coyle last month tried to amend the bill to include people working on behalf of organisations that aim to protect lives at sea to those who are exempt from prosecution as long as they don't charge for their services, while Tom Pursglove, a minister for both the Home Office and the Ministry of Justice, said the government will amend the clause to address the concern.
Pursglove told MPs that the government wants to remove the "for gain" element of the offence because "increasingly sophisticated methods employed by facilitators to hide facilitation gain not only frustrates crime investigations but hinders the Crown Prosecution Service in bringing successful prosecutions."
"For example, money transfers may be made by family members abroad, or made in cash, and there may be promises of servitude by the asylum seeker or others, or promises to assist in the facilitation act," he said. "To be clear, people smuggling has terrible consequences for asylum seekers, their families, and others."
According to Dan O'Mahoney, clandestine channel threat commander at the Home Office, a boat carrying 88 people would have about 350,000 euros (£296,000, $396,500) on it with each immigrant paying around 4,000 euros (£3,380, $4,530) to the smugglers.
A new rule that came into effect this year meant migrants on route to the UK are no longer able to seek asylum at sea.
Pezou : UK Yacht Organisation Warns Sailors Against Rescuing Migrants at Sea in Fear of Prosecution