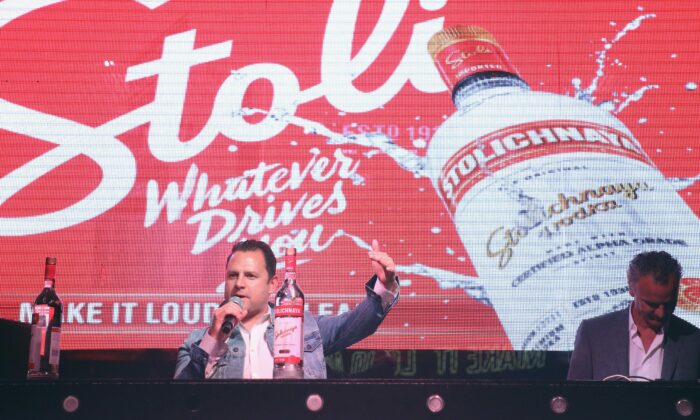 The company that owns Stolichnaya vodka, one of the most iconic vodka brands, on Monday announced that it is rebranding in the wake of Russia's invasion of Ukraine.
In a statement, Luxembourg-based Stoli Group said the "major rebrand" is in "direct response to Russia's invasion of Ukraine."
From now on, the聽vodka will exclusively be sold and marketed globally as "Stoli" with the聽exception of Russia where Stolichnaya is owned by Soyuzplodoimport,聽a firm owned by the Russian state.
Stoli Group did not state exactly when the rebrand would take effect.
Yuri Shefler, the billionaire founder of聽Stoli Group was聽exiled聽from Russia in 2000 because of his opposition to President Vladimir Putin and said he has "personally experienced persecution by Putin鈥檚 regime."
Shefler bought the struggling Stoli brand in 1997 but in 2000, in what聽Shefler says was "one of the first examples of the regime identifying a valuable asset and attempting to wrest control of it," Putin "waged a battle" for the company's trademarks.
"While I have been exiled from聽Russia聽since 2000 due to my opposition to Putin, I have remained proud of the Stolichnaya brand," Shefler said in a statement on Monday.聽"Today, we have made the decision to rebrand entirely as the name no longer represents our organization. More than anything, I wish for 'Stoli' to represent peace in聽Europe聽and solidarity with聽Ukraine."
Along with聽Shefler's opposition to Putin, the company said it had made the decision to rebrand because of "the聽Stoli聽employees' determination to take action and the desire to accurately represent聽Stoli's聽roots in Latvia."
While Stolichnaya originally began as a聽Russian brand in the former Soviet Union, since聽Shefler was exiled from Russia, Stoli Vodka's production facilities have been located in聽Latvia and it is there that all聽bottling, packaging, and distribution, among other things, are handled.
Despite this, the Russian government established聽FKP Soyuzplodoimport, also known as FTE Soyuzplodoimport, and continued聽making a state-owned version of the brand sold and marketed within the country.
According to聽Shefler, the two products are聽easily distinguishable because the Russian government's version states it is made in Russia.
The Epoch Times has contacted Soyuzplodoimport for comment.
"This is very personal to us. As a former Royal Marine commando, I know all too well the horrors of war," said聽Damian McKinney, global CEO of Stoli Group. "We have employees, partners, and distributors in the region directly impacted. They are asking that we take a bold stand. This is one actionable, meaningful thing we can do to make it clear that we support聽Ukraine."
Stoli Group's announcement comes amid an international boycott of Russian products as lawmakers across the United States and the rest of the world call for Russian-made products to be removed from shelves.
Governors from the states of Texas, Utah, Ohio, Virginia, New Hampshire, and others have pulled Russian products from stores as聽a sign of solidarity with the former Soviet nation of Ukraine.
Meanwhile, Australia, New Zealand, Canada, and Finland have also pulled such products.
According to data from IWSR Drinks Market Analysis, a global firm that tracks alcohol sales, less than 1 percent of vodka consumed in the United States is produced in Russia, while Russian vodka accounts for less than 3 percent of all vodka consumed in Europe.
Original link : Stolichnaya Vodka Rebrands as 'Stoli' in 'Direct Response' to Russian Invasion of Ukraine