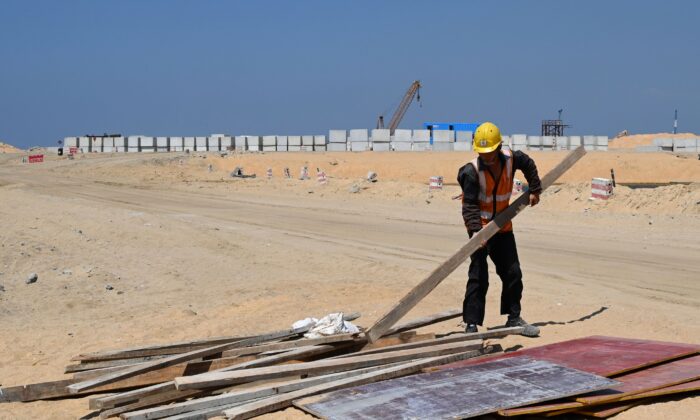 Sri Lanka has selected a Chinese firm to construct the second phase of the Colombo Port's East Container Terminal (ECT), a move which is likely to alarm other Asian powers given Beijing's maritime silk road ambitions.
In a Cabinet decision on Tuesday, Beijing-headquarted China Harbour Engineering Company (CHEC) was approved by Colombo to develop the strategic port terminal.
country's port authority in 2019 signed a preliminary agreement with India's Adani Group and Japan to build the ECT, but that deal was scrapped in February by President Gotabaya Rajapaksa's administration.
Over the past decade, China has poured money into the South Asian island, largely under Chinese leader Xi Jinping's controversial Belt and Road Initiative (BRI, also called "One Belt, One Road") infrastructure plan, which was announced in 2013.
BRI initially consisted of two major components—the Silk Road Economic Belt and the 21st Century Maritime Silk Road—and in recent years, others such as the Digital Silk Road, the Arctic Silk Road, the Health Silk Road, and the Space Silk Road have been added.
trillion-dollar global infrastructure fund has been accused of being a vehicle for the Chinese Communist Party (CCP) to expand its global hegemony.
Some developing countries have struggled to pay off loans under the BRI and, in some cases, have been forced to hand over control of key assets and infrastructure to Beijing.
Namely, in 2017, Sri Lanka handed over a major strategic port—along with 15,000 acres of land—to China on a 99-year lease after its debts to Chinese state-owned firms ballooned. Hambantota Port was acquired by China after several months of negotiations and intense pressure to clear $1.4 billion debt.
Sources familiar with the tendering process told Hindu that CHEC's role in developing the second phase of Colombo Port's ECT appears to be limited to civil works.
Sri Lanka is key in the battle for influence in South Asia between India and China, which has been making increasing inroads there, given Beijing is also involved in the construction and operation of other critical infrastructure in the country.
island nation is a crucial staging post for much of the cargo coming in and out of India, and China's growing influence has alarmed New Delhi and Washington.
Reuters contributed to this report.
Pezou : Sri Lanka Selects Chinese Firm to Develop New Container Port