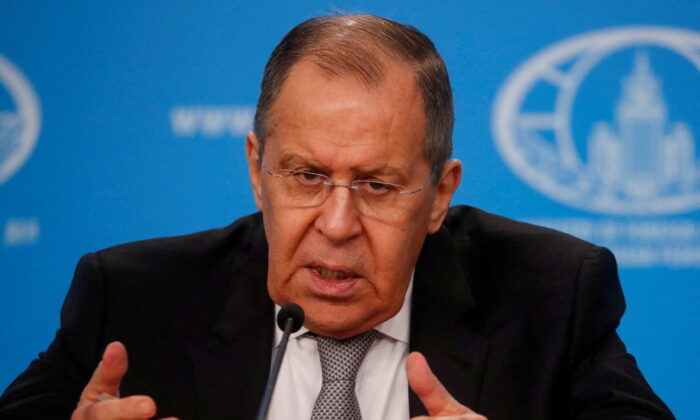 Russian Foreign Minister Sergei Lavrov suggested on Monday that Russia's so-called "special military operation" launched by President Vladimir Putin on Feb. 24 is intended to prevent a war in Ukraine.
"The goal of Russia's special military operation is to stop any war that could take place on Ukrainian territory or that could start from there," Lavrov said in a statement, according to Britain's Russian Embassy.
Lavrov was pushing the Kremlin's line that the invasion launched by Putin is a "special military operation" to disarm Ukraine and detain leaders it claims are neo-Nazis. Ukraine and the West argue this is a false pretext used in an attempt to justify the invasion.
His comments come after Kremlin spokesperson Dmitry Peskov said in an interview with Reuters on Monday that Russia could "end war immediately" if Ukraine agreed to sign a neutrality agreement that would prohibit it from entering NATO.
Peskov also said Ukraine must recognize Crimea as Russian, recognize the regions of Luhansk and Donetsk as independent, and cease all military action.
Ukrainian officials "were told that all this can be stopped in a moment," Peskov noted.
"We really are finishing the demilitarization of Ukraine," Peskov said. "We will finish it. But the main thing is that Ukraine ceases its military action. They should stop their military action and then no one will shoot.
"We have also spoken about how they should recognize that Crimea is Russian territory and that they need to recognize that Donetsk and Luhansk are independent states. And that's it. It will stop in a moment."
Peskov added, "They should make amendments to the constitution according to which Ukraine would reject any aims to enter any bloc."

Ukrainian President Volodymyr Zelensky shut down Russia's demands, telling ABC News on Monday that recognizing the territories as Russian is "more difficult" than Moscow is making it out to be.
Russia's demands are an "ultimatum," he said.
"We are not prepared for ultimatums but we have the possible solution, resolution for these three key items," Zelensky said. "What needs to be done is for President Putin to start talking instead of living in the information bubble without oxygen."
Just days earlier, Lavrov said he believed some foreign leaders were preparing for war against Russia and that Moscow would press on with its military operation in Ukraine until "the end."
Lavrov also said Russia had no thoughts of nuclear war.
Offering no evidence to back up his remarks in an interview with state television, a week after Russia invaded Ukraine, he also accused Zelensky, an ethnic Jew, of presiding over "a society where Nazism is flourishing."
Lavrov is set to meet with his Ukrainian counterpart, Dmytro Kuleba, in Turkey on Thursday, according to the Turkish foreign minister.
Putin on Monday said that only professional military service members will be involved in carrying out his "special military operation" in Ukraine.
Reuters contributed to this report.
Original link : Russia's 'Special Military Operation' is to Prevent War in Ukraine, Claims Lavrov