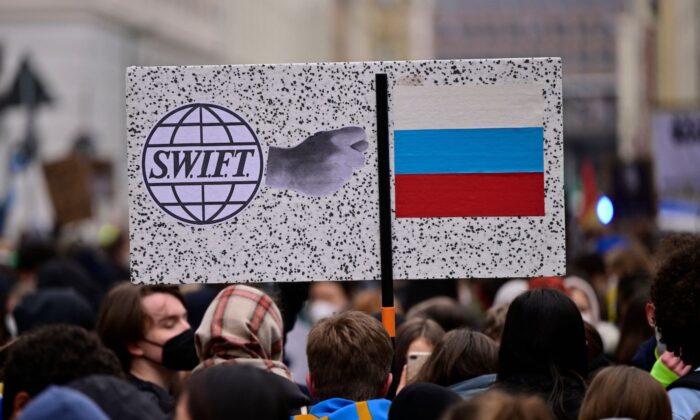 Converting foreign assets into Chinese yuan assets may be a short-term solution for Russian investors in the wake of Western sanctions against Moscow, according to experts.
The exclusion of major Russian banks from the Society for Worldwide Interbank Financial Telecommunication, or SWIFT, shuts them out from the U.S.-dominated international fund transfer system. Although this severely limits Moscow's ability to engage in transactions, Russian investors could get around it in the short term by holding assets in the Chinese Yuan (RMB), Mike Sun, an investment specialist in North America, told The Epoch Times.
Given that the sanctions have pushed Russia toward financial autarky, Russian investors are looking for ways to minimize their loss for the short term.
A Hong Kong banker told the Chinse edition of Nikkei Asia, a Japan-based financial newspaper, that recently there had been a noticeable conversion of assets in the emerging markets into RMB assets.
According to the latest from SWIFT's RMB tracker, RMB's share as a global payments currency reached 3.2 percent in January 2022, the highest since 2015. In addition, RMB's payments value increased by 10.85 percent compared to December 2021.
Meanwhile, the U.S. dollar's and euro's share as global payment currencies dropped slightly compared to December last year, falling to 39.92 percent and 36.56 percent, respectively.
Usually, in extraordinary times such as war, people tend to sell off assets in higher-risk currencies and turn them into more reliable currencies such as dollars and euros. However, the RMB's global share and value has increased amid the Russia-Ukraine conflict, as it appears that some investors considered it a "risk-off" currency. "Risk-off" describes the sentiment of traders and investors in the financial market reducing their exposure to risk and focusing on protecting their capital.
In this regard, U.S. private investment consultant Mike Sun suggests that the recent surge in RMB assets purchases is primarily due to Russian investments. Many Russian investors are converting their foreign wealth to RMB assets in an attempt to prevent or minimize short-term losses from Western sanctions.
The current economic sanctions imposed on Russia by the United States and European nations have expanded to a number of Russian billionaires, freezing their assets and funds in foreign countries. Many Russian investors were alarmed by those measures and began to convert their foreign assets—in major currencies such as USD, EUR, and GBP (British pounds)—into RMB to reduce risks.
Sun said that many Russian businessmen own luxury houses in places such as the United Kingdom and the United States. As they saw the risk of sanctions, they proceeded to sell their properties, converting them into assets in Chinese yuan for temporary hedging.
On Feb. 26, the White House announced the launch of "a joint task force to collectively hunt down the physical assets of sanctioned Russian companies and oligarchs—their yachts, jets, fancy cars, and luxury homes." Similarly, England and France have proceeded to freeze the assets of several Russian oligarchs, according to BBC.
RMB assets may bring liquidity to Russia amid the freeze on roughly half of Russia's foreign exchange reserves held in G7 nations. According to The Business Times citing data from Russia's Central Bank, as of June 2021, about 13 percent of Russia's foreign reserves are in Chinese yuan assets, equivalent to about $77 billion.
The Chinese state-run Global Times reported on March 10 that the China Foreign Exchange Trade System is doubling the Chinese yuan's trading band with the Russian ruble in the inter-bank foreign exchange market to help prevent currency arbitrage in the wake of the ruble's recent plunge.
The article said that the Chinese yuan deposit service offered by Russia's VTB Bank would have a "profound impact on the global monetary system as an attempt to explore alternatives to the U.S. dollar-centered system."
Russia is increasing its use of the RMB and connectivity with China's international payment system, attempting to mitigate the fallout of international sanctions.
According to the Chinese state-owned NetEase news portal, the Russia-Ukraine conflict has caused the United States to shift its focus onto Russia, creating an excellent opportunity for China's RMB to internationalize, becoming a more active currency used globally.
However, Sun said it is quite challenging for China's RMB to achieve internationalization as the basic premise is that the currency must be freely convertible. Yet, the Chinese Communist Party strictly controls its currency exchange.
Original link : Russian Investors Find Short-Term Solution to Western Sanctions Against Moscow, Expert Says