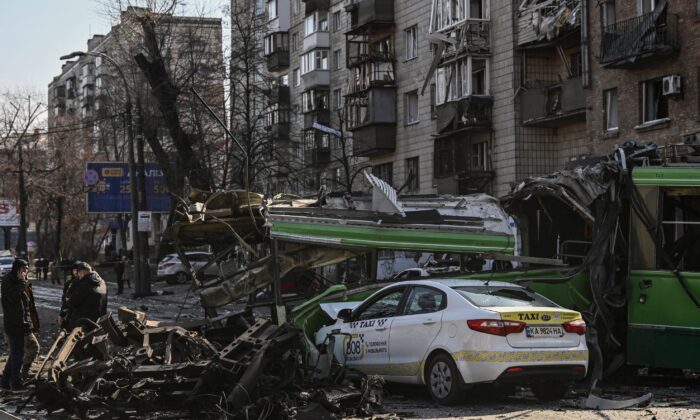 Russia confirmed on Monday that it lost a top intelligence agent from the Russian military intelligence agency.
Alexey Glushchak, a captain with Russia's Main Directorate of the General Staff of the Armed Forces (GRU), died in the Ukrainian city of Mariupol last week, said Russian officials in a statement.
"Due to the strict secrecy of the military operation, the circumstances of the death of the Tyumen hero are not disclosed," Russian officials said in a statement. Glushchak's cause of death was not specified.
Several local media outlets published photos of his funeral online.
Ukrainian officials last week alleged that their forces recently killed a top Russian general, Vitaly Gerasimov, in fighting around Kharkiv.
Ukraine's military said that Gerasimov is a "Russian military commander, major general, chief of staff and first deputy commander of the 41st Army of the Central Military District of Russia" and added that he was a veteran in Russian campaigns in Syria and Chechnya.

In a call with reporters about a week ago, a senior U.S. military official, who requested anonymity, said that "we cannot confirm that the general has been killed," referring to Gerasimov. The Department of Defense has not reached out to Russia's Ministry of Defense, the official said.
Russian state media reported last week that Andrei Sukhovetsky, deputy commander of the 41st Combined Arms Army of the Central Military District, was killed in combat last week.
The death comes as raid alerts sounded in cities and towns all around the country overnight, from near the Russian border in the east to the Carpathian Mountains in the west, as fighting continued on the outskirts of Kyiv. Ukrainian officials said Russian forces shelled several suburbs of the capital, a major political and strategic target for their invasion.
Airstrikes were reported across the country, including the southern city of Mykolaiv, and the northern city of Chernihiv, where heat was knocked out to most of the town. Explosions also rang out overnight around the Russian-occupied Black Sea port of Kherson.
The Russian military said 20 civilians in the separatist-controlled city of Donetsk in eastern Ukraine were killed by a ballistic missile launched by Ukrainian forces. Russian Defense Ministry spokesman Maj. Gen. Igor Konashenkov said a further 28 people were injured by the Soviet-made Tochka-U missile, which carried a shrapnel warhead.
The Associated Press contributed to this report.
Original link : Russia Confirms First Loss of GRU Spy in Ukraine Conflict