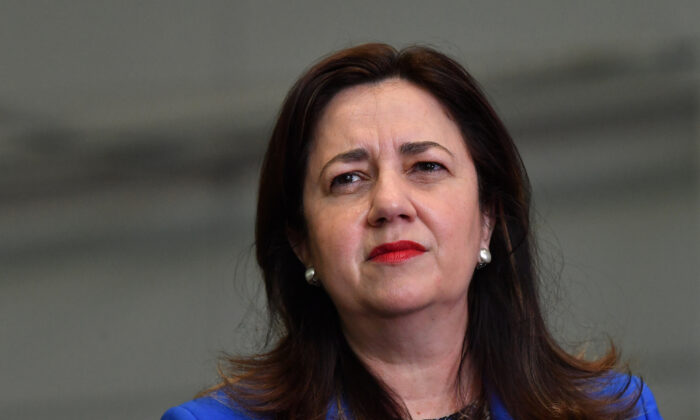 Queensland government's health department is working to encourage the about 7,000 staff who missed the state mandated Oct. 1 deadline to get their first dose of a COVID-19 vaccine.
A Queensland Health spokesperson told Courier Mail that they are working through about 1,900 applications for exemptions from Queensland Health and Hospital Services staff who don't want to be vaccinated.
After attempting to encourage staff to be vaccinated, the spokesperson said Queensland Health would "work with these staff to explore alternative options to keep them and our workplaces safe."
"We are currently working through the exemptions process and staff will be notified of outcome of their exemption once this is complete," the spokesperson said.
That said, the vast majority of the state's health work force—about 108,000 out of 115,000— have received at least one dose of a COVID-19 vaccine, according to Courier Mail.
unvaccinated health staff now are reportedly being forced to take leave or be subject to increased COVID-19 testing and increase the level of PPE worn at patient facilities.
Almost 71 percent of eligible Queenslanders had received one dose of a vaccine and 54.1 percent were fully vaccinated by Tuesday, but Premier Annastacia Palaszczuk is concerned about coverage outside the southeast.
She urged unvaccinated Queenslanders to get a first dose by mid-November with those who do get the jab by then due for a second dose in early December.
"We are seeing our vaccination rates increase in Queensland, but there are parts of Queensland in regional communities in central Queensland, out at northwest, up in the northern parts of our state, indigenous communities, that we need to make sure are protected," Palaszczuk told parliament on Thursday.
"So now we need a huge drive, I've said the next six weeks are critical, for Queenslanders to get that first dose."
premier's warning comes after she hinted on Wednesday night that Nov. 17 was seen as a cut-off date for people to get their first jab.
"We've done all we can to keep you safe—but this next step is up to you," Palaszczuk wrote on Twitter.
"We cannot protect you if you won't protect yourself.
"I need you to get vaccinated and I need you to get it now.
"It takes five weeks from the first dose to be completely vaccinated.
"Five weeks from today in the 17th of November – that's getting very close to Christmas."
AAP contributed to this report.
Pezou : Queensland Health Encouraging 7,000 Health Staff Who Missed October Deadline to Get Vaccinated