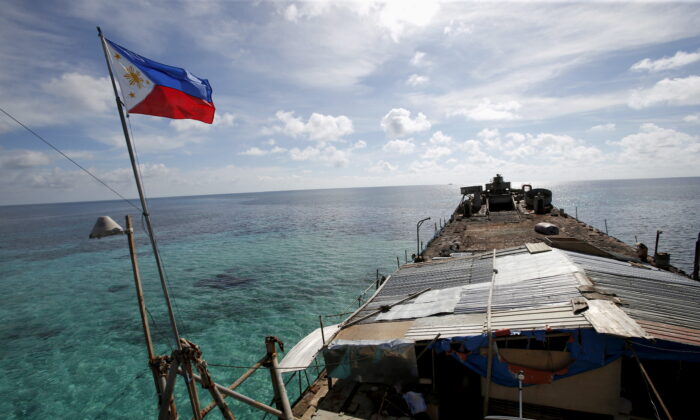 Philippine military successfully delivered supplies to one of its outposts on a disputed shole in the South China Sea on Tuesday after Chinese coast guard vessels last week managed to block supply efforts.
Philippine Defense Secretary Delfin Lorenzana said two wooden vessels carrying navy personnel resupplied marines stationed on the Sierra Madre—a dilapidated grounded Philippine Navy ship—at Second Thomas Shoal "without any untoward incident" on that day.
Lorenzana claimed that, however, a rubber boat with three personnel was dispatched from a Chinese coast guard ship to take pictures and videos of Philippine Navy personnel who were unloading supplies from the boats onto the Sierra Madre.
"I have communicated to the Chinese ambassador that we consider these acts as a form of intimidation and harassment," he stated reported Associated Press.
Lorenzana said the boats arrived at the shoal, also known as Ayungin Shoal, without being escorted by the Philippine Navy in accordance with a request by Chinese ambassador Huang Xilian, who assured him that the resupply mission would not be impeded.
A Philippine military plane was instead flying over the shoal as the boats reached the Sierra Madre, the official said.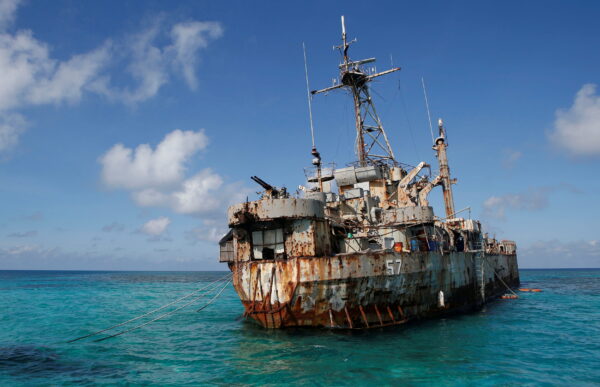 Philippines had earlier condemned the actions of three Chinese coastguard vessels, which it said had blocked and fired water cannons on two of its supply boats transporting food to the marines stationed on the Sierra Madre on Nov. 16.
Philippine Foreign Secretary Teodoro Locsin filed a strong protest to the Chinese ambassador on Nov. 18 and deemed the acts of the Chinese coastguard vessels "illegal."
In response, Chinese Foreign Ministry spokesman Zhao Lijian told reporters that "two Philippine supply boats trespassed into waters near Ren'ai Jiao [Second Thomas Shoal] of China's Nansha Qundao without China's consent" on Nov. 16.
Philippine leader President Rodrigo Duterte, who has nurtured close ties with Beijing, issued a statement condemning the Chinese coastguard during an online meeting of Association of Southeast Asian Nations (ASEAN) leaders and China hosted by Chinese leader Xi Jinping on Nov. 22.
"We abhor the recent event in the Ayungin Shoal and view with grave concern other similar developments," Duterte said, adding that the incident "does not speak well" of the partnership between the two nations.
It is unclear if Xi directly responded to Duterte's remarks.
Second Thomas Shoal lies off Palawan, an archipelagic province of the Philippines, in an area internationally recognized as part of the Southeast Asian nation's exclusive economic zone. Philippines has occupied the shoal since 1999 after intentionally grounding the World War II-era Sierra Madre on the reef.
Permanent Court of Arbitration at Hague dismissed Beijing's claims to much of the South China Sea in 2016, in favor of the Philippines and other nations in the region. It ruled that China's claims had no legal basis.
However, the verdict has had little impact on China's behavior, with Beijing refusing to abide by it. resulting territorial disputes are ongoing, with Beijing continuing to pursue its claims to 90 percent of the South China Sea based on its so-called "nine-dash line".
Brunei, Malaysia, the Philippines, Taiwan, and Vietnam all have competing claims with China.
Reuters contributed to this article.
Pezou : Philippines Resupplies Military Outpost on Disputed Shoal After Chinese Blockade