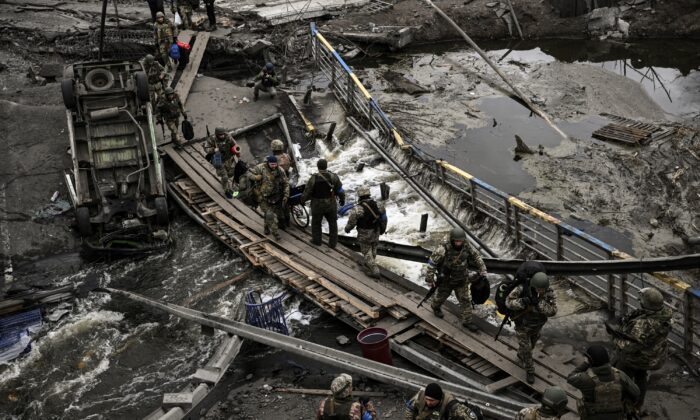 The latest on the Russia–Ukraine crisis, March 14. Click here for updates from March 13.
Ukraine Peace Talks Begin
Ukraine said it had begun "hard" talks on a ceasefire, immediate withdrawal of troops, and security guarantees with Russia on Monday, despite the fatal shelling of a residential building in Kyiv.
Both sides reported rare progress at the weekend after earlier rounds have primarily focused on ceasefires to get aid to towns and cities under siege by Russian forces and evacuate civilians.
Posting online ahead of the talks, Ukrainian negotiator Mykhailo Podolyak wrote: "Negotiations. 4th round. On peace, ceasefire, immediate withdrawal of troops & security guarantees." He later said discussions had started but were hard, because the political systems of Russia and Ukraine were too different.
__
Chernobyl Powerline Damaged by Russian Forces Again After It Was Repaired
The Ukrainian state power company says the power line supplying the site of the 1986 Chernobyl nuclear disaster has been damaged by Russian forces again after it was repaired.
The Ukrenergo company said in a statement Monday that its technicians had started to supply power Sunday evening but "before the power supply was fully restored, the occupying forces damaged it again." Ukrenergo said it will attempt another repair.
The power is used to feed pumps and other equipment which keep spent nuclear fuel at the former power plant cool to prevent radiation leaks.
The Chernobyl site is also equipped with diesel generators, and Belarusian authorities said last week that they had set up an emergency power supply from the nearby border.
The International Atomic Energy Agency has played down concerns over the safety of nuclear waste at Chernobyl, saying that cooling ponds there are large enough to keep the spent fuel in a safe condition even if the power supply is interrupted.
___
Talks to Resume as Russia Pressures Ukrainian Capital Kyiv
Russia's military forces kept up their punishing campaign to capture Ukraine's capital with fighting and artillery fire in Kyiv's suburbs Monday after an airstrike on a military base near the Polish border brought the war dangerously close to NATO's doorstep.
A new round of talks between Russian and Ukrainian officials raised hopes that progress would be made in evacuating civilians from besieged Ukrainian cities and getting emergency supplies to areas without enough food, water, and medicine.
Air raid alerts sounded in cities and towns all around the country overnight, from near the Russian border in the east to the Carpathian Mountains in the west, as fighting continued on the outskirts of Kyiv. Ukrainian officials said Russian forces shelled several suburbs of the capital, a major political and strategic target for an invasion in its 19th day.
Ukrainian authorities said two people died and seven were injured after Russian forces struck an airplane factory in Kyiv, sparking a large fire. The Antonov factory is Ukraine's largest aircraft manufacturing plant and is best known for producing many of the world's biggest cargo planes.
Russian artillery fire also hit a nine-story apartment building in a northern district of the city, killing two more people, authorities said. Firefighters worked to rescue survivors, painstakingly carrying an injured woman on a stretcher away from the blackened and still-smoking building.
___
US Official: Russia Seeking Military Aid From China
A U.S. official said Russia asked China for military equipment to use in its invasion of Ukraine, a request that heightened tensions about the ongoing war ahead of a Monday meeting in Rome between top aides representing the United States and China.
In advance of the talks, White House national security adviser Jake Sullivan bluntly warned China to avoid helping Russia evade punishment from global sanctions that have hammered the Russian economy. "We will not allow that to go forward," he said. China in turn accused on Monday the United States of spreading "disinformation."
Chinese state broadcaster CCTV said the talks with the United States were underway around 11:50 a.m. Rome time (1050 GMT), but gave no other details.
___
Russian Attacks in Western Ukraine Prompt More People to Flee
People fleeing what until recently had been the relative safety of western Ukraine joined thousands crossing into eastern Europe on Monday after Russia stepped up attacks, prompting fears of an even larger exodus.
Moscow widened its assault on Sunday with an attack on a base near the border with NATO member Poland. Ukraine said 35 people were killed at the base while Moscow said up to 180 "foreign mercenaries" died and a large number of foreign weapons were destroyed. Ukraine also reported renewed airstrikes on an airport in the west of the country.
With the war well into its third week, the number of refugees fleeing the Russian invasion has already reached 2.7 million, the U.N. data showed, in what has become Europe's fastest-growing refugee crisis since World War Two.
However, millions of people have also been displaced inside Ukraine, with many evacuated only as far as the western regions, including to cities like Lviv.
___
Taiwan Says ASUS Will 'Evacuate' Russia After Ukraine Urges Exit
Taiwanese personal computer maker ASUS will consider its reputation and put in place a plan to "evacuate" its staff and business in Russia, Taiwan's economy minister said on Monday, after a Ukraine minister asked it to leave the country.
Mykhailo Fedorov, Ukraine's deputy prime minister and minister of digital transformation, tweeted a letter on Thursday to ASUS Chairman Jonney Shih calling on the company to end its business in Russia. Moscow has invaded Ukraine in what the Russian government calls a "special operation."
"@ASUS, Russians have no moral right to use your brilliant technology! It's for peace, not for war!" Fedorov added in a separate tweet.
Taiwan Economy Minister Wang Mei-hua, asked about the letter, said Taiwan stands with other democracies and has taken action against Russia, but could not comment on what individual companies were doing.
The company, formally called ASUSTeK Computer Inc, did not respond to a request for comment.
Instagram Users in Russia Told Service Will Cease From Midnight
Instagram users in Russia have been notified that the service will cease from midnight on Sunday after its owner Meta Platforms said last week it would allow social media users in Ukraine to post messages such as "Death to the Russian invaders."
An email message from the state communications regulator told people to move their photos and videos from Instagram before it was shut down, and encouraged them to switch to Russia's own "competitive internet platforms."
Meta, which also owns Facebook, said on Friday that the temporary change in its hate speech policy applied only to Ukraine, in the wake of Russia's Feb. 24 invasion.
The company said it would be wrong to prevent Ukrainians from "expressing their resistance and fury at the invading military forces."
The decision was greeted with outrage in Russia, where authorities have opened a criminal investigation against Meta and prosecutors on Friday asked a court to designate the U.S. tech giant as an "extremist organisation."
The head of Instagram has said the block will affect 80 million users. Russia has already banned Facebook in the country in response to what it said were restrictions of access to Russian media on the platform.
___
Ukraine's Largest Steel Firm Says Shells Hit Avdiivka Coke Plant
Ukraine's largest steel company Metinvest said shells hit the territory of its Avdiivka coke plant on Sunday, damaging some of its facilities.
Earlier, the general prosecutor's office said five rockets had hit the plant, which had already suspended operations in the wake of Russia's invasion of Ukraine.
Metinvest, majority-owned by Ukraine's richest man and business magnate Rinat Akhmetov, said nobody was hurt in the shelling, which hit two coking shops and other areas.
The site's thermal power plant, which supplies heat to the neighboring town of Avdiivka, has stopped working, it said.
Avdiivka is one of the largest coke plants in Europe and the major manufacturer of coke for steel-making in Ukraine.
___
Ukraine Has Started Using Clearview AI's Facial Recognition During War
Ukraine's defense ministry on Saturday began using Clearview AI's facial recognition technology, the company's chief executive told Reuters, after the U.S. startup offered to uncover Russian assailants, combat misinformation, and identify the dead.
Ukraine is receiving free access to Clearview AI's powerful search engine for faces, letting authorities potentially vet people of interest at checkpoints, among other uses, added Lee Wolosky, an adviser to Clearview and former diplomat under U.S. presidents Barack Obama and Joe Biden.
The plans started forming after Russia invaded Ukraine and Clearview Chief Executive Hoan Ton-That sent a letter to Kyiv offering assistance, according to a copy seen by Reuters.
Clearview said it had not offered the technology to Russia, which calls its actions in Ukraine a "special operation."
Ukraine's Ministry of Defense did not reply to requests for comment. Previously, a spokesperson for Ukraine's Ministry of Digital Transformation said it was considering offers from U.S.-based artificial intelligence companies like Clearview. Many Western businesses have pledged to help Ukraine, providing internet hardware, cybersecurity tools, and other support.
The Associated Press and Reuters contributed to this report.
Original link : LIVE UPDATES: Ukraine Peace Talks Begin With Some Hopes Intact