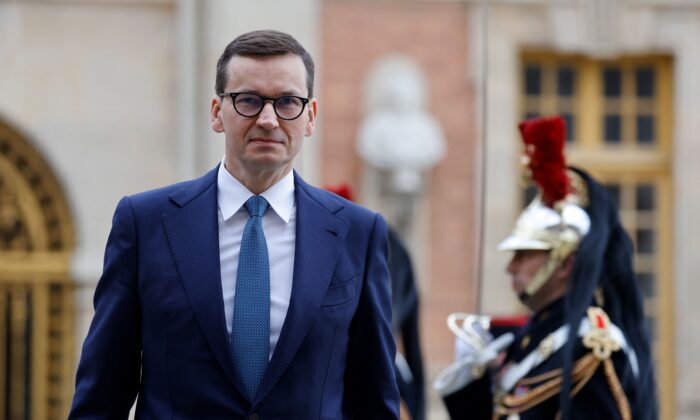 The latest on the Russia–Ukraine crisis, March 15. Click here for updates from March 14.
Three EU Country Leaders Take Train to Kyiv in Show of Support for Ukraine
The prime ministers of the Czech Republic, Poland and Slovenia were travelling to Kyiv by train on Tuesday to show support for the country on behalf of the EU, the first foreign leaders to visit the Ukrainian capital since Russia invaded last month.
Kyiv has been under Russian attacks: two powerful explosions rocked the capital before dawn on Tuesday. Emergency services said two people died when an apartment building was struck.
Polish Prime Minister Mateusz Morawiecki said on Facebook the trip took place on the 20th day of Russian President Vladimir Putin's Putin's "criminal aggression against Ukraine".
"At such breakthrough times for the world, it is our duty to be where history is forged. Because it's not about us, but about the future of our children who deserve to live in a world free from tyranny," he said.
Top aide to Morawiecki, Michal Dwoczyk, told reporters the delegation had crossed the Polish-Ukraine border by train after 8 a.m. (0700 GMT).
"The purpose of the visit is to confirm the unequivocal support of the entire European Union for the sovereignty and independence of Ukraine," Czech Prime Minister Petr Fiala said in a statement also released by the Polish government.
"The aim of this visit is also to present a broad package of support for Ukraine and Ukrainians."
Slovenian Prime Minister Janez Jansa was also taking part in the trip, which Fiala said was taken in consultation with European Council President Charles Michel and European Commission President Ursula von der Leyen.
The idea of the trip was agreed at an EU leaders' summit in Versailles in France last week, Dworczyk said.
___
War Could Be Over by May, Says Ukrainian Presidential Adviser
The war in Ukraine is likely to be over by early May when Russia runs out of resources to attack its neighbor, Oleksiy Arestovich, an adviser to the Ukrainian president's chief of staff, said late on Monday.
Talks between Kyiv and Moscow—in which Arestovich is not personally involved—have so far produced very few results other than several humanitarian corridors out of besieged Ukrainian cities.
In a video published by several Ukrainian media, Arestovich said the exact timing would depend on how much resources the Kremlin was willing to commit to the campaign.
"I think that no later than in May, early May, we should have a peace agreement, maybe much earlier, we will see, I am talking about the latest possible dates," Arestovich said.
"We are at a fork in the road now: there will either be a peace deal struck very quickly, within a week or two, with troop withdrawal and everything, or there will be an attempt to scrape together some, say, Syrians for a round two and, when we grind them too, an agreement by mid-April or late April."
___
China Showing No Signs of Ending Support for Russia After 'Intense' Talks With US
China's state-run media is signaling that Beijing will continue to side with Russia over the war in Ukraine, after seven hours of "intense" talks between U.S. national security advisor Jake Sullivan and Chinese diplomat Yang Jiechi in Rome on March 14.
The two sides discussed a number of issues, including Taiwan and North Korea, as well as a "substantial discussion" on Russia's invasion of Ukraine. A senior administration official told reporters after the meeting that the talks were intense due to the "gravity of the moment" amid efforts to end the fighting in Ukraine.
They also mentioned that Sullivan had also expressed concerns to his Chinese counterpart about the emerging Sino-Russian alliance.
"We do have deep concerns about China's alignment with Russia at this time, and the National Security Advisor was direct about those concerns and the potential implications and consequences of certain actions," the senior administration official said.
Read the full article here.
___
Putin Signs Law to Seize Foreign Aircraft Amid Crippling Sanctions
As sanctions cripple Russia's aviation industry, President Vladimir Putin signed a law on Monday allowing foreign-owned aircraft to be re-registered as Russian for domestic use, according to state-run news agency TASS.
Russian airlines would have the ability to seize and operate aircraft leased by companies that are no longer operating in the country over sanctions imposed due to the Ukraine invasion, TASS reported.
Russian airlines have almost 780 leased jets, with 515 leased from abroad.
The new law, part of Russia's measures to combat the sanctions, says it aims "to ensure the uninterrupted functioning of activities in the field of civil aviation."
TASS reported that the aircraft will be certified using certification centers and test laboratories.
Read the full article here.
___
EU Imposes 4th Set of Sanctions Against Russia for War
The European Union announced late Monday that the 27-nation bloc has approved a new set of sanctions to punish Moscow for its invasion of Ukraine.
France, which holds the EU presidency, said the bloc "in consultation with our international partners, has approved a fourth package of sanctions targeting individuals and entities involved in the aggression against Ukraine, as well as several sectors of the Russian economy."
The French presidency said in a statement that the bloc also approved a declaration to the World Trade Organization "on suspending the application of the most-favored-nation clause for Russia and suspending the examination of Belarus's application for accession to the WTO."
If Russia is suspended, its companies would no longer receive special treatment throughout the bloc.
___
NATO Chief Says Russia May Use Chemical or Biological Weapons in Ukraine
NATO Secretary General Jens Stoltenberg warned on March 13 that Russia might use chemical or biological weapons in the fight with Ukraine, which the head of the alliance said would amount to a war crime.
"In recent days, we have heard absurd claims about chemical and biological weapons laboratories," Stoltenberg said during an interview with German newspaper Welt am Sonntag, adding that he believes the Kremlin is trying to create a false pretext to justify the unjustifiable.
Stoltenberg's warning came as Russian officials claimed on March 7 that the U.S. military has been involved with the development of chemical or biological weapons in laboratories across Ukraine, a project backed by the Defense Threat Reduction Agency, an agency within the U.S. Department of Defense (DoD).
"Now that these false claims have been made, we must remain vigilant because it is possible that Russia itself could plan chemical weapons operations under this fabrication of lies. That would be a war crime," the NATO head said.
Read the full article here.
Lorenz Duchamps, Isabel van Brugen, Frank Fang, The Associated Press, and Reuters contributed to this report.
Original link : LIVE UPDATES: Three EU Country Leaders Take Train to Kyiv in Show of Support for Ukraine