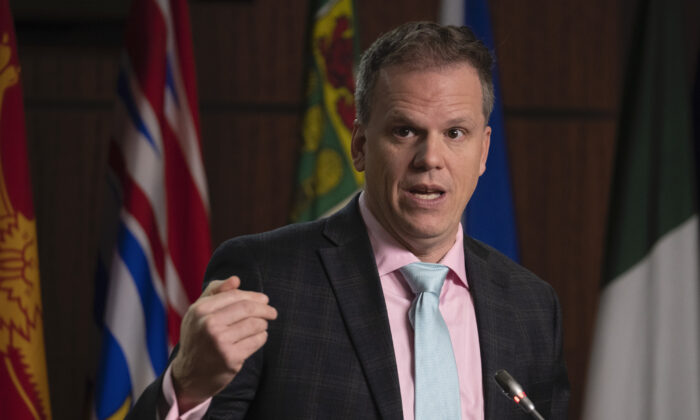 With a new Parliament session opening on Nov. 22 and soon pausing for the holidays, the Liberal government has set its target on passing four pieces of legislation before the break.
Government House Leader Mark Holland laid out the agenda during a press conference, saying his party will focus on providing pandemic financial aid, banning protests that interfere with hospitals, mandating a 10-day paid sick leave for federally regulated workplaces, and passing their legislation banning conversion therapy.
"It's my intention with all parties to operate in a way that is logical and pre-eminently reasonable so that we can find common ground," Holland said. "But I also want to be clear that we're here to get results, that Canadians have an expectation of us to deliver."
Holland said "with good will" from other parties he believes the bills will be adopted, while raising other issues that have been more contentious with the opposition parties.
On the question of MPs attending the House of Commons in-person or some being allowed to attend remotely in a hybrid model, Holland said disagreements persist.  Conservatives and the Bloc favour a return to in-person proceedings, whereas the other parties support the hybrid model for more flexibility during the pandemic.
"Canadians deserve a government that is accountable to its constituents and that's why under no circumstances will Conservatives support virtual Parliament," said Tory whip Blake Richards in late October.
issue of the pandemic also continues to weigh on other House business, with Holland appearing to cast doubt on the legitimacy of the medical exemptions received by what he speculated are "multiple" Conservative MPs. Nov. 22 marked the first day of new rules requiring anyone entering the House of Commons and Senate buildings to be fully vaccinated or have a valid medical exemption in place. 
" likelihood that you have a medical exemption from a vaccination is one to five in 100,000," Holland said. " Conservative caucus is 119 people. Statistically, the likelihood that they would have multiple people who are exempt on that basis is extraordinarily low."
Holland was asked at the press conference if he's casting doubt on the call by the doctors who issued the exemptions. He rejected that suggestion, saying "I don't get it, and I'm asking for help to understand it."
Responding to Holland's comments on Nov. 22, Deputy Conservative Leader Candice Bergen said Holland was "disparaging the House of Commons officials and medical experts tasked with overseeing the vaccination verification process."
With files from Canadian Press
Pezou : Liberals Set Short-Term Agenda as COVID-19 Weighs on New Parliament