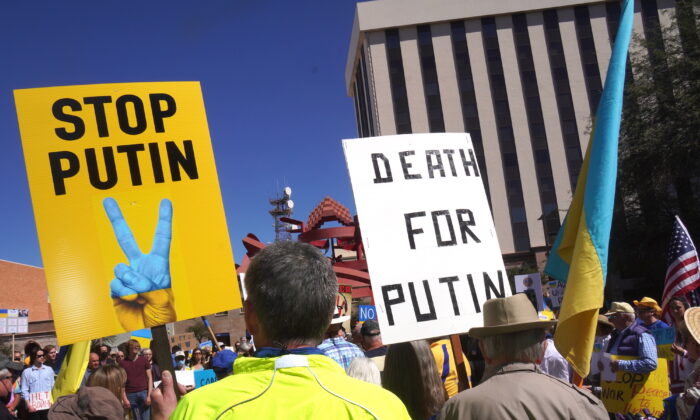 TUSCON, Ariz.—Maximilian Lautaire, 12, of Texas hugged the blue-and-yellow flag of Ukraine as if it were his own country's banner.
It was in a very personal sense the flag of his family heritage as several close relatives hail from Ukraine. 
"My Mom was from Ukraine. My uncle and my aunt are also from Ukraine," Lautaire said as a crowd of more than 200 gathered at Jacome Plaza in downtown Tucson on March 6 to protest against the Russian invasion of Ukraine.
Lautaire said it was "sad" that people in that far away land were suffering and dying, which was why he came hundreds of miles to attend the rally.
Sponsored by the Ukrainian-American Society of Tucson, the rally called for unity between the two countries and an end to "Russian aggression" and the occupation of Crimea, and other territories in eastern Ukraine.
The protest also called for the "release of all Ukrainian citizens unjustly imprisoned by Russia."

A number of protesters at the rally waved American and Ukrainian flags and carried signs while shouting "Russia out of Ukraine," "Ukraine matters," among other slogans. 
Some called for the assassination of Russian President Vladimir Putin.
Ukrainian native Diana Babiy said she had been traveling abroad when the fighting in eastern Ukraine began on Feb. 24. 
Now, she sees the nationwide conflict in Ukraine as a global fight against tyranny.
"We cannot let the world get used to [the invasion]. We have to keep screaming from every corner," said Babiy as she addressed the large crowd through a bullhorn. 
While in Arizona, "I'm doing everything possible to help here in the state," Babiy told The Epoch Times.

At 1 p.m., the rally began with the singing of the American and Ukrainian national anthems and passionate speeches by organizers and protesters.
While hoisting a blue-and-yellow sign that read "No War," Angela Donofrio of Tucson said, "I think this is a fight for democracy."
"I can't believe this is happening," she said regarding the Russian invasion.

"I think we need to support the Ukrainians" in the form of oil sanctions against Russia, Donofrio, a Democrat, told The Epoch Times. "And we need to stop [Putin's] GOP sympathizers."
"Stop Putin in his tracks!" shouted Martha Toci through a bullhorn, and urged the West to "keep pressure" on Russia to stop the war. 
"The world will no longer put up with bullies and terrorists in our world," said Toci, whose family emigrated from Ukraine after World War II. "Then when Ukraine is free please come and visit Ukraine," she said.

Toci said that because the wounds of World War II are still "fresh" in the minds of many Ukrainians, the Russian invasion is just as painful.
During the rally, a lone counter-protester began shouting that Putin and Ukrainian President Volodymyr Zelenskyy both serve the World Economic Forum, a globalist organization. The man said America should not go to war for "globalist" interests before rally organizers escorted him away.
Among the rally protesters were Phoenix area residents Charlie Masters and his wife Alina, who also have a home in Kyiv. 
In tears, Alina, a native of Ukraine, addressed the rally to oppose the war, saying, "I hope he doesn't do this," referring to Putin's talk of using nuclear weapons if the West attacks.
Masters said that his wife was fortunate to be able to flee Ukraine when hostilities erupted in late February. Alina then spent several days with friends in Prague, the capital of the Czech Republic, and Switzerland before she arrived safely back in the United States, he said.

"She didn't know what was going on" when the Russians invaded. "She packed a backpack and left," Masters told The Epoch Times.
Veronika Williams, a Russian native and lecturer/event and recruitment organizer in the Department of Russian and Slavic Studies at the University of Arizona expressed her "hope for peace" at Sunday's rally.
"I'm Russian. I don't know if I'll ever go back to Russia anymore," she then told the crowd as she broke into tears. 
Her colleague, Dr. Colleen Lucey, also spoke at the protest and read a poem by Ukrainian poet Shevchenko. A number of graduate students as well as other professors from the university attended the rally.
While other protesters at the rally called for multinational intervention in Ukraine and harsh sanctions against Russia, Don Haynes of Tucson said "there's always a spiritual solution" to the crisis.
"It may not necessarily fit a worldly solution—maybe on an individual level [to] help us get through it all," Haynes told The Epoch Times.
Original link : Hundreds Rally In Arizona to Protest Against 'Russian Aggression' in Ukraine