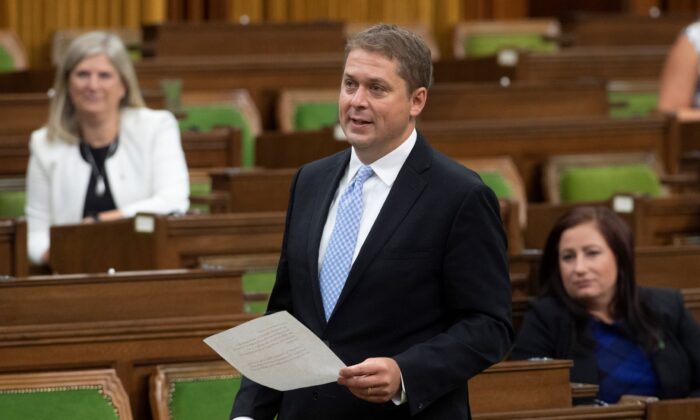 Former Conservative Party leader Andrew Scheer has officially endorsed his colleague Pierre Poilievre for the top leadership spot during an event in Regina on March 4.
"When I agreed to endorse him, [Poilievre said] 'it'd be great if you could tweet something out,'" Scheer recounted at the event.
"I said I'm gonna do a little bit better than tweet something out. I'm gonna bring you to Regina and we're gonna pack the crowd to show how much support you have here."
Poilievre was in Saskatchewan last week where he attended a number of meetings, including with Premier Scott Moe and Members of the Legislative Assembly.
Scheer said he remained neutral in the last leadership race as the outgoing leader, but this time around he will get involved, saying he and Poilievre are "on the same page."
With Poilievre holding on to his Ottawa riding (Carleton) since 2004, and twice winning the most votes for a Conservative in the province, Scheer said it shows he could win Ontario.
During the last federal election in September, the Liberals took 78 seats and 64.5 percent of the vote in Ontario, compared to 37 seats and 30.6 percent for the Conservatives.
"What I like best about Pierre is that he says the same things publicly that he says privately. He says the same things in Eastern Canada that he says in Western Canada," said Scheer, who led his party from 2017 to 2019.
"Andrew Scheer is a great Canadian statesman," said Poilievre on Twitter after receiving Scheer's endorsement.
"I'm honoured to have him on my team to put Canadians back in control of their lives."
Poilievre stepped down from his role as finance critic in February due to his leadership bid. In the former position, he was known for his direct style in criticizing the government on topics such as inflation and spending from the front bench in the House of Commons.
Over 30 MPs have thrown their support behind Poilievre since he announced his leadership bid on Feb. 5, reports the National Post, and he has also received the backing of former cabinet minister John Baird, who will serve as his national campaign co-chair.
Other potential candidates for Tory leadership include political commentator Tasha Kheiriddin, who said last month she was considering running, as well as former Quebec Premier Jean Charest, who has received the support of some Conservative MPs like Gérard Deltell, former House leader under Erin O'Toole.
Charest hasn't officially announced he will run, but his potential bid has been receiving steady media coverage.
Candidates have until April 19 to enter the leadership race and need to provide an entry fee of $200,000 and a compliance deposit of $100,000 refundable once the race is over.
Party members will vote in late July and early August with the results to be announced on Sept. 10.
Original link : Former Tory Leader Scheer Endorses Poilievre For Party Leadership