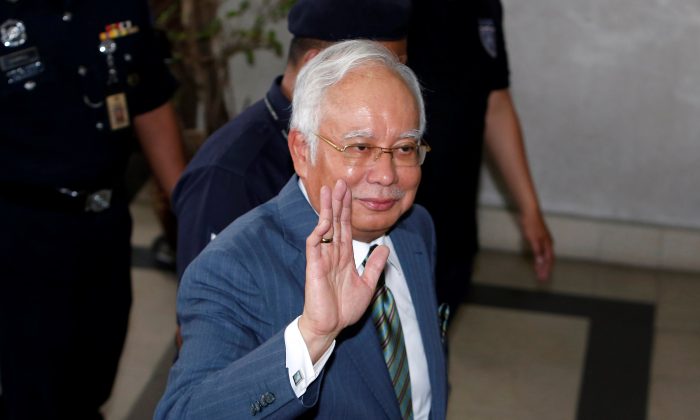 Malaysia's former Prime Minister Najib Razak has led his party United Malays National Organization (UMNO) and its allies to a landslide victory in Malacca state elections, with the UMNO-led Barisan Nasional (BN) coalition winning 21 of the 28 state seats on Nov. 20.
UMNO won 18 of the 28 seats, while its allies in the BN coalition won three. Rival coalition Pakatan Harapan and Perikatan Nasional (PN) won five and two seats, respectively.
Malacca state was initially governed by a PN–BN coalition government, but the coalition toppled after four assemblymen declared no confidence in the state's former chief minister Sulaiman Ali, prompting a state election to take place.
Malacca's governor Ali Rustam consented to dissolve the state assembly on Oct. 5, after which an election must be held within 60 days of the dissolution under Malaysian law.
state election saw the lowest voter turnout, with an overall turnout of 65.85 percent, or 328,068 total voters, well below the Election Commission's target of 70 percent.
Najib, who is facing a string of corruption charges, has been actively leading UMNO's election campaign, despite not contesting any seats.
"I slept very well last night after news of the victory broke," Najib said in a Facebook video, expressing gratitude to Malacca voters for their support of him and his party following UMNO's victory in the Malacca election.
Last year, the former president was sentenced to 12 years in jail and fined $50 million after he was found guilty of all seven charges related to the misappropriation of $10 million of SRC International funds, a former unit of now-defunct 1MDB.
Najib was slapped with three charges of criminal breach of trust, one charge of abuse of power, and three charges of money laundering. He pleaded not guilty to all charges and denied any wrongdoing.
scandal contributed to the ousting of the UMNO party that had led Malaysia since independence in 1957. party was ousted in 2018 elections by opposition leader Ibrahim Anwar's reformist alliance.
Anwar's alliance crumbled last year after Muhyiddin Yassin withdrew his Bersatu Party and formed a new government with UMNO, the Pan-Malaysian Islamic Party, and several others.
Muhyiddin was forced to resign in August due to infighting, and Ismail Sabri Yaakob, who was Muhyiddin's deputy, took office, bringing back UMNO's rule.
UMNO and Bersatu, the two biggest parties in the ruling alliance, are at loggerheads but have agreed to share power until the next general election.
Associated Press contributed to this article.
Pezou : Former Malaysian Prime Minister Leads Party to Landslide Victory in State Elections