'Enough Is Enough' Two Pennsylvania Counties Defy Governor and Reopen

The elected officials of two counties in central Pennsylvania have decided to reopen before Gov. Tom Wolf lifts the CCP virus lockdown restrictions in their counties. The Dauphin county board of commissioners declared their intention in a letter to the people of the state on May 8, while the elected officials of Lebanon did it in a letter to the governor on the same day. "Enough is enough. It is time to reopen the Commonwealth of Pennsylvania and return our state to the people (as prescribed by our Constitution) and not run it as a dictatorship," Jeff Haste, the Chairman of the Dauphin County Board of Commissioners wrote in the letter. Haste said that since Gov. Wolf imposed the lockdown to control the pandemic it has caused more than 1,793,200…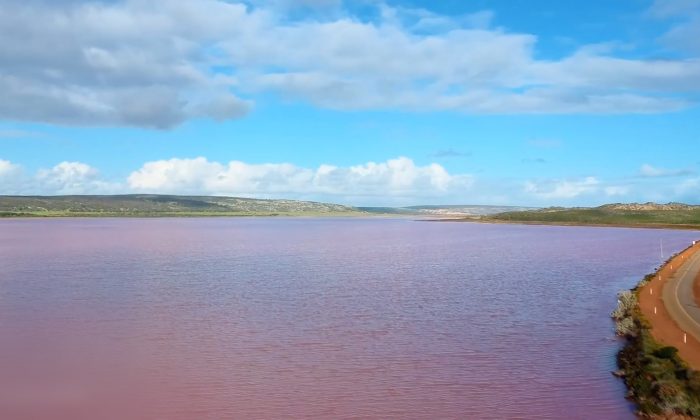 Australian Environment authorities are continuing to investigate what turned a creek in Melbourne鈥檚 north to bright pink over the weekend.
Edgars Creek, in Coburg North, turned a bright shade of聽fluorescent pink on May 9, but authorities are still unsure of the cause behind the bizarre phenomenon and warned members of the public to avoid contact until further notice.
"EPA officers are investigating the cause of the strange discolouration which happened near Adnette Court," Victoria鈥檚 Environmental Protection Authority wrote on Facebook Saturday. In an updated post, the authority said the creek has since started "returning to normal as it is naturally flushed from recent rainfall."
On a further post on Sunday, the EPA said heavy rains have now "flushed the pink pollutant from the creek which is returning to normal," and thanked the聽Coburg North community for reporting the incident.
Tara DeGraft-Hayford, a Melbourne resident, told The Age that she had seen the pollution聽on Saturday morning while she was out walking her dog.
"I thought it was a plastic sheet and as I got closer, I noticed it was coming from the drain and the water was actually pink," she said, noting that the bizarre sight almost looked like soap.
"It looked quite thick and so bright, almost like some kind of soap – but not. It was weird," she said, adding that the pollution had no smell, but it looked "not right and definitely not safe whatever it was."
According to The Age,聽Edgars Creek runs 17 kilometres (10.5 miles) from Wollert through Epping, Thomastown, and Reservoir before joining the Merri Creek at Coburg North and is populated with native bird species.
Edgars Creek is not the only body of water in Victoria to turn pink as the city's聽Westgate Park also turns a bright cotton candy shade most summers due to a natural process, when salt levels are higher than usual.
"Westgate Park鈥檚 salt lake has turned pink again this season: a natural phenomenon in response to very high salt levels, high temperatures, sunlight and lack of rainfall,"聽Parks Victoria explained in a 2017 Facebook post.
"Algae growing in the salt crust at the bottom of the lake produces the red pigment (beta carotene) as part of its photosynthesis process and in response to the extremely high salt levels."
The organisation said that while the聽algae is not harmful to local wildlife, people should avoid coming into contact with the water and instead just "enjoy the views."
Focus News: Environmental Investigation Launched After Melbourne Creek Turns Bright Pink
FDA Approves First COVID-19 Antigen Test for Emergency Use

Federal authorities announced Saturday that emergency-use authorization has been granted for the first antigen test for COVID-19, the disease caused by the CCP virus. The Food and Drug Administration (FDA), in a May 9 release, said the authorization was issued late Friday to Quidel Corporation for an antigen test, a new type of diagnostic test designed for rapid detection of the virus that causes COVID-19. Antigen tests detect the presence of the disease, while antibody tests indicate past infection. FDA chief scientist Denise Hinton said in a letter (pdf) that Quidel's test, called the Sofia 2 SARS Antigen FIA, that based on the scientific evidence, "it is reasonable to believe that your product may be effective in diagnosing COVID-19, and that the known and potential benefits of your product when…