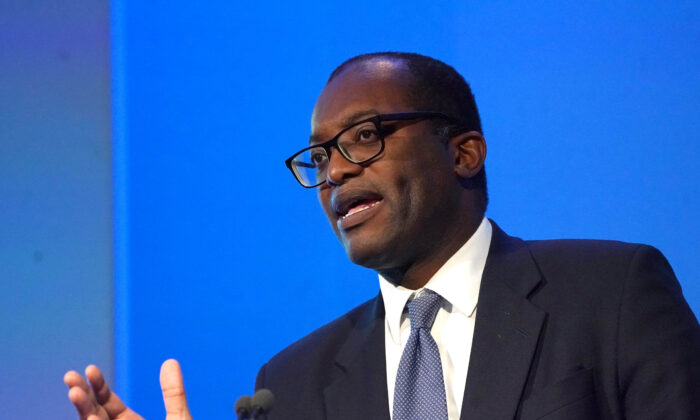 Britain will join the United States in halting the import of Russian oil and related products, to ramp up the economic pressure on Russia following the invasion of Ukraine.
The move, announced by UK business secretary Kwasi Kwarteng on Tuesday, comes on the heels of other sanctions on Russian financial systems and individuals in Russian President Vladimir Putin's inner circle.
Russian oil and related products will be phased out of UK imports by the end of 2022, he said.
A new taskforce will also be set up to help firms find "alternative supplies," said Kwarteng.
In a statement posted on Twitter, he said, "This transition will give the market, businesses and supply chains more than enough time to replace Russian imports—which make up 8 percent of UK demand."
Kwarteng said that he was also considering ending the Russian supply of natural gas to the UK, which makes up 4 percent.
He noted that Britain is a "significant producer" of oil and oil products and has "significant reserves."
U.S. President Joe Biden make a parallel announcement minutes later, warning Americans that the sanctions would impact the U.S. economy and that "defending freedom is going to cost."
British Prime Minister Boris Johnson similarly suggested that Britons would be experiencing more pain at the petrol pumps, where prices have already soared.
Johnson said the UK was "less exposed" than some European nations but that dropping Russia from supplies couldn't be done overnight.
Speaking to broadcasters in London, Johnson said, "The UK is less exposed [than European allies] but clearly we do have diesel that comes from Russia and we can't move overnight."
"We can do it in a way that doesn't disrupt supply, that ensures we have substitute supplies on stream in an orderly way and in a timetable that won't affect UK business, won't affect UK manufacturing, road haulage, or other parts of our industry but will punish the regime of Vladimir Putin."
The decision to oust Russia from oil supplies came just before Ukrainian President Volodymyr Zelensky appeared by video link before a packed UK Parliament to give an address on his country's plight.
Quoting from Shakespeare and paraphrasing Churchill, Zelensky sought once again—in vain—to stir support for a no-fly zone, begging the UK to "make sure that our Ukrainian skies are safe."
Zelensky gave his personal thanks to Johnson for his support.
Johnson said that "never before in all our centuries of our parliamentary democracy has the House listened to such an address."
PA Media contributed to this report.
Original link : Britain to Halt Import of Russian Oil by End of Year