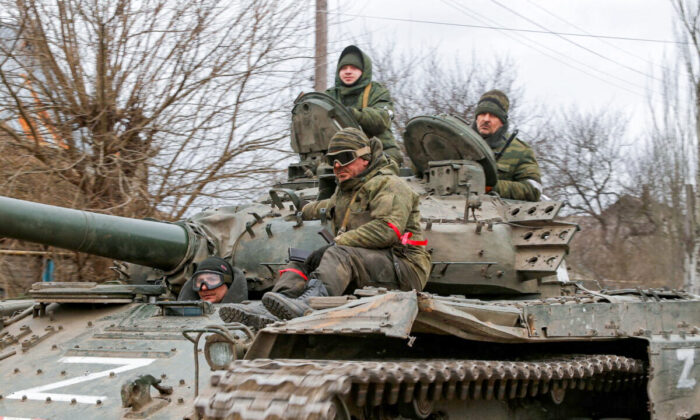 The Australian government is topping up existing sanctions against Moscow with a new round of measures to combat an alleged Russian disinformation campaign.
The sanctions were announced on March 8, in a statement by the Australian Department of Foreign Affairs (DFAT). This follows the previous tranche of sanctions already declared on Feb 28.
The new measures aim to push Russia and its partners, complicit in the war on Ukraine, out of the Australian economy, supply chain and airwaves.
Australian Foreign Minister Marise Payne said in a media release on March 8 that the new range of sanctions will target financial restrictions to be imposed on the Armed Forces of the Russian Federation in addition to travel bans being placed against six senior Russian military commanders responsible for implementing naval, ground and air attacks on Ukraine.
"The Australian Government is placing new sanctions on Moscow's propagandists and purveyors of disinformation, who are trying to legitimatise Russia's unprovoked, unjustified invasion with false narratives such as the "de-Nazification" of Ukraine," Payne said.

"Australia and partners will continue to impose costs on Russia's egregious, unlawful and completely unjustified war on Ukraine. We again call upon Russia to withdraw its military forces immediately from Ukraine."
Payne also noted that Australia was working with international partners to stop the dissemination of Russian propaganda and disinformation and was "working to drive Russia out of our economies, supply chains and airwaves."
According to DFAT, the invasion of Ukraine has been accompanied by a disinformation campaign that is international in scope, with DFAT alleging that Russian President Vladimir Putin has shut down independent voices and restricted access to outside information to everyday Russians.
To counter the alleged disinformation campaign, the Australian government is imposing sanctions on 10 people of strategic interest for their role in encouraging hostility towards Ukraine and promoting propaganda that legitimises Russian military action.
This includes promulgating narratives that Russia is helping with the "de-Nazification" of Ukraine, allegations of genocide against ethnic Russians in eastern Ukrainian territories, and promoting the recognition of the Donetsk People's Republic and Luhansk People's Republic as an independent region.

The Australian government is also collaborating with tech platforms such as Facebook, Twitter and Google to clamp down on content generated by Russian state media within Australia. In addition, SBS and Foxtel have already suspended broadcasting of Russia Today and NTV Moscow in response to community feedback.
On Feb 28, the Australian government announced it would work with NATO and other partners to provide military equipment, medical supplies and financial assistance to Ukraine.
Australia has already pledged US$50 Million to support non-lethal military equipment and medical supplies to Ukraine.
More than 350 Russian individuals, including MP's and military commanders, have already had sanctions placed on them by Australia for their role in facilitating the war. Additionally, 13 Belarusian individuals and entities, including Minister of Defence Viktor Khenin, have also been targeted.
The Australian government has previously expressed in a media statement support for economic sanctions announced by the European Commission, France, Germany, Italy, the United Kingdom, Canada, and the United States. Some of these measures include removing selected Russian banks from the SWIFT financial system, restrictions against the Russian Central Bank, and establishing a trans-Atlantic task force to identify and freeze assets of targeted individuals and companies.
Original link : Australia Rolls Out New Sanctions Targeting Russian 'Disinformation'