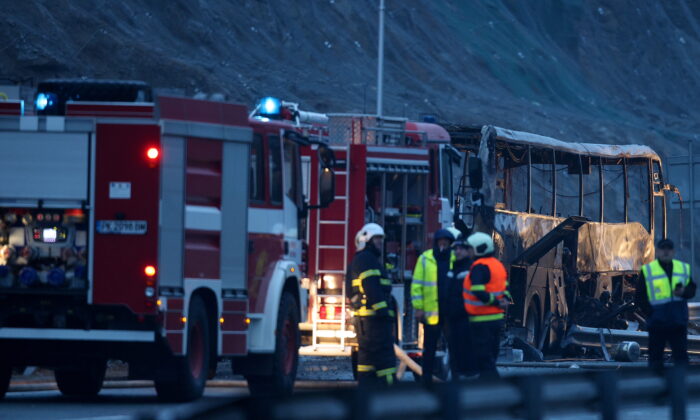 At least 45 people have been killed, including children, after a bus caught fire on a highway in western Bulgaria early on Tuesday,聽officials have said.
incident occurred on the Struma highway about 45 kilometers (28 miles) west of Sofia, near the village of Bosnek, at around 2 a.m. local time, as per local reports.
While the cause of the accident is currently unclear, the bus, which reportedly has a聽Macedonian registration and was mostly carrying North Macedonian tourists, appeared to have hit a highway barrier either before or after it caught fire, Bulgarian officials said.
Bulgarian investigative service chief Borislav Sarafov said, "Human mistake by the driver or a technical malfunction are the two initial versions for the accident."
Television footage showed the bus charred and gutted by fire in the middle of the highway, which was wet from rain.
"On the 31st kilometer of the highway, there was an accident with a bus in which 52 people were traveling, as a result of which a fire broke out; 45 people died. director of ODMVR is managing the situation on the spot. operative-investigative actions are still going on, but the fire is due to an accident. other victims were taken to hospital, their condition is not serious,"聽the head of the fire safety department at the interior ministry, Nikolai Nikolov, told local news outlets.
Among the dead were 12 minors, including two twins,聽BGNES news agency聽reported. Officials have yet to confirm the age of the victims.
North Macedonian Foreign Minister Bujar Osmani said the coach party was returning to the capital Skopje from a weekend holiday trip to the Turkish city of Istanbul, according to Reuters.
area around the site on the Struma motorway has now been sealed off.
Bulgarian interim prime minister Stefan Yanev traveled to the scene, where he told reporters,聽"We have an enormous tragedy here."
"People are clustered inside and are burnt to ash,"聽Interior Minister Boyko Rashkov told reporters at the site." picture is terrifying, terrifying. I have never seen anything like that before."
Some people jumped through the bus鈥檚 windows to escape the flames,聽BGNES news agency聽reported, citing comments from聽Prof. Maya Argirova, head of the burn clinic in Pirogov, who added that seven people with burns and lacerations were taken to the hospital in Sofia.
section of the highway in which the incident occurred is known as a problem area, and multiple accidents have occurred there, according to officials. Roadworks were carried out in the area over the summer to repair holes,聽road expert Diana Rusinova told BTV.
Reuters contributed to this report.
Pezou : At Least 45 Dead, Including Children, After Bus Catches Fire in Bulgaria