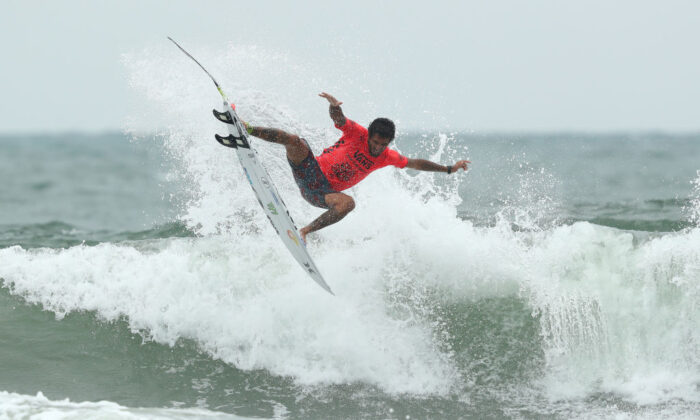 The MEO Pro Portugal, hosted by World Surf League, has reached the semi-finals stage and for three out of four of the men's quarter-finals having a solid air game has made the difference.
Quarterfinal one saw the 2019 Championship Tour (CT) victor Brazilian Italo Ferreira up against South African Jordy Smith.
While Smith had used his superb rail work and slick small wave barrel riding to progress that far, conditions at Supertubos had changed by the afternoon, with onshore conditions and very few barrels being offered up.
These conditions suited Ferreira, in that they presented some quality ramps, which he was able to utilise to get a heat total of 14.67.
His best wave score was a 7.67 after stomping a front-side full rotation followed by a dramatic floater.
Smith also has an air game but was unable to utilise it on the day.
In the second heat, Filipe Toledo, also a maestro of the air, took on Conor Coffin, who couldn't quite find his rhythm.
Toledo started off with some fine carves, but four minutes into the heat landed a back-hand full rotation, landing behind the lip but pumping back onto the wave face to complete the ride.
After more lovely rail work, Toledo took to the sky again with a tail-high reverse and completed the heat with a score of 14.
"The conditions got kind of tricky right now, the wind is super strong," Toledo said after his quarter-final.
When Olympic silver medalist Kanoa Igarashi of Japan met two-time world champ Hawaiian John John Florence in heat three, the mould was broken.
Although Igarashi went into the air successfully on two occasions, he achieved less height and the manoeuvres were less critical than Toledo and Ferreira in the two previous heats.

Florence was able to get surprisingly vertical in the small conditions, while also putting a level of power into his turns that few can, and although very talented at popping airs, he relied on the former to take out the heat 12.93 to 10.37.
However, heat four followed in the style of one and two, when Griffin Colapinto of the U.S. put on an air display, scoring a perfect 10 with a back-hand full rotation with about three minutes to go, pulling off the best air and wave score of the competition so far.
His opponent, Kalohe Andino, also of the U.S., attempted some airs but couldn't stick them, losing the heat 17.83 to 10.34.
Ferreira will meet Toledo in an all Brazilian first semi-final, while Florence will be up against Colapinto in the second.
Meanwhile, the women's event has also reached the semi-finals stage, with seven-time world champ Australian Stephanie Gilmore taking on Lakey Peterson of the U.S.
The second semi will see five-time world champ Carissa Moore of Hawaii, battle it out with Brazilian Tatiana Weston-Webb, who was runner up to Moore in the CT finals in 2021.
The competition is set to continue on Monday, waves permitting.
Original link : Air Game the Difference in MEO Pro Portugal Men's Surfing Quarter Finals