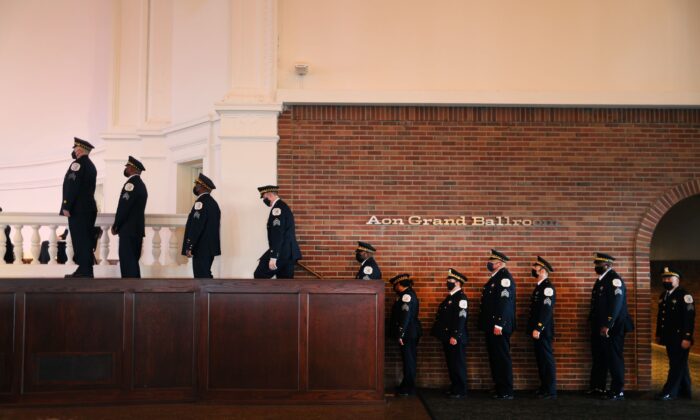 New hires at police departments rebounded, retirements slowed, and resignations soared in 2021, according to a new national survey by Police Executive Research Forum (PERF.)
The survey found that the number of new hires jumped 21 percent among responding agencies, when compared with 2020, though still falling short of the 2019 level.
The police workforce experienced a significant drop in 2020, due to the pandemic, the defund the police movement, and budget cuts, according to PERF.
Also, in 2021, the number of retirements slowed by 6 percent, compared with the year before, though were still higher than in 2019.
Meanwhile, resignations continued to soar, by 40 percent, compared with 2020, the survey found.
PERF sent the voluntary survey in mid-January to agency chief members in the U.S., including sheriffs, commissioners, and superintendents. It received 179 replies.
Five Canadian agencies participated in the survey, which also found that:
– The rise and fall of workforce numbers differ vastly among agencies.
– Small agencies with fewer than 50 officers, saw a rare hiring boost in 2020, and it got even better in 2021, with another 51 percent jump.
– In contrast, agencies with more than 50 officers saw a hiring cut in 2020, which began to rebound last year.
– When it came to resignations, big agencies with over 500 officers saw the biggest rate increase in 2021—44 percent compared with the year before.
It is not clear how many officers, after resigning, were rehired by other law enforcement agencies, or whether they left police work altogether, PERF noted in the report.
Agencies told PERF that officers are more willing to leave for another agency when there is higher pay, a lower cost of living, or a jurisdiction more supportive of police.
To widen the candidate pool, quite a few agencies lowered hiring standards in 2021, including easing restrictions on prior drug use, lowering education requirements, and cutting back on the physical tests, according to PERF.
Some agencies noted that their workforce is significantly younger.
Being young, officers are more adept at using technology and are more receptive to changes. But, it also means a lack of experience and has led to an increase in officer accidents, agencies told PERF.
The challenge to hire qualified candidates was already manifest in 2020, according to agency comments in a prior PEFR survey.
One agency commented: "We are seeing fewer 'above average' candidates. The current rhetoric and negativity surrounding law enforcement is having a negative impact on the number and quality of applicants we recruit."
Another said: "Many who applied could not meet minimum eligibility requirements, failing either the background investigation or polygraph.  Minority hiring, a significant goal, has been considerably more difficult.  Police accountability has been a source of conversation and concern among those who are hired, and those who left."
Original link : Police Hiring Improved as Exodus Continued, Survey Says