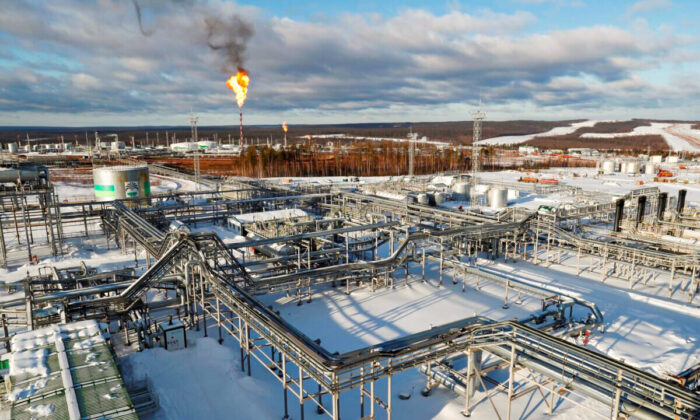 Oil prices fell during early trading on March 14, continuing the downward trend of the past few days, as representatives of Russia and Ukraine hold talks that could soon result in tangible positive outcomes. The decline in prices is also attributed to China announcing lockdowns in various commercial regions amidst a resurgence in COVID-19 cases.
May futures for Brent Oil were trading at $107.07 per barrel as of 13:32 UTC on March 14 after opening at around $111 per barrel. When compared to the March 7 peak of roughly $139, oil prices are trading lower by over 22 percent.
A prominent reason for Monday's decline is the Russia–Ukraine peace talks. War between the two nations has disrupted oil supplies, driving up prices. Initial talks failed to produce any results, but Russia has begun to "talk constructively," said Ukrainian negotiator Mykhailo Podolyak in an online video. He believes both countries will "achieve some results literally in a matter of days."
Leonid Slutsky, a Russian delegate participating in the talks, also said that there has been significant progress in negotiations and that both sides could soon come up with draft agreements.
There has been a resurgence of the pandemic in China, the country where COVID-19 emerged and spread throughout the world. "Beside new talks between Ukraine and Russia, I guess new lockdowns in China are the reason for a negative start of the week for crude oil," said UBS analyst Giovanni Staunovo.
China, a major oil consumer, reported 1,337 new domestically transmitted cases of COVID-19 on March 13, taking the total tally for 2022 to over 9,000. This is a greater number of infections than the entire year of 2021, when only 8,378 cases were reported by the regime. China has been suspected of concealing its true COVID numbers since the beginning of the pandemic. Outbreaks have recently been reported in Shanghai, the country's financial hub, as well as highly populated cities like Zhejiang, Jiangsu, Shandong, and Guangdong.
Shenzhen and Shanghai, two of the largest cities in China, imposed strict restrictions on movements March 13. Shenzhen, a tech hub, announced a lockdown for seven days. Shanghai has not ordered a citywide lockdown but has stopped intercity bus services. On March 14, factory city Dongguan imposed a lockdown similar to the one in Shenzhen.
"China's economy could be severely hit again," Japanese financial company Nomura said, pointing out that the COVID-19 situation in the country had worsened at an "alarming" pace in the past weekend. "The outbreak has now reached almost every part of China with significant economic importance." Extended lockdowns in China can dampen oil demand, putting downward pressure on prices.
India, another major oil consumer, announced that it will take "appropriate" actions to control the hike in prices, possibly indicating that oil could be released from its national stocks. In the United States, the Federal Reserve is expected to raise interest rates March 16, which could also bring down oil prices.
Original link : Oil Prices Decline Following Russia–Ukraine Talks, COVID-19 Spike in China