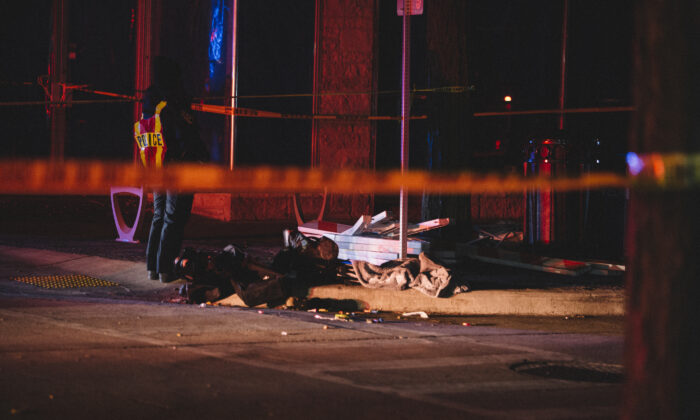 An eyewitness who did not realize he was speaking on聽live television has聽described the聽Waukesha,聽Wisconsin, attack suspect as a black man with dreadlocks.
City of Waukesha confirmed late Sunday that five people were killed and over 40 were injured聽after a driver plowed into people participating in a Christmas parade, although they anticipate that those numbers may change as they collect additional information.
According to witnesses and video footage of the incident, the driver plowed through people in the聽parade in a red聽SUV.
Footage of the attack, which was live-streamed and聽posted聽on the City of Waukesha鈥檚 Facebook page, shows the SUV speeding into the parade behind a school marching band. Other聽videos聽were聽uploaded elsewhere, including one that allegedly聽shows聽the SUV breaking a police barricade.
majority of those injured are being treated in hospitals in the area. Police have detained the attacker in custody, officials said.
In a statement, the City of Waukesha said the investigation is still ongoing and streets surrounding the area have been closed until midday Monday, while businesses have also been temporarily shut down. Police urged locals to avoid the area while officers investigate.
" scene is still fluid, and the investigation is ongoing. community mourns the loss of our community members and those injured. We are asking for the community to come together during this time and to keep the families in your prayers," the city said.
Waukesha public schools will also be closed on Monday, officials said, adding that they are working to notify the next of kin of victims, and counseling services are also available at Waukesha South.
On Sunday evening, an unconfirmed eyewitness shared that the attacker was a "black man with dreadlocks," who was "by himself." alleged witness was seemingly unaware that he was on live television when he gave the description.
Waukesha Police Chief Dan Thompson confirmed that a person of interest has been taken into custody and a vehicle had been recovered after the incident, about 32 kilometers (20 miles) west of Milwaukee.
" vehicle struck more than 20 individuals, some of those individuals were children and there were some fatalities as a result of this incident. We will not be releasing information on the fatalities at this time while we are working on notifying the families of the deceased. We are no longer looking for a suspect vehicle, we do have a person of interest in custody at the moment but this is still a very fluid investigation,"聽Thompson said.
Thompson said no shots were fired from the SUV but at least one law enforcement officer had fired at the vehicle as it sped by.
Jack Phillips contributed to this report.
Pezou : Witness Describes Wisconsin Christmas Parade Attack Suspect as 'Black Man With Dreadlocks'