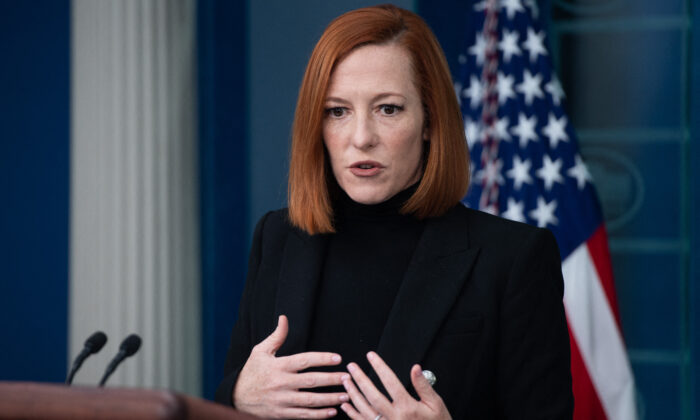 The White House says no decision has been made on whether the United States will ban Russian oil imports in response to Russia's invasion of Ukraine.
This comes as oil and gas prices reach record highs, the Biden administration continues talks with large oil producers around the world, and a bipartisan group of lawmakers announce plans for legislation banning Russian energy imports.
"No decision has been made at this point by the president about a ban importing oil from Russia," White House press secretary Jen Psaki told reporters on Monday.
Earlier in the day, members of the House Ways and Means Committee and the Senate Finance Committee announced plans for a bill that would provide U.S. President Joe Biden the authority to increase tariffs on goods from Russia and Belarus, and would require U.S. Trade Representative Katherine Tai to seek suspension of Russia's participation in the World Trade Organization (WTO). Tai would also be required to push for a halt to Belarus's proposed accession to the WTO.
"Taking these actions will send a clear message to [Russian President Vladimir] Putin that his war is unacceptable and the United States stands firmly with our NATO allies," the lawmakers said.
The statement was issued by House Ways and Means Committee Chair Richard Neal (D-Mass.) and Senate Finance Committee Chair Ron Wyden (D-Ore.) and their Republican counterparts Rep. Kevin Brady (Texas) and Sen. Mike Crapo (Idaho).
The White House has said it is seeking to strike a balance on Russian sanctions that maximize the squeeze on Russian President Vladimir Putin while minimizing the cost to American consumers.
The average price for a gallon for gas in the United States hit a record high of $4.104 on Monday, breaking the record of $4.103 set in 2008, according to GasBuddy.
On Sunday, oil prices soared to their highest since 2008 due to delays in the potential return of Iranian crude to global markets.
Biden on March 1 authorized the Department of Energy (DOE) to release 30 million barrels of oil from the U.S. strategic petroleum reserves, representing half of a coordinated 60-million-barrel release from International Energy Agency (IEA) member states.
But the 60 million barrels release is equivalent to 2 million barrels a day for 30 days, while the United States consumes an average of about 20 million barrels per day.
Read More
Alberta Oil Can Be a Solution to US Energy Supply Crunch—Minister
Since before Russia decided to invade Ukraine, the White House has said it was in discussions with large oil producers around the world to negotiate ways to stabilize the energy market. These have included Saudi Arabia, Iran, and Venezuela.
Reports from over the weekend noted high-level Biden administration officials travelling to Venezuela to meet with the government of President Nicolás Maduro.
The United States broke off diplomatic relations with Maduro and closed its embassy in Caracas in 2019. The Trump administration accused the authoritarian leader of election fraud, placed sanctions on Venezuelan oil exports, and recognized the opposition leader, Juan Guaidó, as Venezuela's lawful president.
When asked on Monday whether bringing down gas prices was worth doing business with Maduro, Psaki responded by saying that was "leaping several stages ahead in any process."
"There was a discussion that was had by members of the administration over the course of last several days. Those discussions are also ongoing. And part of our focus is also on the health and welfare of detained U.S. citizens. While that is a separate process, that is part of our engagement with them," she said.
Psaki also said that energy conversations with Iran have occurred alongside ongoing nuclear discussions and those with Saudi Arabia were part of a meeting a few weeks ago with U.S. officials to discuss "a range of topics."
Some members of Congress and the press have called for the United States to increase its domestic oil production as a means of stabilizing gas prices, though this would run contrary to the Biden administration's effort to move the United States away from natural gas consumption.
Biden signed an executive order during his first days in office putting a halt to new fossil fuel drilling leases. Psaki has continually pointed to already approved leases untapped by the oil industry.
"We've actually produced more oil, it is at record numbers, and we will continue to produce more oil. There are 9,000 approved drilling permits that are not being used," Psaki said on Monday. "So the suggestion that we are not allowing companies to drill is inaccurate."
Russia provides 10 percent of the U.S. supply of natural gas and oil, and roughly 40 percent of the European Union's.
If the U.S. moves to ban Russian oil, it may be acting alone. Germany, the biggest buyer of Russian crude oil, has rejected plans to ban energy imports. Germany is accelerating plans to expand its use of alternative energy sources but cannot halt imports of Russian energy overnight, German Chancellor Olaf Scholz said on Monday.
Reuters contributed to this report.
Original link : White House: 'No Decision' on Whether to Ban Russian Oil