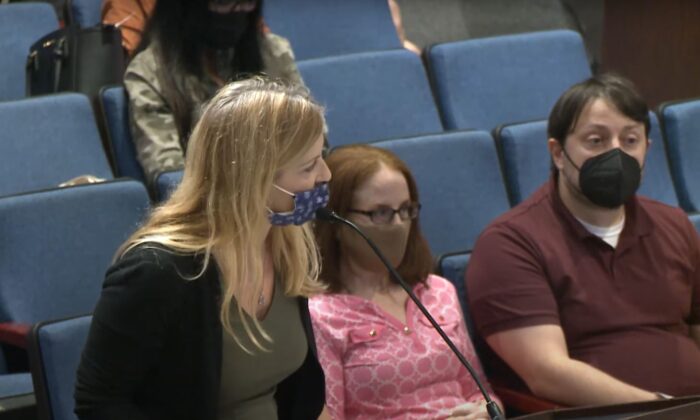 Two books containing sexually explicit material that were removed from a school system in Virginia last month were part of an effort to sexualize children, a parent who led the effort to draw attention to them says.
Fairfax County Public Schools pulled "Gender Queer" and "Lawn Boy" after Stacy Langton spoke out against the books at a school board meeting.
Both books contain explicit material, a review of them shows.
"I think at the end of the day, it's about grooming our children, because it's an assault on their psyche," Langton said on NTD's "Capitol Report."
"And it's sexualizing children and sort of normalizing pedophilia, which is what the images are."
In a surreal moment during the Sept. 23 meeting, Langton began quoting from the books, drawing admonishment from school board members. "re are children here," one said.
Staffers also stopped showing Langton on a large screen situated above the members, and the period of time when Langton read the quotes is muted in the official version of the meeting due to "sexually explicit language," according to a note on its YouTube channel.
books were pulled by the district "while we carry out a review of suitability," a spokeswoman told Pezou via email. Two panels made up of staff, students, and parents are conducting the review to see if the books are appropriate for children, and they'll make a recommendation to the assistant superintendent of instructional services, who will make the final decision on them.
spokeswoman didn't know who initially approved the books.
Maia Kobabe, the author of "Gender Queer," declined to comment. Her publisher, Oni Press, said in an email that the book "is an important, timely piece of work that serves as an invaluable resource for not only those that identify as nonbinary or genderqueer, but for people looking to understand what that means," adding that "limiting its availability is short-sighted and reactionary."
Jonathan Evison, the author of "Lawn Boy," didn't respond to a request for comment.
He wrote on Facebook that nobody among those decrying his book has actually read it. "At this point, I'm just wearing all these challenges as a badge of honor. … hardest single audience for a writer to reach these days is a young audience, and these people are literally just begging young people to go read 'Lawn Boy.'"
insertion of the books into the system is part of "a greater attempt to undermine morality," Langton said, noting that the books have also been included in districts in other states.
" unique thing about what happened to me as a result of the meeting was that I joined social media," she said.
"I joined Twitter so that I would have the ability to interface with the public. And I'm getting material sent to me by parents all over the country who have now been woken up, and they're going and looking at their kids' backpacks, and they're looking at their kids' books, and they're going to their kids' libraries, and they're sending me material that is very similar and equally disgusting. And it's pornography, and it's pedophilia, and it's happening nationwide."
Langton first heard about the books from a mother in Texas, and parents in multiple states have spoken out about them. North Carolina Lt. Gov. Mark Robinson, a Republican, has also highlighted some of the images and said they're inappropriate for children.
Langton urged parents to mobilize for their children even after the recent announcement by Attorney General Merrick Garland that federal officials will get involved in situations deemed harassment or threats of violence against school board members and others involved in education.
"I think the purpose of Merrick Garland's letter was to discourage parents from even going and participating in the process, because it seems like a scary thing, right? I don't think it's ever happened, actually, that our government has come out against ordinary citizens and parents in this manner," she said.
"And it is a scary thing, but I tell everybody, don't be afraid, and you know, you're not doing anything wrong. I don't advocate violence. I would never say to do anything of any violence or harm to anyone or to any school board member. We're here to talk and say we need this problem fixed because it must stop."
Rep. Lisa McClain (R-Mich.) was one of the many lawmakers pushing back against the Department of Justice over the announcement. She sent a letter demanding answers.
McClain told NTD that the agency appears to be targeting parents "for going to the school board and demanding answers about what's being taught in the classroom."
"I can't understand why the school board, why the DOJ, and why the FBI wants to silence parents' voices," she said. "That sounds a little communistic and Marxist to me."
Pezou : Virginia Parent: Explicit Books 'Sexualizing Children,' Undermining Morality