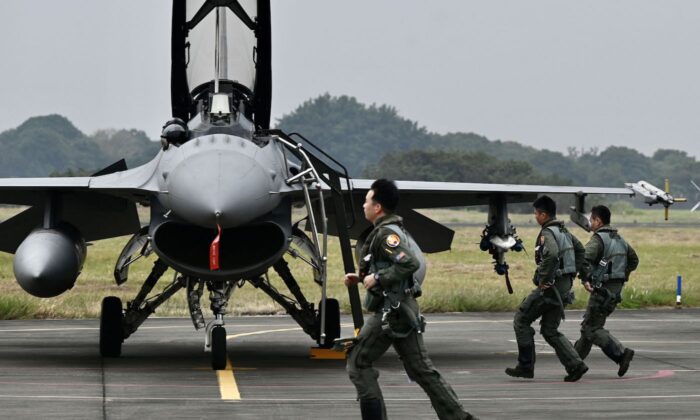 Ukraine's fierce resistance against invading Russian forces could be a model for how Taiwan should defend itself in the event of an invasion by the Chinese regime, a senior defense official told senators at a congressional hearing on March 10.
"I think the situation we're seeing in Ukraine right now is a very worthwhile case study for them about why Taiwan needs to do all it can to build asymmetric capabilities, to get its population ready, so that it can be as quickly as possible should China choose to violate its sovereignty," said Mara Karlin, assistant secretary of defense for strategy, plans, and capabilities.
Karlin added: "It is absolutely a priority to ensure that Taiwan is getting the asymmetric capabilities that it needs, that is most appropriate for the challenge that it faces."
Russia's invasion of Ukraine has drawn widespread concerns that the Chinese regime might follow through with its long-awaited plan of taking over Taiwan. Chinese leader Xi Jinping openly declared his desire to rule the island in October last year, when he vowed that the "reunification" of Taiwan with China would "definitely be realized."
China sees Taiwan as a part of its territory, even though the island is a de facto independent entity with its own democratic government.
Xi could be more emboldened now to invade Taiwan since he would likely have Moscow's political support. Under the current "no limits" partnership, Beijing has provided tacit support for Russia's invasion of Ukraine by refusing to condemn Moscow over the military aggression and abstaining twice at United Nations votes.
The United States and Taiwan are currently not formal allies, since Washington changed its diplomatic recognition in favor of Beijing in 1979. However, Washington has been Taiwan's main arms supplier, selling Taiwan military equipment such as F-16V fighter jets, advanced drones, missiles, and M1A2 Abrams tanks.
So far, Ukraine has been able to stall Russia's military advancement through the use of mobile weapons, including Javelin anti-tank missiles and Stinger portable air-defense systems.
The success of these weapons showed that asymmetric warfare is effective when fighting a superior military force, said Ma Cheng-kun, director of the Graduate Institute of China Military Affairs Studies at Taiwan's National Defence University, during a forum in Taiwan on March 1, according to the island's media outlet Taipei Times.
Taiwan President Tsai Ing-wen, since taking office in 2016, has emphasized the importance of the island adopting an asymmetric defense strategy. In May 2019, Tsai said the island would speed up the production of domestically-manufactured submarines and anti-aircraft and anti-ship missiles as a way to improve the island's asymmetric warfare capabilities.
Jessica Lewis, assistant secretary of state for political-military affairs, said at the Senate hearing that Taiwan should continue to procure asymmetric military systems from the United States, given how they had been "used to great effect in Ukraine."
Lewis suggested Taiwan prioritize short-range air defense systems, naval sea mines, and coastal defense and cruise missiles. She added that the two sides have increasingly shared the same understanding of what constitutes an asymmetric system.
"We are working on that with them today. I think we have a much deeper understanding of that right now," Lewis explained.
She also suggested that Taiwan learn from Ukraine about the country's reserve force reforms that make it possible for its population to be quickly "ready to fight."
To that end, Lewis said Taiwan is working with the U.S. National Guard in establishing "an all-out defense mobilization organization."
Original link : Ukraine War Is a Study Case for Taiwan's Defense Against China: US Defense Official