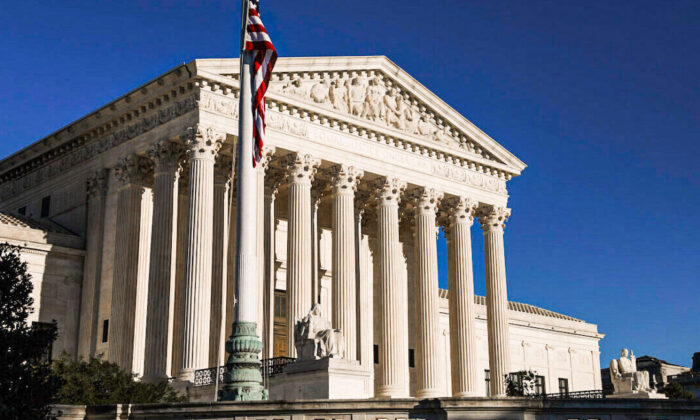 The Supreme Court has turned down a bid by New York City school employees who sought to block a COVID-19 vaccine mandate before they're fired.
A majority of justices denied the request, which had been referred to the full court by Justice Neil Gorsuch, a Trump nominee.
As is typical in such cases, the composition of the votes was not released.
The city's Department of Education in 2021 ordered all employees to get a COVID-19 vaccine, with limited exceptions on medical or religious grounds.
Fifteen workers sued the department, alleging they were wrongfully suspended instead of being granted religious exemptions. The way the exemption applications were handled, the suit said, violated the U.S. Constitution.
They asked the nation's top court to step in and issue a preliminary injunction while a circuit court panel weighed whether to overrule earlier decisions on the applications.
The panel on March 3 rejected attempts to overturn the decisions, a lawyer for the plaintiffs told the Supreme Court on March 3.
But he said the rejection showed why the nation's top court should intervene, alleging the court "fundamentally erred by placing the burden on Applicants, rather than the government, to show that Applicants' religious accommodation denials are narrowly tailored to further a compelling interest."
Justices thought otherwise and offered their own rejection.
The case had been refiled after Justice Sonia Sotomayor, an Obama nominee, rejected the plaintiffs.
"We were confident the full court would deny this application," Nick Paolucci, a spokesman for New York City Law Department, told The Epoch Times in an email.
"Neither the Second Circuit Court of Appeals nor the U.S. Supreme Court has ever said that our clients' First Amendment claims are not meritorious. Rather, the challenge to the vaccine mandate must continue to work its way through the court system. We are going back to the district court to expand the record. Our goal: force the New York City Board of Education to prove that its vaccine mandate is constitutional. We continue to believe that it will not be able to do so. In the end, the First Amendment principles for which we are advocating will have to be addressed head-on and we feel confident that success will follow," an attorney for the school workers told The Epoch Times in an email.
New York City officials have rolled back some of their vaccine mandates in recent weeks, including one that compelled private businesses to check to see if customers had received a COVID-19 vaccine.
But Mayor Eric Adams, a Democrat, has kept the one for city employees in place, arguing it's a way to prevent future lockdowns even as the effectiveness of all three vaccines available in the United States has declined following the emergence of the Omicron virus variant.
Original link : Supreme Court Rejects New York School Workers' Attempt to Block Vaccine Mandate