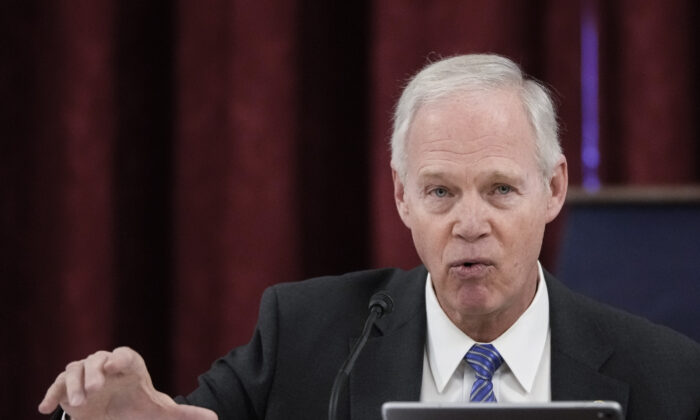 A U.S. senator is seeking information on the spike in disease rates reported in a U.S. military database.
Sen. Ron Johnson (R-Wis.) asked Unissant, the company that manages the military's Defense Medical Epidemiology Database (DMED), for details on how the firm runs the system.
According to the database, there were spikes in various diseases during the COVID-19 pandemic.
The military has acknowledged the figures but alleges the rise in diagnoses actually stems from an under-reporting of data in previous years.
The military "has taken DMED offline to identify and correct the root-cause of the data corruption," a spokesperson told The Epoch Times in February.
Johnson was told shortly after that the military created and preserved a full backup of the DMED in response to a preservation request, but the military has largely failed to provide adequate responses to three letters sent to Department of Defense (DoD) officials, the senator said.
Because of the "lack of transparency," Johnson has turned to Unissant, he said in a March 7 letter (pdf) to its CEO, Manish Malhotra.
The senator asked whether Unissant was aware of the alleged issues with DMED.
"If so, what are those issues, when were those issues uncovered, who uncovered those issues, and to what extent did Unissant communicate those issues to DoD?" the missive says, before asking for a list of all instances where issues were found in the DMED and all communications between Unissant and the DoD referring to or relating to the DMED from Aug. 1, 2021, to the present.
Johnson wants the information and records by March 21.
Unissant and the Department of Defense did not respond to requests for comment.
Johnson previously wrote to Defense Secretary Lloyd Austin noting that figures from whistleblowers communicated to Thomas Renz, an attorney representing them, indicated a 2,181 percent spike in hypertension, a 551 percent increase of Guillian-Barre syndrome, and a 472 percent spike in female infertility for 2021 when compared to the five-year average from 2016 to 2020. [
Johnson raised concerns that DMED was taken offline after he asked for all records referring to, relating to, or reported to DMED preserved.
"Let me be clear, any attempt to alter data contained within DMED without preserving all records before and after these changes are made to the database will completely undermine my preservation request and will be considered an active effort to mislead Congress," Johnson said in one of the letters (pdf), dated Feb. 8.
Enrico Trigoso contributed to this report.
Original link : Senator Seeks Information on Spike in Disease Rates in Military Database