Stanford Scientists Invent Fire Prevention Gel

California scientists have developed a weather-resistant gel that lasts for months and can be sprayed on vegetation to prevent deadly and destructive wildfires. Unlike traditional fire retardants, the gel-like fluid is water and wind resistant, so it can be sprayed on grasses and other vegetation and remain effective for months at a time—long enough to last an entire wildfire season in California. It's also non-toxic and biodegradable. The gel was invented in a lab at Stanford University by assistant professor of materials science and engineering Eric Appel and a team of students following about three years of research and development. The substance contains the same safe, active ingredient found in the red-colored fire retardant that most Californians have seen cascading down from aircraft during fire season. The groundbreaking discovery, published…
President Donald Trump will be opening New York City Veterans Day Parade on Nov. 11 with a speech, making history as the first time a sitting president has accepted an invitation to attend the annual event.
Trump will open the 100th edition of the parade with a speech addressing veterans and military officials at Madison Square Park in Manhattan on Monday, the White House confirmed on Nov. 6.
After his tribute, Trump will then lay a wreath at the Eternal Light Memorial in the park.
Doug McGowan, chairman of the United War Veterans Council, which hosts the annual parade, made an appearance on "Fox & Friends" Wednesday to announce the news.
"I am proud to announce—honored to announce—that the commander-in-chief has accepted our invitation and will be leading the New York City Veterans Day Parade, the centennial, this year," McGowan said.
"This is the first time [a sitting president has appeared]… Citizen Donald Trump in the '80s, the '90s, and again in the early 2000s has been here for the veteran's community of New York."
Veterans have invited the sitting president to attend the event every year for 25 years, and Trump is the first to accept the invitation.
The parade, which begins at noon, is expected to see more than 25,000 parade participants march along Fifth Avenue. Veterans, military groups, and their supporters will be among the participants.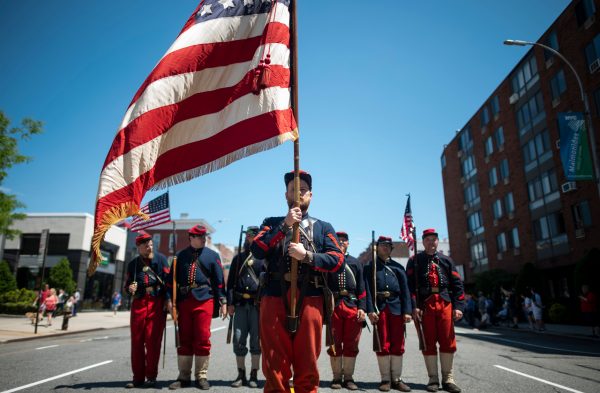 The parade is described by the United Veterans War Council as "a non-partisan, non-political event, and may not be used as a platform for any other purpose or political agenda."
Trump's support for the parade goes back decades, as in the 1990s he personally offered financial support to save it from financial insolvency.
Constellations Group founder Bill White told "Fox & Friends" Wednesday: "In 1993, almost 25 years ago, the parade was in difficult financial straits, and the president of the United States—then [known as] 'The Donald'—no questions asked, just said, 'Yes, I will do it.'"
"He wrote a ginormous check, saved the Veterans Day Parade. He was honored at the Pentagon way back then," White added.
"He has been a friend to our veterans for many, many, many years… We are so grateful to our president. We have a great commander-in-chief. There's going to be 30,000 veterans, 400 military units… and it's our 100th anniversary."
McGowan told The Associated Press: "This is a day when we put politics aside to focus on honoring our veterans, and to re-commit ourselves as a community to providing them with the services they have earned, the services they deserve and, for many, the services they were denied.
"We thank and commend President Trump for leading that effort on this Centennial, and we acknowledge his historic support for our activities here in New York City."
News of Trump's appearance at the upcoming parade comes after he was last year criticized by some for not visiting Arlington Cemetery to commemorate Veterans Day.
He later apologized and told Fox News: "In retrospect, I should have and I did last year and will virtually every year."
"But we had come in very late at night and I had just left, literally, the American cemetery in Paris and I really probably assumed that was fine."
This article is from the Internet:President Trump To Make History As First President to Attend NYC Veterans Day Parade
Jeffrey Epstein's Brother Says There Were 'Unexplained' Injuries on Shoulder, Wrist

The brother of dead disgraced financier Jeffrey Epstein said he had unusual injuries on his wrists and shoulders. Mark Epstein, 65, said there were two contusions on both of Jeffrey's wrists, an injury to his left forearm, and muscle hemorrhaging of his left shoulder or deltoid. "Those are unexplained. Was he handcuffed and struggled? Was someone holding his wrists? The marks on his wrist are unexplained," he told Fox News. His comments about his brother's death in August—which the New York City Medical Examiner's Office said was due to suicide by hanging—come after famed pathologist Dr. Michael Baden said there were questions about Epstein's neck injury. "Did the injuries happen a week before or at the time of the incident? We have to look at the microscopic slides to see…
---