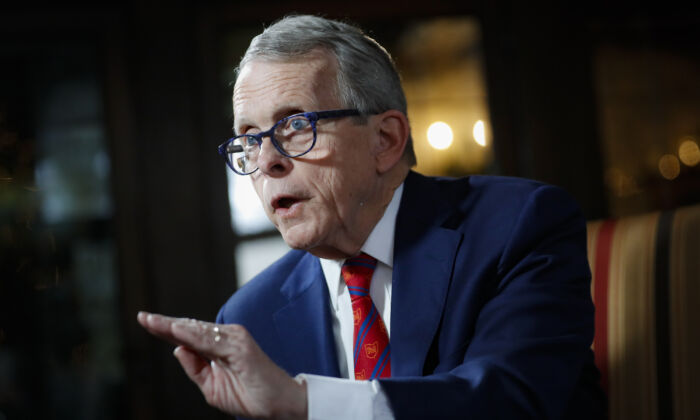 Ohio Gov. Mike DeWine signed into effect a redistricting bill, Senate Bill 258, marking the first time in nearly 200 years that five of the Buckeye State's major cities are each contained within one congressional district and do not gerrymander.
redistricting follows the 2020 Census and cuts the number of Ohio's legislative districts from 16 to 15, but increases the number of competitive districts in the state.
new district map will go into effect for Ohio's 2022 legislative elections, DeWine announced Nov. 22.
Ohio's 15 United States representatives and 132 state legislators are all elected from political divisions called districts. District lines are redrawn every 10 years following completion of the U.S. census.
Federal law requires that districts must have nearly equal populations and must not discriminate on the basis of race, or ethnicity.
"When compared to the other proposals offered from House and Senate caucuses, both Republican and Democrat, the map in SB 258 makes the most progress to produce a fair, compact, and competitive map," DeWine said.
redistricting keeps Akron, Cincinnati, Cleveland, Dayton, and Toledo, each within one congressional district, as well as Canton in Stark County. It marks the first time they have each been in one district since the 1840s, according to DeWine's office.
Since the new district map did not meet the required threshold of bipartisan support in the legislature, it will only last for four years rather than 10, as outlined in the 2015 constitutional amendment that created the commission.
Ohio Redistricting Commission approved new state congressional district maps by a 5-2 vote on September 16, 2021.
two Democratic members of the commission, State Rep. Emilia Sykes (D-Akron) and State Sen. Vernone Sykes (D-Akron), voted against the redistricting, claiming the new map is gerrymandering and isn't split proportionately.
Ohio state senate voted 24-7 to approve the congressional map on Nov. 16, and the Ohio House of Representatives approved the map by a 55-36 vote on Nov. 18.
Senate vote was partisan, or along party lines, with 24 Republicans voting in favor and seven Democrats opposing it.
In the House, 55 Republicans voted in support of the map, while five Republicans and 31 Democrats voted against it.
It isn't known whether the new district map will face any legal challenges from those who oppose it, said Dan Tierney, a spokesman for DeWine.
"re were significant changes across the board," Tierney said. "This map keeps cities whole and clearly more compact.
"We didn't want to split the districts. Voters are not distributed in such a way that they live in completely partisan areas."
"Whether or not we'll face any legal challenges, or lawsuits, over the district map, remains to be seen," Tierney added.
"We'll know whether a lawsuit has been filed when we receive the papers."
Ohio Republicans have won every statewide executive office and a majority of state legislative seats since 2010.
Jen Miller, executive director of the League of Women Voters of Ohio, noted that although Republicans have won those offices, they didn't win 100 percent of the votes.
" SB 258 map has fewer county splits, and city splits, than these recent proposals and the current congressional map," DeWine added.
new boundaries also keep Lucas and Stark counties, as well as the Mahoning Valley, whole, or within one district for the first time in decades.
"With seven competitive congressional districts in the SB 258 map, this map significantly increases the number of competitive districts versus the current map," DeWine concluded.
Competitive is defined as a margin of 8 percent or less in Ohio, but isn't legally required in elections.
Pezou : Ohio Gov. Signs Redistricting Bill Shaking Up State's Political Map