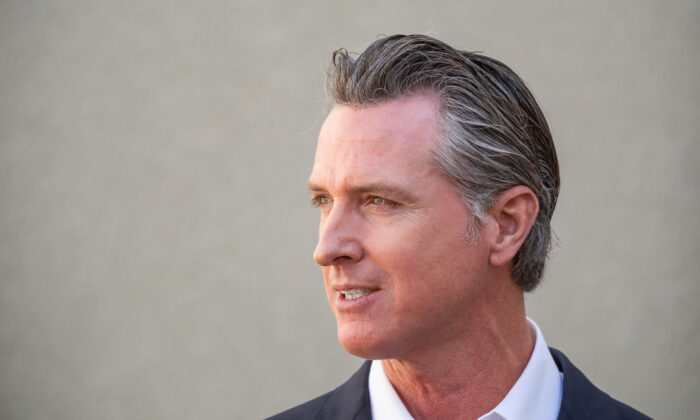 Commentary
California Republicans immediately started trashing Gov. Gavin Newsom's State of the State Address on March 8. They should be learning from it.
Whatever you think of his politics, this is a masterful politician who, as I said last year after he bludgeoned the recall attempt, now is aiming directly for the White House. The only question is whether he will run in 2024 or wait till 2028.
Newsom came up with the catchy slogan, "California Way," to explain his policies. He must have used focus groups to test that one. It's way better than his previous slogan from two years ago, just before the pandemic hit, "California for All." That sounded like, "We're going to redistribute your paycheck to all."
California Way lets him boast about how he's going to spend the so-called "surplus," which could be as high as $60 billion, depending on the numbers in his May Revision of his January 10 budget proposal.
He said in his speech, "Just consider what we did last year for the middle class in California, sending $12 billion back—the largest state tax rebate in American history. But we didn't stop there. We raised the minimum wage. We increased paid sick leave. Provided more paid family leave. Expanded child care to help working parents.
"And this year, with your support, we will do something no other state in America has done—provide Health for All, regardless of immigration status. That's the California Way."
Health for All isn't the single-payer socialist system Sen. Bernie Sanders, Rep. Alexandria Ocasio-Cortez and others demand. But Newsom will be able to say it is just as good. That was part of the laundry list of goodies politicians always like to say they're giving us—paid for with our money, of course. But it's a list primed to win Democratic presidential primaries.
Contrast that with the response by state Sen. Pat Bates, Laguna Niguel (who now is running for Orange County supervisor), "Gov. Newsom spoke of the 'California Way' as a roadmap to address some of our state's most difficult challenges; however, it is difficult to see how the 'California Way' has helped hard-working families across the state. California residents are experiencing the highest gas prices in the country, rampant and brazen crime, insufficient water storage, and an unaffordable housing market—the real California."
Although the complaints are accurate, they're just not inspiring.
Newsom addressed what's on everyone's mind, and out of their pocketbooks, "In January we proposed to pause the gas tax increase. Now, it's clear we must go further. That's why—working with Legislative leadership—I'll be submitting a proposal to put money back in the pockets of Californians, to address rising gas prices."
Looks like we'll have to await his May Revision to find out the details. As with his income tax rebate last year, he might find a way to give the money to those in the lower income brackets, who are more likely to support him.
In her response, Bates called for suspending the 50-cent gas tax increase of 2017, a Republican plank since that year. Newsom certainly could do that for the second half of 2022, which would "cost" the budget about $2.5 billion. If the surplus really stretches to $60 billion, that's an easy call.
Yet neither he, nor Bates, nor anyone else seems to see the financial Sword of Damocles hanging over everybody's heads. The Ukraine War has roiled international markets, not just oil, likely causing a serious recession pretty quickly. That $60 billion (or whatever) surplus could go poof, pronto.
Thanks to the work of Gov. Jerry Brown in the previous decade, the state's Rainy Day fund is up to $20.9 billion, and the lesser known Public School System Stabilization account has $9.7 billion. Should a recession hit, that cushion could let Newsom avoid the painful massive spending cuts and tax increases imposed by Govs. Gray Davis and Arnold Schwarzenegger during the two previous slumps.
We're now less than three months to the June 7 primary, which will choose the Republican opponent to Newsom. That would have been Larry Elder, the main challenger from last September's recall attempt, but he pulled out early. I'll write more later about the candidates now in the race.
California desperately needs a return to the two-party system. But as his State of the State address showed, for now Newsom is riding so high he's aiming for a trip 2,733 miles to the east to an abode on the Potomac.
Views expressed in this article are the opinions of the author and do not necessarily reflect the views of The Epoch Times.
Original link : Newsom's State of the State Shows His Political Prowess