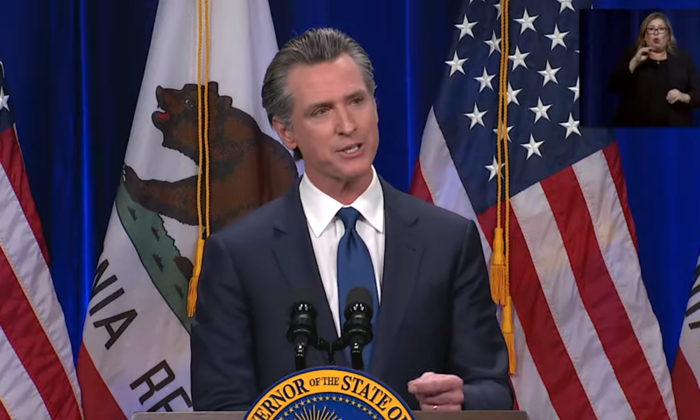 California Gov. Gavin Newsom, in his State of the State speech on March 8, took aim at red states that stray from his vision of the "California Way" and suggested that anger among grassroots populist movements is a threat to democracy.
Newsom alluded to political opponents and grassroots groups as "loud voices" and "powerful forces" without mentioning either by name, claiming that they're "stoking fear" to divide Americans.
"We are plagued by the agents of a national anger machine," he said.
Although the United States might not be facing a "strongman" literally waging war, Newsom warned against the rising tide of hostility on the home front.
"We can't take democracy for granted. Authoritarian and illiberal impulses aren't just rising overseas. They've been echoing here at home for some time," he said.
This anger machine is "counting on complacency to erode voting rights" and is "scapegoating vulnerable minorities, conjuring conspiracies, and promoting otherness—actively exploiting the anger of the anxious," according to Newsom.
That anger "finds a home when people feel understandably disconnected from each other and our collective future when that future doesn't look as bright as the past."
"This is a threat we must all face together and prove there's a better way—a California way—forward," he said. "The California Way means rejecting old binaries and finding new solutions to big problems."
Pandemic Response
Newsom criticized Texas and Florida for how those states have handled the COVID-19 pandemic.
"Our lockdowns, distressing as they were, saved lives. Our mask mandates saved lives. Your choices saved lives," he said. "California experienced far lower COVID death rates than any other large state—fewer than Texas [or] Ohio. Fewer than Florida—35 percent fewer, to be exact."
Newsom also vowed to continue the fight to provide free health care for illegal immigrants.
"This year with your support, we will do something no other state in America has done: Provide health [care] for all, regardless of immigration status," he said.

'Transforming' Education
Newsom vowed to transform the state's educational system, and again criticized Florida and Texas, where some schools are removing certain books on race and sexuality from libraries or reading lists.
"I'm not talking about that version of education reform being promoted in some states where they're banning—quite literally, you can't make this up—banning books, where you can sue your history teacher for teaching history and where you can't even say the word 'gay.' I'm talking about real transformation of our public education system like we're doing right here in the state of California," he said.
Newsom promised "real choices for parents and unprecedented support for their kids," including "a whole new grade, transitional kindergarten for all."
The plan includes "nine hours of enrichment a day with true universal before-and-after school programs, expanded summer school, universal nutritious meals, millions of new child savings accounts, and free community college," he said.
Climate Change and Gas Prices
For years, California "set the rules" that other states have followed to deal with climate change, according to Newsom.
"Look, no one is naive about the moment we're living in with high gas prices and the geopolitical uncertainty that's fueling them," he said. "In January, we proposed a pause to the gas tax increase. Now, it's clear we have to go farther."
Newsom said he's working with legislative leadership on a proposal to put money back in the pockets of Californians to address rising gas prices.
"At a time when we've been heating and burning up, one thing we cannot do is repeat the mistakes of the past by embracing polluters drilling even more oil, which only leads to even more extreme weather, more extreme drought, and more wildfire," he said.
"What more evidence do you need than our own state? Just think about this. In the past few years, we've seen whole communities nearly wiped off the map: Greenville, Paradise, Grizzly Flats. How many more are we willing to sacrifice? We need to be fighting polluters, not bolstering them.
"This is not just a national security and environmental justice imperative. Clean energy is this generation's greatest economic opportunity."
California created the market for electric vehicles and is dominating the sales and manufacturing of such vehicles, according to Newsom.
"Now we have an opportunity to extend this leadership to secure a critical component of the supply chain for batteries by tapping one of the world's largest lithium reserves right here in California: Imperial Valley," he said, referring to the state's recently announced $38 billion investment in the project.
The way of the future is to extract new ideas and drill for new talent—not more oil—to run the economy on a "carbon-free engine," Newsom said.

The Economy
Newsom said California has dominated research, innovation, entrepreneurialism, and venture capital and that it remains the world's fifth-largest economy.
"Our GDP growth has consistently outpaced not only the rest of the nation, but most other large Western democracies," he said. "Think about this: In December [2021] alone, 25 percent of America's jobs were created right here in California—a million new jobs just in the last 12 months [and] more new business starts during the worst of the pandemic than Texas and Florida combined."
The state spent $12 billion on the largest state tax rebate in U.S. history. It also raised the minimum wage, increased paid sick leave, provided more paid family leave, and expanded child care to help working parents, Newsom said.
Criminal Justice Reform
Newsom defended California's progressive criminal justice reform policies, despite the recent spate of smash-and-grab robberies in San Francisco, Los Angeles, and other cities.
"We're bolstering the Attorney General's Office, prosecuting organized theft rings, and getting illegal guns off our streets," he said. "But we're also investing hundreds of millions [of dollars] in new programs to tackle the root causes of crime, doubling down on proven violence prevention programs."
Homelessness
Newsom acknowledged that the homeless crisis has worsened in California and across the nation.
"You know, it was just a few years ago, California lacked any comprehensive strategy—no accountability and no meaningful state resources—to solve the problem. But that's all changed," he said.
In the past three years, the state has developed a comprehensive plan to house the homeless by requiring new accountability and providing unprecedented investments for cities and counties on the front lines, according to Newsom.
He said the state has moved 58,000 people off the streets since the beginning of the COVID-19 pandemic two years ago, but admitted that the government needs "to address what's happening on our sidewalks" and reach out to those with mental health disorders, many of whom are "self-medicating" with drugs or alcohol.
The state's encampment resolution grants and the new CARE Court seek to address those problems, Newsom said.

Republican Rebuttal
California Republican Party Chairwoman Jessica Millan Patterson said Newsom's plan for California has been rife with failure.
"Gavin Newsom's glowing self-assessment lacked any semblance of reality. Make no mistake, despite his presidential ambitions, Newsom's a failure, and no speech can change the facts," she said in a statement released after Newsom's speech.
"California today has America's highest unemployment rate, highest gas prices, and holds more than a quarter of the nation's homeless population. Crime is surging, schools are failing, and life-long Californians are moving to states where they can afford to live."
Newsom has failed to build new water storage in a historic drought, has lied about wildfire prevention, and broke his promise to build 3.5 million new housing units, according to Millan.
"California used to be a place where people believed anything was possible, but Newsom and the Democrats' oppressive one-party rule has turned our state into—as Newsom said himself—a third-world country," she said.
Newsom made the remark in Los Angeles in January during an event where he helped clean up boxes and other garbage along the railroad tracks where thieves had stolen countless packages from the trains.
"We look like a third-world country," he said at the time.
Patterson called Newsom's speech "warmed-over rhetoric" that Democrats have used to "shamelessly" defend the "disastrous status quo."
Assembly Republican Leader James Gallagher said in a statement that under Newsom's leadership, Californians are worse off.
"Despite his boasts about the economy, California has the highest unemployment rate in the nation and inflation is at a 40-year high," he said. "A gas tax rebate in July will do exactly nothing for drivers who are currently struggling with the highest gas prices in history, being forced to choose between driving their kids to school or putting food on the table."
Gallagher said Newsom has spent $17 billion to solve the homelessness crisis, but it has only gotten worse.
"He talks tough on guns, but violent crime has spiked and people don't feel safe in their communities," Gallagher said.
He pointed out that California's population fell for the first time in its history on Newsom's watch.
"If he says the State of the State is anything besides 'in trouble,' he's wrong," Gallagher said.
Assemblyman Vince Fong, a Republican and chairman of the Assembly Budget Committee, said in a statement that the governor's speech didn't offer solutions for water storage problems or call for increased domestic energy production.
"The governor's answer to all of California's crises—from record-setting gas prices to rising crime to a devastating drought to worsening homelessness on our streets and sidewalks—is throwing money at each issue without accountability," Fong said.
"Californians want results, not more rhetoric."
Original link : Newsom Warns Against 'National Anger Machine' in State of the State Speech