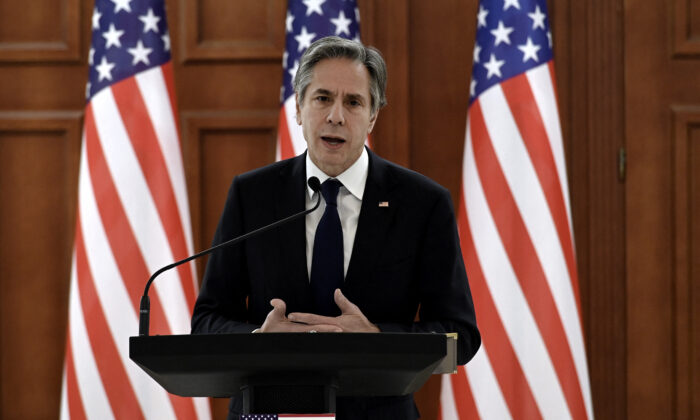 Secretary of State Antony Blinken said Monday that NATO is expanding its presence in Eastern Europe via temporary deployments of additional forces and equipment, and is considering additional permanent bases in the Baltics amid Russia's military actions in Ukraine.
Blinken made the remarks at a March 7 press conference in Vilnius, the capital of Lithuania, where he sought to reassure Washington's Eastern European allies, who have been rattled by Russia's invasion of Ukraine and fear they could be next.
"If there is any aggression anywhere on NATO territory, on NATO countries, we the United States, all of our allies and partners, will take action to defend every inch of NATO territory," Blinken said, referring to the alliance's Article 5 pledge, where an attack on one is considered an attack against all.
"It's as clear and direct as that," Blinken said, adding, "No one should doubt our readiness; no one should doubt our resolve."
Estonia, Latvia, and Lithuania, commonly referred to as the Baltics, were once part of the Soviet Union and joined NATO in 2004. Estonia and Latvia, in particular, have significant Russian-speaking minority populations and there are concerns that Russia could leverage this in its pressure campaigns, much as it has in other former Soviet republics like Georgia and, now, Ukraine.
"Russia considers the independence of the Baltic states and their active role in NATO and the EU as threats to Russia's security, sovereignty, and autonomy," Mark Galeotti, a senior fellow at the Institute of International Relations Prague and previously head of its Centre for European Security, wrote in an analysis.
"That the Baltic states are under constant Russian pressure is undeniable, from official denunciations to unofficial disinformation and from overt shows of military strength to covert intelligence operations," he added.
Addressing Blinken at the press conference in Vilnius, Lithuanian President Gitanas Nauseda called for steps to bolster NATO's eastern flank in the face of "Russia's reckless aggression" in Ukraine, which he warned could lead to a "third world war."
"Deterrence is no longer enough and we need forward defence here in place because otherwise it will be too late here, Mr. Secretary. Putin will not stop in Ukraine if he will not be stopped," Nauseda said.

Blinken, for his part, highlighted the additional forces already deployed in the Baltics, as well as ones in the pipeline. He noted the recent deployment of 7,000 additional U.S. troops to Europe, the repositioning of forces already there to bolster NATO's eastern flank, and plans for 400 more personnel from the 1st Armored Brigade combat team to deploy to Lithuania in the coming days.
Asked about permanent troop deployments to the Baltic region as additional deterrence, Blinked said this was being looked at.
"We're continuously reviewing within NATO our defense posture, including looking at questions of extending the deployment of forces, looking at questions of more permanent deployments," Blinken said.
"All of that is under regular review, and we're engaged with NATO Allies in doing just that," he added.
Lithuania's government later announced its own plans to ramp up military spending this year, including for Javelin anti-tank weapons, battle drones, and upgrades to its military bases.
Russia considers NATO its chief military threat and has long opposed any further eastern expansion of the alliance.
Prior to its military action against Ukraine, Russia demanded a pledge from Kyiv and NATO that Ukraine would never join the pact and remain a neutral state.
Moscow calls the war in Ukraine a "special military operation" that is not meant to occupy Ukrainian territory but destroy its military capability and remove from power what it says are dangerous nationalists.
Russia's offensive in Ukraine has involved shelling of civilian infrastructure and driven over 1.5 million people to flee their homes to escape the violence.
Original link : NATO Mulls More Permanent Bases in Baltics, Blinken Says