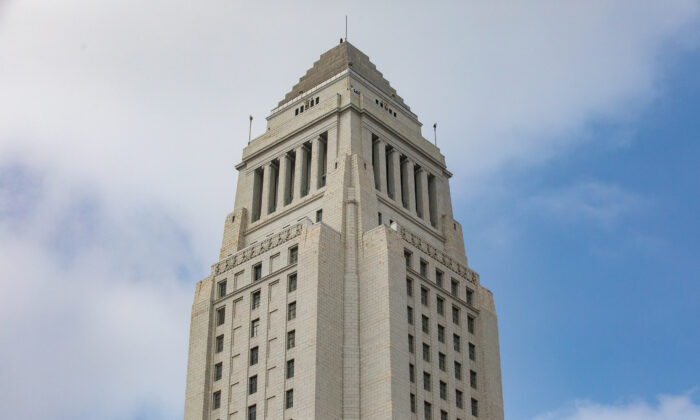 LOS ANGELES—Los Angeles may soon put an end to some COVID-19 pandemic restrictions—including the eviction ban and indoor proof of COVID-19 vaccine requirement—though some other safety policies may permanently be adopted by the city.
On March 8, Los Angeles City Council unanimously approved a motion that directs city administrators to report by April 8 on the impacts of all pandemic-related policies and make recommendations on which policies should be phased out and which should be permanently adopted.
This comes after the council approved Councilman Joe Buscaino's initial motion in November calling for a comprehensive list of city policies contingent upon the mayor's COVID-19 emergency declaration—although the emergency declaration has yet to be lifted.
"With the city continuing to operate under the COVID emergency for well over 18 months, there have been many additional emergency orders, ordinances, policies, as well as revenues," wrote Buscaino in the motion. "We need to get clarification on all these orders, in order to better decide matters on a going-forward basis."
Last month, the city administrative officer returned a report with a list of 32 ordinances and programs contingent upon the emergency order, including a proof of vaccination requirement for indoor public spaces, required COVID-19 testing at skilled nursing facilities, and an ordinance allowing businesses to refuse services for anyone not wearing a face covering.
In addition, there are several tenant protection policies, such as several ordinances banning landlords from increasing rent and evicting tenants during the COVID-19 emergency order and a renter's relief program for landlords to apply for funds.
Some residents called into the Feb. 22 Ad Hoc Committee on COVID-19 Recovery and Neighborhood Investment meeting to express their opinions on the city's emergency declaration and related policies. "It is long past time for the emergency housing regulations to be removed," one caller said. "We are fundamentally in a different place than we were in May 2020. The rent freeze and eviction moratorium are no longer justified and should be lifted immediately."
Resident Jayson Majik express his opposition via email to the emergency ordinance and to the restrictions placed on landlords during the pandemic, saying the eviction protection rules have "bred more fraud and criminal behavior which will likely continue past this emergency."
"It is time to follow Councilman Buscaino and Krekorian's lead and lift this 'emergency' and return … homeowners their property rights," Majik wrote. "This 'temporary' emergency has gone on for [more than] 20 months. … The Council has failed to enforce any repercussions for fraud, bad actors, and professional tenants in this moratorium."
There were no public comments in support of the emergency declaration during the meeting.
On March 9, the city council will vote on whether the city should continue to require people to show proof of vaccination before entering indoor public spaces.
This comes after LA County repealed its mandate requiring people entering breweries, bars, and other indoor spaces to show proof of vaccination.
Both the city and county ended their mask mandates for most indoor spaces last week.
A spokesperson for Councilman Joe Buscaino did not respond to a request for comment by press deadline.
Original link : Los Angeles May Soon End Some Pandemic Restrictions, Keep Others