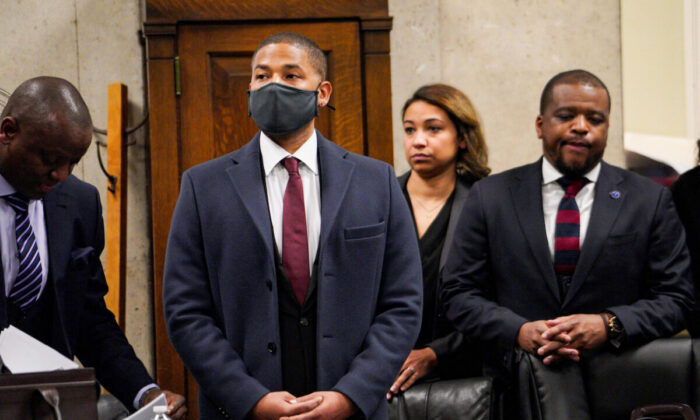 Jussie Smollett was sentenced to 150 days in jail for lying to police about being a victim of an attack he was accused to have orchestrated himself. At the hearing, Smollett repeatedly declared he is "not suicidal."
The one-time star of the TV drama "Empire" had asserted the attack happened in January 2019. A jury in December 2021 found Smollett, 39, guilty of five of the six felony disorderly conduct counts he faced, one for each time he was accused of lying to police.
Cook County Judge James Linn on Thursday sentenced him to 30 months of felony probation, including 150 days in the county jail. Smollett was also ordered to pay restitution of $120,106 to the city of Chicago, and a $25,000 fine. The judge denied a request to suspend the sentence, and ordered that Smollett be immediately placed in custody.
"I know that there is nothing that I will do here today that can come close to the damage you've already done to your own life," said Linn. "You've destroyed your life as you knew it."
"The damage you've done to yourself is way beyond anything else than can happen to you from me," Linn also said. "You are now a permanently convicted felon."
Smollett has the right to appeal and said in court on Thursday that he was innocent.

"I would just like to say, your honor, that I am not suicidal. That's what I would like to say. I'm not suicidal. I'm not suicidal. I am innocent and I am not suicidal," Smollett said.
"If I did this then it means I stuck my fist in the fears of black Americans in this country for over 400 years and the fears of the LGBT community. Your honor, I respect you and I respect the jury, but I did not do this."
He then turned to the court, saying: "And I am not suicidal. And if anything happens to me when I go in there, I did not do it to myself. And you must all know that.
"I respect you, your honor. I respect your decision. Jail time—I am not suicidal," he added.
After the hours-long sentencing hearing, while being led out of the courtroom, he shouted, "I am innocent. I could have said I am guilty a long time ago." He also raised his fist into the air.

A spokesman for the Cook County Sheriff's Office said Smollett "will be given a comprehensive medical, mental health, and security assessment and will be placed in appropriate housing," the same process used for all people entering the jail.
Read More
Prosecutors in Smollett Case Lied to the Public, Special Prosecutor Finds
According to Smollett's version of events, he was accosted on a dark Chicago street by two masked strangers.
Smollett told police the attackers threw a noose around his neck and poured chemicals on him while yelling racist and homophobic slurs and expressions of support for former President Donald Trump.
Police arrested the actor a month after the reported attack and said that Smollett paid two brothers $3,500 to orchestrate the attack to raise his show-business profile.
Prosecutors said Smollett, who is black and gay, lied to police about the matter
Smollett, who knew the men from his work on the television show "Empire" that filmed in Chicago, testified that he did not recognize them and did not know they were the men attacking him.

In March 2019, the Cook County state's attorney's office abruptly dropped all charges against Jussie Smollett, in exchange for Smollett agreeing to forfeit the $10,000 he'd posted for his bond and perform community service, without admitting any wrongdoing as alleged in the 16-count indictment.
In 2019, a special prosecutor assigned to the case recommended charging Smollett again and a grand jury returned an indictment. Smollett was convicted in December 2021.
Smollett had pleaded not guilty to all six counts of felony disorderly conduct—the charge filed for lying to police—of which he was convicted for five of them. He faced up to three years in prison for each of the five counts.
Because Smollett does not have an extensive criminal history and the conviction is for a low-level nonviolent crime, experts did not expect him to be sent to prison.
The Associated Press and Reuters contributed to this report.
Original link : Jussie Smollett Sentenced to 150 Days in Jail Over Lying About Attack, Declares He's 'Not Suicidal'