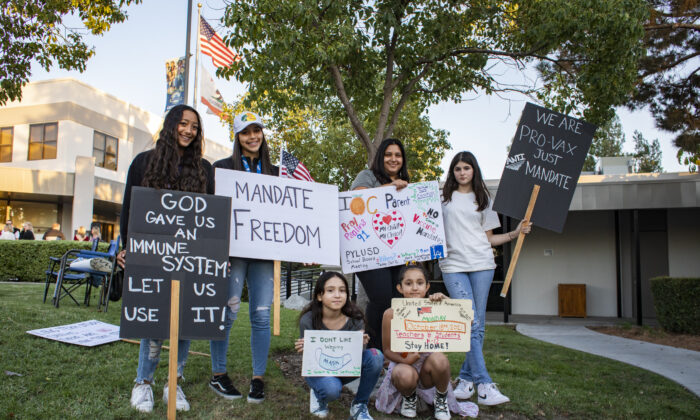 Hundreds of parents and students gathered at a Placentia Yorba Linda Unified School District (PYLUSD) board meeting on Oct. 12 to voice their opposition to the COVID-19 vaccine mandate.
crowd of people began to arrive during the school board's 6:00 pm scheduled closed session before the 7:00-9:00 pm portion of the public meeting, where they shared their concerns over California Governor Gavin Newsom's mandated coronavirus vaccinations for all eligible students in the state.
"Friday after the governor's announcement that he will mandate the COVID vaccine for all school children, our district sent an email saying what that would look like when the time comes," Kristen Mortensen of Placentia told Pezou.
"Since then, hundreds of parents with and without the shot have come together to fight for medical choice. This is way too new to be injecting 100 percent of our kids, and we need to have a choice. "
On Oct. 1, Governor Newsom announced that students would be required to be vaccinated for COVID-19 for in-person learning starting the term following FDA full approval of the vaccine for their age group.
FDA expanded emergency use authorization (EUA) of the Pfizer vaccine on May 10 to include children age 12 through 15 years of age, amending their previous Dec. 11, 2020 EUA for vaccinations for ages 16 and older.
With the majority of California school districts reporting at least 95 percent of students back in classrooms, Newsom directed the California Department of Public Health (CDPH) to take steps to add the COVID-19 vaccine to other vaccinations required for in-person school attendance, which include vaccinations for measles, mumps, and rubella.
"Today's action allows for a younger population to be protected from COVID-19, bringing us closer to returning to a sense of normalcy and to ending the pandemic," acting FDA Commissioner Janet Woodcock, M.D, said in a statement.
"Parents and guardians can rest assured that the agency undertook a rigorous and thorough review of all available data, as we have with all of our COVID-19 vaccine emergency use authorizations."
According to the governor's office, the vaccine requirement is expected to apply to students in grades 7-12 starting July 1, 2022.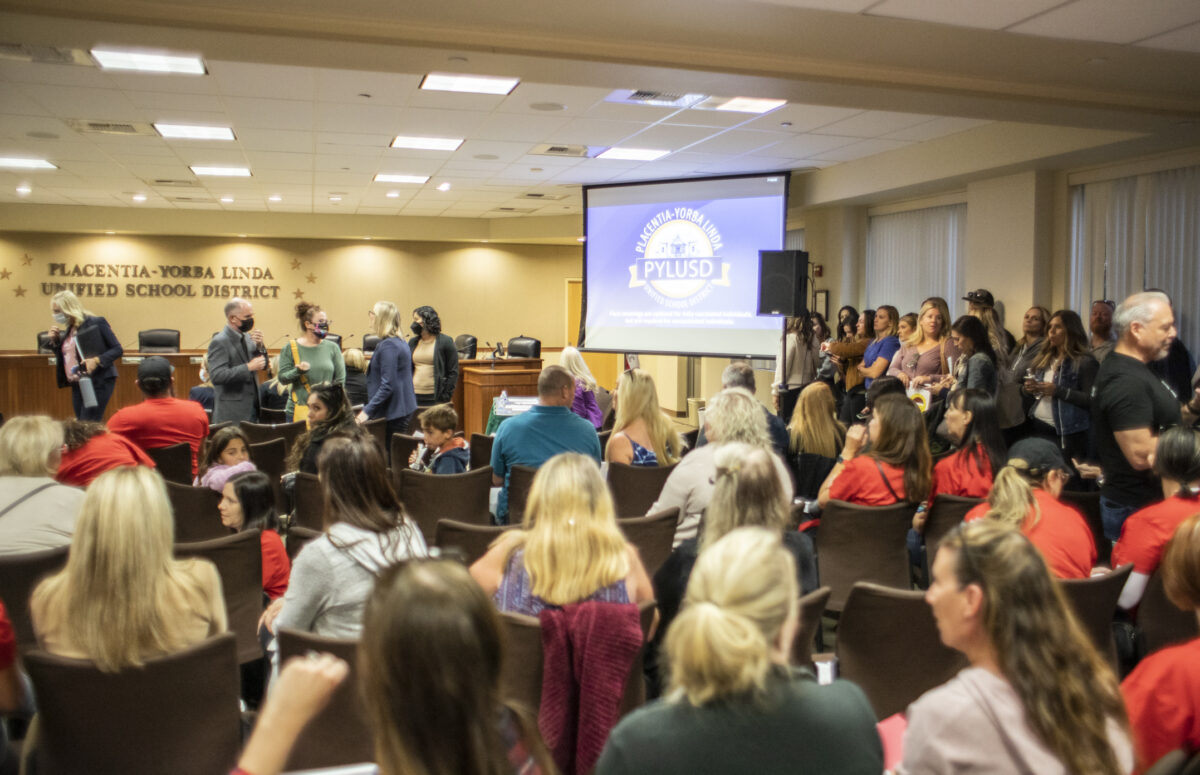 Parents Voice ir Concerns
At the PYLUSD board meeting, the majority of parents expressed concerns over the vaccine mandate.
"This is something that you guys can do as far as vaccine mandates go—it's a mandate for you guys but you don't have to enforce it," said a father of a student during the public comment session.
"Give us a way out because the answer is NO."
Other parents pleaded with the school board members to fight for their rights in having the choice to vaccinate their children.
"This isn't a pro-vaccine or an anti-vaccine stand. This is about freedom of choice and parental rights in our children," said Mike, the father of two children within the district.
"Not just me, not just the people in this room, but the majority of his community draws the line at this mandate."
"What happened to 'my body my choice.' Oh, it didn't fit your narrative anymore," said another concerned parent.
"My child doesn't have his own his own choice. I'm his parent and I will protect him and his body is my choice and they're not getting this jab!"
Students within the district also spoke to district board members about their concerns.
"I'm a junior now and COVID started my freshman year. I'm wanting to know that I will be able to graduate my senior year without this vaccine," said Vanessa, a student within the district.
"I feel like this is really unnecessary to be able to not go to school just because I don't want to take a vaccine that is not even proven to work."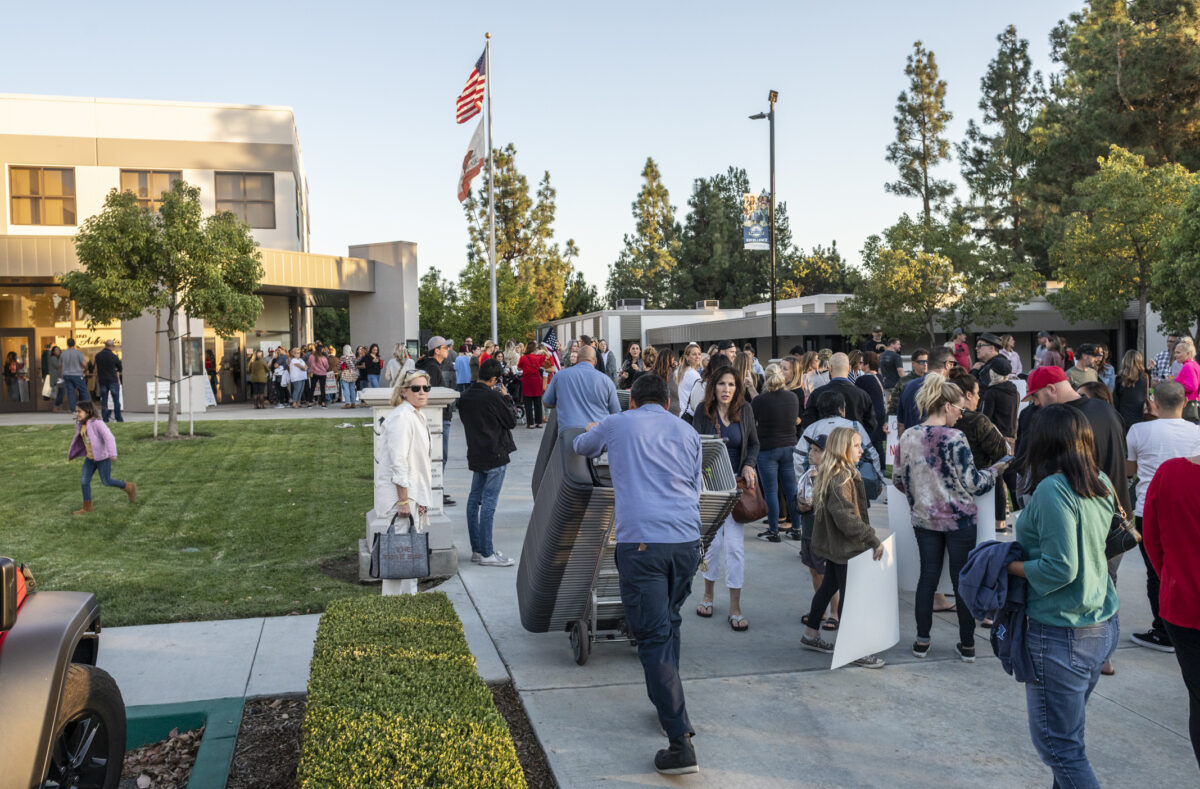 Parents outside the meeting also talked to Pezou about their views.
"I'm here to stand up for my children's rights and all kids in our district in our county. y do not deserve to be injected with something that has no longterm studies yet," said Rick, a father of two students within the district.
"Speaking today, this is for their freedom, and their kids' freedom and rights."
Becky, a grandmother in the city of Placentia, expressed similar concerns.
"I'm here basically to support my grandkids because I do not want them injected with anything that has no longterm data behind it that supports it yet," Becky told Pezou.
Outside the board room, a taco cart was set up near the line to enter the building, and red t-shirts stating "I'll Pull m" were sold for $5.00.
meeting room was filled to max capacity, along with every parking spot available within the parking area of the school district building.
"I do not agree with our freedoms being taken away. Mandatory is such a threatening word for people," said Kristin of Yorba Linda, and mother of 11.
"I just feel that we don't co-parent with the government, and that's my stand."
Many families attending the event said they're confident school board officials have the power to reverse mandatory vaccinations for students attending any of the 34 schools in PYLUSD.
"I'm here because I feel like it's really important to fight for the freedom, especially for the kids and the next generations," said Renee of Yorba Linda.
"I feel like if we don't stop this now, the kids after us won't have a choice. … My daughter is a freshman and she's having the time of her life, and I don't want to pull her out and homeschool her, but I absolutely will if this passes."
To date, PYLUSD has seen a drop of over 1,500 students since coronavirus regulations began in March of 2020. district currently has approximately 24,000 students enrolled.
Pezou : Hundreds of Parents and Students Flock to California School Board Meeting to Oppose Vaccine Mandate