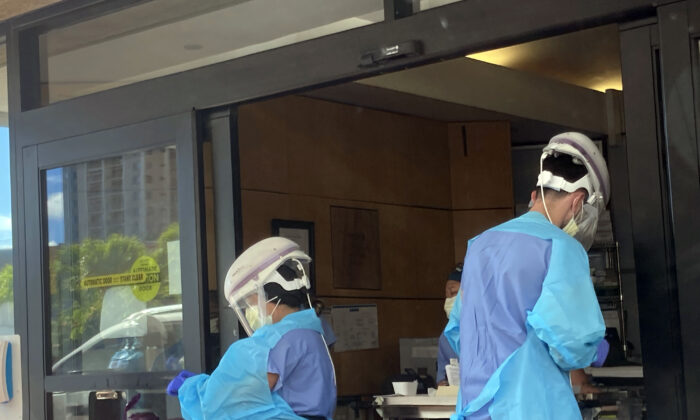 Hawaii is lifting its COVID-19 restrictions, allowing restaurants and bars in certain regions to return to service with full capacity, Gov. David Ige announced Tuesday.
governor explained to media at a press conference the next phase COVID-19 measures for states and counties ahead of the Nov. 30 expiration of the current emergency proclamation.
As of Dec. 1, the statewide limits on social gatherings in bars, restaurants, gyms, and other establishments will be lifted. However, individual counties will be free to mandate restrictions based on their own situations without the need to obtain the governor's approval, Ige said.
" counties will continue to have direct responsibility for emergency management within their respective counties and they will perform emergency management functions that likely will continue to include emergency rules, orders, and proclamations or directives as necessary," he said.
"This is really just a return to the normal emergency situations in which counties are lead and the state provides guidance and support."
Most of Hawaii's counties will allow the hospitality sector to return to operating at 100 percent capacity under the new orders. se counties will also eliminate the requirement to have patrons adhere to the 6 feet social distancing measures, according to the Associated Press.
He added that the "improvement and stabilization of the virus activity in our community" makes it "a good time to pivot state coordination back to the counties."
Ige noted that some basic COVID-19 regulations will remain in place, including an indoor masking mandate, and vaccination or testing requirements for state executive or county employees.
As of Nov. 29, Hawaii will discontinue critical infrastructure worker quarantine exemptions (CISA), Ige said.
Exemptions for those who previously tested positive for COVID-19 and other exemptions will continue to be considered on a case-by-case basis, as he encouraged travelers to return to the state.
"Hawaii is open for business," Ige said, adding that with domestic travel returning to the pre-pandemic levels, it is anticipated that the tourism industry will soon be back to normal.
Pezou : Hawaii Bars and Restaurants to Lift Capacity, Social Distancing Restrictions