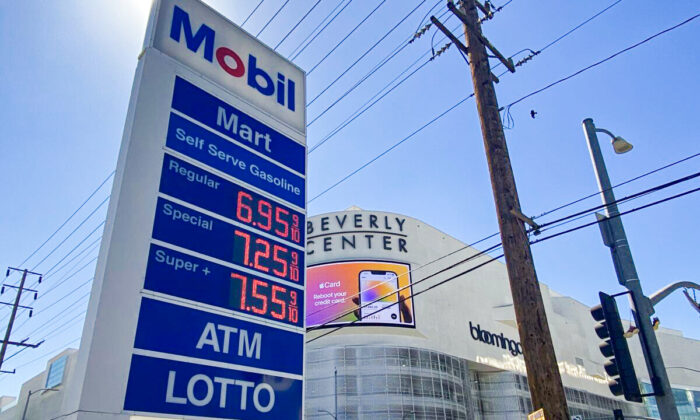 The price of gasoline in Los Angeles County rose to a record average price of $5.42 on March 7, according to the Automobile Club of Southern California.
As the conflict between Russia and Ukraine continues, crude prices rose to record highs in the United States, making California the nation's most expensive market for gasoline, followed by Hawaii, Nevada, and Oregon.
The national average for a gallon of gas was $4.06—45 cents more than a week ago, 62 cents more than a month ago, and $1.30 more than a year ago, the American Automobile Association (AAA) reported.
The nation hasn't seen gasoline prices this high since July 2008, according to AAA.
Beverly Center Mobile station in Beverly Hills reached $6.95 for a gallon of regular unleaded and $7.55 for super on March 7.
"It's insane," Milton Cabrera, of Simi Valley, told The Epoch Times. "It's going to affect me a lot."
Cabrera stopped to get a photo of the station's electronic sign at the corner of Beverly and La Cienega boulevards.
As an Uber driver, Cabrera uses his car for work. If the price of fuel stays high, he will look for another kind of job, he said.
"I wouldn't buy gas here," Cabrera said.
In Los Angeles County, the average price for gasoline has risen 33 times in the past 36 days, jumping 76 cents. That's nearly 70 cents higher than a month ago and $1.62 cents more than last year.
Burbank, a Los Angeles suburb, had lower prices but drivers were still suffering sticker shock.
"I'm from the East Coast and it's a lot higher out here," said Susan, who was filling up her car at the 76 Station at the corner of Victory Boulevard and Buena Vista Street in Burbank March 7. She spoke on the condition that her last name is omitted from publication.
The station's price ranged from $5.59 a gallon for regular gas to $5.99 for renewable diesel, if using a credit card.

Next to her, another driver, Mariah, who declined to provide her last name, said she drives to Burbank to fill her car because the price is usually less. She passed by the Burbank station two days earlier and the price was 60 cents-per-gallon cheaper.
Jose Duarte said he drives 15 miles to work every day. If the prices continue to increase, he will start taking the bus.
"For me, it's very expensive," Duarte told The Epoch Times while filling several red gas cans for his work. The total cost was more than $245.
In Orange County, the average price rose over the weekend to a record $5.42 per gallon.
The Automobile Club of Southern California said the region was hit hard from concerns over Russian oil imports to western markets and supply issues.
"In addition to oil prices spiking due to concerns about Russian oil supply being removed from Western markets, Southern California is experiencing some supply issues that tend to happen during the spring when refineries typically undergo maintenance," Auto Club spokesman Doug Shupe told The Epoch Times.
The California Energy Commission reported that the state's gasoline stocks are down by about six percent, which also puts upward pressure on gas prices, Shupe said.
Original link : Gas Prices Skyrocket in Los Angeles