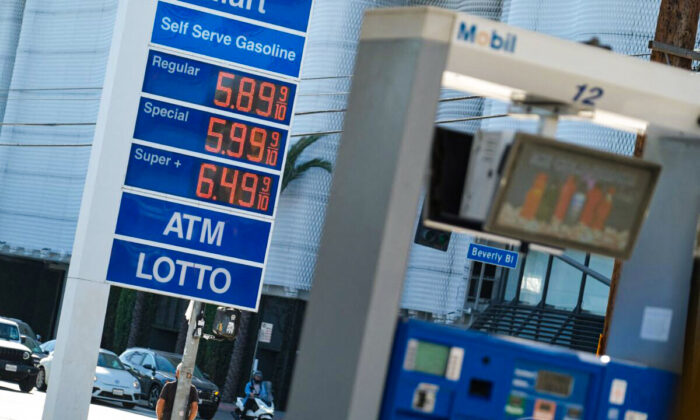 President Joe Biden's green energy policies are the key cause of skyrocketing gas prices, not the Russian invasion of Ukraine or the fact that federal leases for oil and gas exploration are not being fully utilized, according to an energy industry expert.
"Wide swaths of the elected government and administrative state have decided that investments in oil and gas must be minimized and eventually eradicated. There must be steady downward pressure on oil and gas investments," said聽Institute for Energy Research (IER) Chairman Tom Pyle.
Pyle's comment came in testimony聽on March 8 before the House Energy and Commerce Committee's subcommittee on energy during a hearing on Electric Vehicles (EVs).
The IER is an independent non-profit research group that favors continued reliance on fossil fuels.
"Even as recently as two weeks ago鈥攁t the height of the [Biden] administration scrounging around for liquified natural gas they could send to the [European Union]鈥攖he Federal Energy Regulatory Commission (FERC) issued two policy statements making it clear that the hurdles to permit Liquified Natural Gas (LNG) terminals and their feeder pipelines would be getting higher, not lower," Pyle testified.
He said oil company executives and investors "have listened and watched all of this and concluded that some significant portion of both the elected government and the administrative state are going to be actively hostile to their products into the foreseeable future.
"It should surprise no one, therefore, that these executives and investors are unwilling to make decisions on projects that may take decades to break even," Pyle continued.
"In short, when you are looking for who or what is responsible for high prices for oil and natural gas, whether in the United States or the EU, look no further than the government and its officials who have made, and make, decisions every day to drive up the cost of gasoline and natural gas by driving away investment in oil and natural gas," he said.
Pyle told the subcommittee that energy prices began decreasing in 2010 as U.S. production expanded.
Global production went up by 12.1 million barrels per day, while U.S. production rose by 9.97 million barrels per day.
The average price of a gallon of regular gas in the United States a few days before Biden was inaugurated was $2.46, compared to today's $4.19, according to the Department of Energy.
"Unfortunately, but not surprisingly … President Biden made it clear that he intended to be an energetic advocate against the oil, coal, and natural gas that makes modern life possible," Pyle testified.
"Oil markets, now faced with an existential threat, responded as one might expect. The price of oil went up.
"In response, Biden inexplicably asked Russia and OPEC for more oil. National Security聽Advisor Jake Sullivan issued a statement calling on OPEC Plus to produce more oil," he continued.
OPEC Plus includes the original Middle Eastern member-states, as well as Russia and Venezuela.
Pyle said the request for more oil production by OPEC Plus nations directly conflicted with Biden's multiple initiatives aimed at reducing United States' reliance on fossil fuels.
They included the cancellation of the Keystone pipeline on his first day in the Oval Office, effectively suspending processing of domestic oil and gas leases on federal lands, and not challenging a federal court's cancellation of offshore oil and gas leases.
In response to a question from the committee's ranking Republican Rep. Cathy McMorris Rodgers (R-WA), Pyle said the United States should learn a lesson from Europe's failing attempt to replace fossil fuels entirely with renewable sources such as wind and solar.
"People are struggling right now because gas prices are higher than most people can remember," Pyle responded.
"If you look at what has happened in Europe, this rush … to green the grid, to convert to renewables鈥攖o wind energy in Germany for example鈥攊s a huge wake-up call to Europe that they were moving way too fast."
As a result of failing to diversify their energy sources, Pyle said, the Europeans "became dependent, to the tune of 40 percent, on Russia for their natural gas. That is why they are not going to impose sanctions on that energy as they reiterated again today."
He was referring to media reports that European leaders told Biden earlier this week they will not cut off imports of Russian oil.
"Our energy problems didn't start with Russia's invasion of Ukraine, or even with Joe Biden's embargo against U.S. and Canadian energy. They started in 2008 when then-candidate Barack Obama said under his plan energy prices would necessarily skyrocket.
"Ever since the government adopted Climate Change as its official religion, this was inevitable.聽 Europe was already converted, and we see their weakness. Now it is afflicting us," Pyle told The Epoch Times in a separate comment.
Rep. Frank Pallone (D-NJ) said in his opening statement to the hearing that the "transition to electric vehicles" is "good for consumers, our economy, and our environment," and blamed Russia's Ukraine invasion for rising gas prices.
"These prices remind us yet again that we must kick our oil habit and free ourselves from the price volatility of fossil fuels," Pallone said.
He聽also predicted that converting the nation's transportation system to EVs "is one of the ways we can save consumers money."
Pallone is a former chairman of the committee.
Rep. Scott Peters (D-Calif.) told the hearing that "the United States cannot drill its way out this crisis," and he said he believes the country should, in addition to developing green energy sources, also invest in expanded hydrogen production.
Original link : Federal Officials Not Energy Executives Are Behind Soaring Gas Prices, House Panel Told