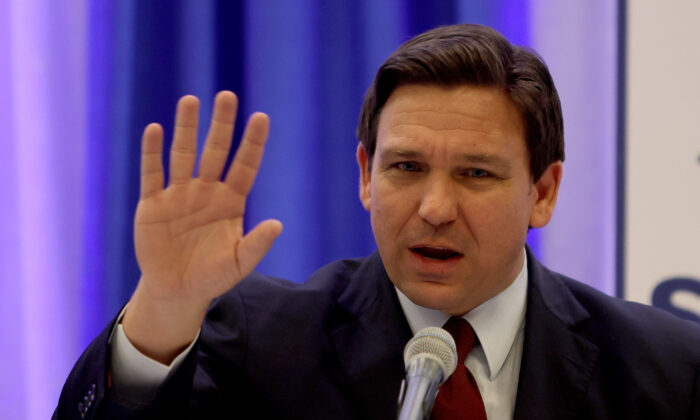 The Florida House on Wednesday evening approved a voting law package that, among other measures to ensure election integrity, would create a new state office dedicated to preventing, investigating, and solving election-related crimes.
The 76–41 House vote echoed the wishes of the Florida Senate, which passed the measure five days earlier. Now, that 47-page bill, which has been inching its way through the Republican-controlled Legislature, is one step closer to becoming law—one of the first of its kind in the country.
Currently, 36 states are considering 128 bills related to elections crimes. The proposed laws cover a wide range of topics, from harassment of elections officials to the collection of absentee ballots for payment. Those bills and their statuses can be viewed at an elections law database  maintained by the National Conference of State Legislatures.
Florida's elections bill officially became slated to move to the desk of Republican Gov. Ron DeSantis when there were just two days left for Florida lawmakers to finish business during their regular session. Once it officially gets to his desk after procedural formalities, he can sign it, veto it, or ignore it. If he choose not to sign or veto, it would automatically take effect.

In November, DeSantis publicly urged members of the Legislature to make creation of an Office of Election Crimes and Security a priority in their regular session that was still two months away. He also touted a need for the legislation when he presented his annual budget to lawmakers in December.
The new law would create a 15-person office that would be part of the Florida Department of State. The office would investigate allegations of fraud, initiate independent inquiries, and take over the management of the state's voter fraud hotline.
The law also would, among other things, increase penalties for organizations violating rules for registering voters from $1,000 per year to up to $50,000 per year. The law also would require an annual clean-up of lists of active voters, instead of every other year. It would tighten security on areas where ballots can be dropped off. And it would increase criminal penalties for fraudulently completing a ballot petition from a misdemeanor to a felony.
And, "in consultation with the executive director of the Florida Department of Law Enforcement (FDLE)," the governor would appoint at least one sworn FDLE special officer "dedicated to the investigation of election laws" in each operational region of the state, according to analysis prepared for the Florida Senate by the staff of the Committee on Appropriations.
The main office would be based in Tallahassee, with a director appointed by the Secretary of State, and employing "nonsworn investigators to conduct any investigations," the Senate staff summary explains.
The bill's language specifies that it would not "limit the jurisdiction of any other office or agency of the state empowered by law to investigate, act upon, or dispose of alleged election law violations," according to staff analysis.
And the office would be required to report its findings annually to Florida's governor, Senate President, and House Speaker.

The Florida measure could be one of the first major election-related bills to pass this year, in a state where many voters say they believe fraud occurred during the 2020 election. Florida is considered a battleground state, where elections for president, the U.S. Senate, and the U.S. House of Representatives can be close. In 2021, voter registrations for Republicans surpassed Democrats for the first time in Florida. But the gap is narrow—less than 68,000 voters.
Opponents of Florida's proposed elections bill have argued that creating a special office looking for voting crimes might make some would-be voters wary to participate in elections. Opponents also have insisted that cheating during elections is rare and doesn't occur enough to warrant the creation of a new office to investigate it.
But across the country, election integrity has increasingly become a worry for people on both sides of the aisle. Texas officials revealed this week their discovery of 10,000 uncounted ballots from a primary election in Harris County, home to Houston. Texas also is considered a battleground state, where elections can be close.
In Florida, the Department of State received 262 election fraud complaints in 2020, "and referred 75 to law enforcement or prosecuting authorities," the department says on its website.
Some news reports about Florida's proposed elections bill have been framed in a "misleading" way, DeSantis spokeswoman Christina Pushaw told The Epoch Times.
"Restoring public trust in elections requires the governor to take proactive, rather than reactive, steps," Pushaw said. "Merely waiting for bad actors to exploit known vulnerabilities in an election, and then attempting to address voter fraud or electoral violations after the fact, is not an effective strategy to assure the public that every legal vote will count in accordance with the law."
The office "would have the authority to investigate potential violations of Florida election law," Pushaw said. "Governor DeSantis does not direct law enforcement in their day-to-day responsibilities, nor would the governor tell law enforcement which specific allegations they should or shouldn't investigate. Governor DeSantis simply wants to make sure Floridians have a clear, straightforward way to report voter fraud so that a dedicated team of law enforcement personnel can address it.
"Having a dedicated team responsible for investigating alleged election-related crimes will function as a powerful deterrent to would-be perpetrators of election fraud. Alongside other election integrity reforms, this measure will go a long way toward strengthening public trust in elections."

Florida's Secretary of State Laurel Lee says on her department's website that elections integrity has been "a defining priority and cornerstone of the administration." The statement says pre- and post-election audits were conducted and those make her "confident in the security and integrity of our 2020 election results."
"Florida's election in 2020 was accurate, transparent, and conducted in compliance with Florida law," Lee says on the website.
Even during his inaugural address in 2019, DeSantis signaled his desire for stricter oversight for elections, saying the state "cannot allow Florida's reputation to be further tarnished by the repeated failure of a small number of counties to conduct elections in a transparent, lawful manner. A generation of botched elections is enough."
States currently considering laws related to elections crimes, according to a database maintained by the National Conference of State Legislatures, are Alabama, Alaska, Arizona, Colorado, Georgia, Hawaii, Idaho, Illinois, Indiana, Iowa, Kansas, Kentucky, Maine, Maryland, Michigan, Minnesota, Mississippi, Missouri, Nebraska, New Hampshire, New Jersey, New York, New Mexico, Oklahoma, Oregon, Pennsylvania, Rhode Island, South Carolina, Tennessee, Utah, Vermont, Virginia, Washington, West Virginia, and Wisconsin.
Original link : Elections Bill Passes Florida House, Heads to Governor's Desk