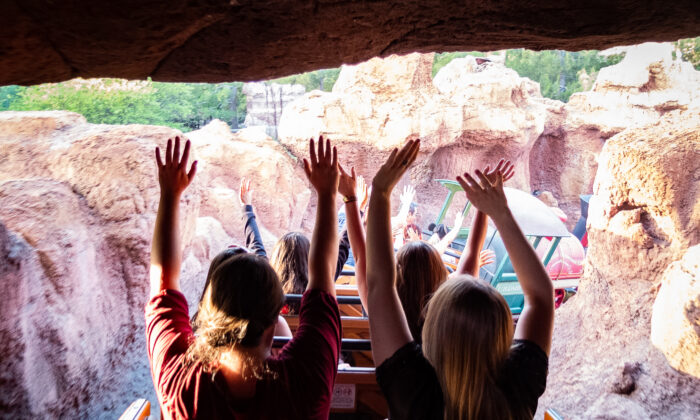 Disneyland sold out of another Magic Key annual pass tier on Nov. 24 as reservation slots are quickly filling up for pass holders amid the busy holiday season.
Believe Key annual pass is the second most expensive pass, providing availability to make reservations for the theme park nearly every day of the year for $949.
"Due to the popularity of the new Magic Key Program and in order to deliver a great guest experience for all guests, the Believe Key is sold out at this time," KTLA5 reported a Disneyland official said.
Other Magic Key types—the Enchant Key and Imagine Key—are still available for purchase.
halt to sales comes nearly a month after Disneyland stopped selling the Dream Key annual pass—the theme park's most expensive pass for nearly $1,400 a year.
Days before Disneyland stopped sales on the Believe Key, Walt Disney World (WDW) in Orlando, Fla., removed multiple tiers of its annual passes from purchase, according to the WDW website.
As Disney limits annual passes available for purchase, fans speculate limited reservations for pass holders might be a reason.
Instagram blogger Happiest Dad on Earth suspects the park is turning away from attracting locals by limiting annual pass sales.
"Between the Dream and Believe Key selling out, the scarcity of reservation, and even the pause to annual pass sales at WDW, it seems like Disney is trying to steer away from annual passes," he told Pezou.
"Disneyland has always been a locals park and therefore geared more to its pass holders. So hearing the troubles with magic key sellouts and reservation qualms, the tide might be shifting away from a locals park, which in my opinion won't go over well with Disneyland's die-hard fans."
Since the Halloween season at Disneyland, pass holders have complained about the lack of reservations available to pass holders.
As of Nov. 24, Disneyland's reservations for all pass holders are fully booked until January as the Christmas season fills the park.
While pass holders express concerns over the inability to secure their slot at the theme park, Disneyland released a notice on their website urging customers to check theme park reservation availabilities prior to purchasing their Magic Key annual pass.
Disney is advising pass holders to make reservations as early as possible as slots are limited, according to the notice.
A Disneyland spokesperson was not immediately available for comment.
Pezou : Disneyland Sells Out of Believe Key Annual Pass