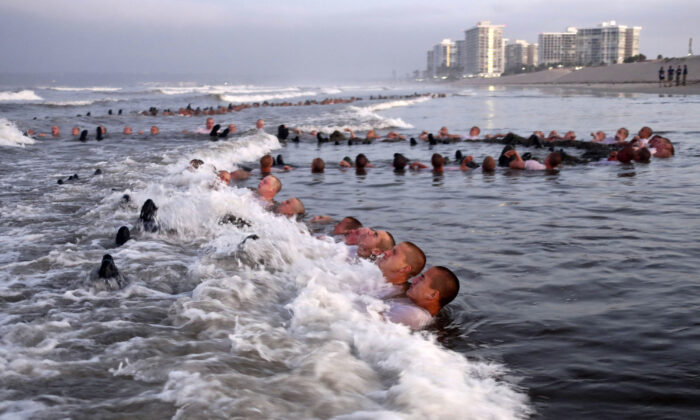 Some California churches and U.S. Navy service members have become more vocal in favor of pushing for religious exemptions from COVID-19 vaccine mandates for those who request them.
Calvary Chapels across California in particular have been taking a stance against businesses requiring their employees to be vaccinated or face termination. Godspeak Calvary Chapel in Thousand Oaks, pastored by Rob McCoy, is one of the churches offering signed religious exemption letters via a form on its website.
McCoy did not respond to a request for comment by press deadline.
Meanwhile, the Occupational Safety and Health Administration (OSHA) issued a statement that it will not be enforcing Biden's current vaccine mandate for large private businesses after an appeals court hearing on Nov. 12 upheld a decision to put the mandate on hold.
In addition, some are getting involved at the federal level. Calvary Chapel Chino Hills Pastor Jack Hibbs—who was also part of former President Donald Trump's evangelical team—encouraged his congregation during a service in late October to pray for First Liberty Institute, a nonprofit public interest law firm dedicated to defending religious freedom. firm is representing 35 Navy SEALs who are seeking religious exemptions from the COVID-19 vaccine.
lawsuit (pdf) was filed on Nov. 9 and claims the Biden administration and the Department of Defense has not permitted religious exemptions. On Nov. 16, the U.S. Judicial Panel on Multidistrict Litigation determined that the Sixth Circuit appeals court will decide lawsuits challenging the Biden administration's federal vaccine mandate. First Liberty has clients challenging the mandate in both the Fifth and Sixth Circuits, according to a press release.
COVID-19 vaccines are now part of the Navy's Individual Medical Readiness protocols. Failure to comply will result in termination without benefits, including the GI Bill.
According to First Liberty's lead attorney Mike Berry, the 40 Navy SEALS are mainly Christian, Catholic, and Protestant with a combined experience of 350 years.
"y object to the use of aborted fetal stem lines [in] the testing, the development, and the production of vaccines, but there are other bases as well," Berry told Pezou.
It is estimated the armed forces could lose thousands of service members when the deadline approaches.
Berry said while the current administration has not granted any religious exemptions for SEALs, they saw similar mandates happen in 1991 during the Gulf War with the Anthrax vaccine, but "that one was challenged."
A federal judge issued a temporary pause during the rollout of the Anthrax vaccine since it was in the experimental stage, so Berry said it's a "good parallel that we see."
"re's not a lot of information available about this vaccine—we continue to hear more and more horrifying reports about people being seriously injured because of the vaccine, especially in young males, which obviously is, that's predominantly what the Navy SEAL community is," he said.
As of Nov. 15, 95 percent of the Navy's active-duty force is fully vaccinated, and over 99 percent have received at least one shot. deadline for full vaccination is Nov. 28 for both the Navy and Marines.
"In order to ensure a fully vaccinated force, it is U.S. Navy policy to separate all Navy service members who refuse the lawful order to receive the COVID-19 vaccination," Vice Adm. John B. Nowell, Jr., the chief of naval personnel said in a statement.
Department of Defense did return Pezou' request for comment by press deadline, however in a statement on Nov. 15, the department said it is currently reviewing exemptions.
"If denied an exemption, Sailors must start vaccinations within five days of receiving that disapproval," the statement read.
Refusing the vaccine will also result in personnel losing their eligibility to re-enlist or extend their service, so any pending agreements will be canceled.
"y've been threatened financially, and they've already been issued an order that neither they nor their family members are allowed to travel if they haven't been vaccinated. So, here we are coming up on the Thanksgiving and Christmas season, and they're telling family members that they can't go home and visit relatives," Berry said.
Berry said they've been contacted by thousands of service members and are giving them legal guidance. However, he said they're unable to take every single case.
"I'm curious myself to know what why the Department of Defense thinks it has the right to tell a service member that they have to choose between their faith and serving the country, especially when we're talking about just our clients alone," he said. "se people who defend our freedom is who they are threatening to kick out."
Biden administration is not only requiring military personnel to be vaccinated, but all federal employees. Civilian employees and most members of the Coast Guard were required to be fully vaccinated by Nov. 22.
Pezou : Churches, Navy SEALs Push for Religious Exemptions From COVID-19 Vaccines