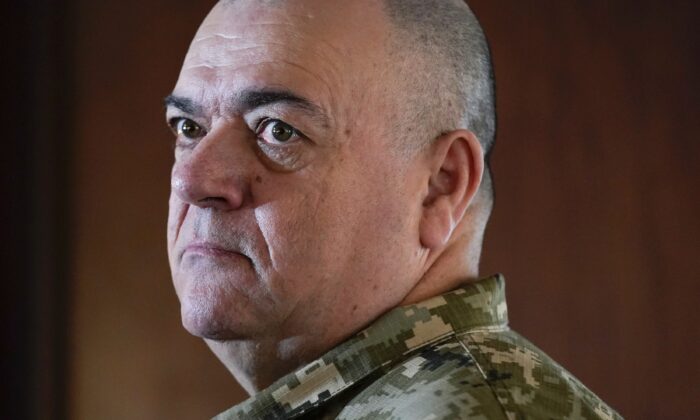 Approximately 100 U.S. citizens have been cleared to join Ukrainian forces fighting against Russia, part of a wave of some 20,000 foreigners who have been approved after Ukrainian President Volodymyr Zelensky called for help.
The Americans include veterans who fought in the wars in Iraq and Afghanistan, including helicopter pilots.
They and other foreigners who have moved to help "really feel that this war is unfair, unprovoked," Ukraine's military attaché, Maj. Gen. Borys Kremenetskyi, said in Washington after meeting with U.S. defense officials. "They feel that they have to go and help."
Despite top U.S. officials, including Secretary of State Antony Blinken, discouraging Americans from going to fight in Ukraine, the embassy in Washington has heard from at least 6,000 people inquiring about volunteering for service since Russia invaded Ukraine.
The vast majority of that group are American citizens, according to Kremenetskyi, who oversees the screening of potential U.S. recruits.
Half the potential recruits were quickly rejected and didn't even make it to a Zoom interview, the general said. They lacked the required military experience, had a criminal background, or weren't suitable for other reasons such as age, including a 16-year-old boy and a 73-year-old man.
Some who expressed interest were rejected because the embassy said it couldn't do adequate vetting. The general didn't disclose the methods used to screen people.
Those approved must make their own way to Poland, where they are to cross at a specified point, with their own protective gear but without a weapon, which they will get after they arrive. They will be required to sign a contract to serve, without pay, in the International Legion for the Territorial Defense of Ukraine.
A source from the legion told The Epoch Times in a Facebook message that volunteers need military or combat experience. At least 550 Canadians and over 1,000 Americans have joined the legion, according to the source.
Fight for Ukraine, a group helping interested Canadians prepare to apply, recommends getting a pack that includes a satellite phone, a battery charger, and a pair of walkie-talkies.

"A lot of volunteers come with many years of military experience. Many have been in various combat situations and thus can help Ukrainian Armed Forces right upon arrival. This saves time that Ukraine would have to spend on training new fighters and can save lives of both fighters and civilians," the legion source said.
Provided Americans who join aren't violating international rules or committing war crimes and are adhering to Ukrainian law, they should avoid legal problems, Mary Beth Long, former assistant secretary of defense for international security affairs and a professor at the Penn State School of International Affairs, told The Epoch Times.
Under U.S. law, Americans need to steer clear from exporting technology or techniques to Ukraine that the Ukrainians can't obtain elsewhere. Retired military personnel, meanwhile, aren't supposed to fight for another country, though getting paid through a third party, if payment is rendered, could help them avoid repercussions for joining the fight.
"As long as they are, as a practical matter, on the Ukraine side of the conflict, and they're not taking and handing over the kind of technical equipment that Ukraine would not otherwise be authorized to have, they're pretty safe," Long said.
The U.S. government has said Americans shouldn't take part in the war. "U.S. citizens should not travel to Ukraine," deputy White House press secretary Karine Jean-Pierre told reporters in a recent briefing. "We've been very clear for some time in calling on Americans who may have been resident in Ukraine to leave, and making clear to Americans who may be thinking of traveling there not to go," Blinken added later.
Other countries have threatened prosecution of certain nationals if they join; still others have encouraged interested citizens to apply to join.
Zelensky, Ukraine's president, issued a call on Feb. 27 for help from foreigners. The invasion "is the beginning of a war against Europe, against European structures, against democracy, against basic human rights, against a global order of law, rules, and peaceful coexistence," according to his office, which added that Zelensky was appealing to "all citizens of the world, friends of Ukraine, peace and democracy" while making clear "anyone who wants to join the defense of Ukraine, Europe, and the world can come and fight side by side with the Ukrainians against the Russian war criminals."
Ukrainian law lets foreigners join the Ukrainian military on a voluntary basis.
The international legion, a group inside the armed forces entirely composed of foreigners, was formed at the time.

Incentives for joining include being eligible for Ukrainian citizenship. People on their way to the front line have spoken of seeing a need to act.
"Everybody likes to talk about freedom but freedom only really goes to people who are willing to show up and fight for it—whether it be at the ballot box or the war," Eric Creager, a Minnesota resident, told CTV Canada on his way to Ukraine.
"I'm a little nervous, to be honest," Michael Ferkol, an American, told Reuters in Lviv. "But at the same time, it's not about me. It's about the people that are suffering."
Ukrainian officials estimated as of Wednesday that some 20,000 foreigners had volunteered. Ukraine was also seeing a response from Ukrainian nationals, with nearly 12,000 arriving in the 24 hours leading up to March 9, according to the legion.
Not everybody who made it to the region ended up fighting.
Keiran Murphy, a Briton who used to serve in the military, wanted to join the Ukrainian military but decided against it because he was told he'd have to stay for months.
"My boy's 11. So to leave him for maybe six months is too long," Murphy told The Epoch Times in Poland, near the border with Ukraine.
He is now helping out with a humanitarian mission.
The number of volunteers matters less than their skills, experience, and potential for cohesion Long, the military expert, said. Deploying foreigners in their own groups is a smart move, because they can be used for precision missions "very tactically," she added.
Russian officials have warned the "mercenaries the West is sending to Ukraine," saying they will not "enjoy the status of prisoners of war."
"At best, they can expect to be prosecuted as criminals," Russian Defense Ministry spokesman Igor Konashenkov told state media recently.
Kremenetskyi, the Ukrainian military official, said the volunteers are "not mercenaries who are coming to earn money," describing them as "people of goodwill who are coming to assist Ukraine to fight for freedom."
Dan Skorbach, Jack Phillips, and The Associated Press contributed to this report.
Original link : 100 Americans Approved to Join Fight Against Russia: Ukrainian Officer