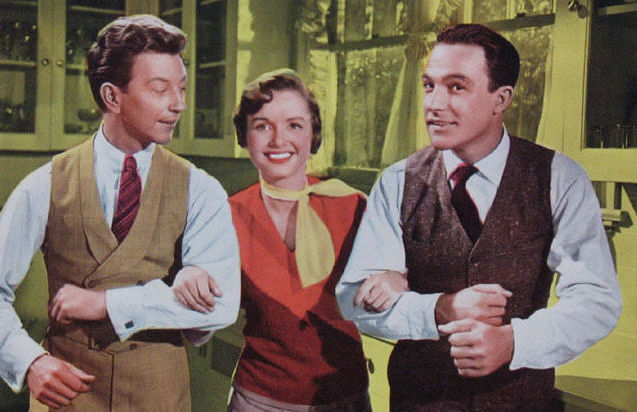 Commentary
"Singin' in the Rain" is near the top of the list of classic films which have remained well-known to this day. Although a lot of younger people haven't watched the whole movie, many have seen clips from the famous dance numbers. Who hasn't seen a picture of Gene Kelly with the lamp post from the title song?
I had the exciting opportunity of watching this movie at Grauman's Chinese Theatre during the Turner Classic Movie Film Festival this April. It was one of only two films I saw in that theater during the festival, but I made it a priority. Seeing this old favorite of mine on any big screen would have been a great experience, but it was especially exciting to be sitting in the Chinese Theatre, watching the characters in the movie playing actors sitting in the very same theater!
You probably remember the story, but, just in case it's a little foggy, I'll refresh your memory. Don Lockwood (Kelly) and Lina Lamont (Jean Hagen) are top silent movie stars, yet no one suspects that the beautiful leading lady is ditzy with an obnoxiously squeaky voice. Don's confidence is shaken when pretty young chorus girl Cathy Selden (Debbie Reynolds) tells him movie stars aren't serious actors, and he starts to think she was right when the introduction of sound threatens the careers of Lockwood and Lamont. It will take the combined efforts of Don, Cathy, and his childhood friend Cosmo Brown (Donald O'Connor) to save the film and the studio from ruin.

Gotta Dance
MGM, the studio that produced this movie, had the best collection of musical stars throughout Hollywood's Golden Age. It also had several major producers and directors who specialized in the musical genre. Arthur Freed, this film's producer, headed the studio's biggest production unit. The movie was directed by Stanley Donen and co-directed by Gene Kelly, who worked side by side with him throughout the process. Although MGM would sometimes utilize its staff songwriters to compose original tunes specifically for a film, they chose to make this a jukebox musical with a soundtrack full of songs written in the 1920s and 30s with lyrics by producer Arthur Freed. The only two new songs added were also co-written by Freed.
The movie stars one of the most famous dancers in Hollywood, Gene Kelly. Well-versed in tap dancing, ballet, and jazz, he was a prolific choreographer. This film's many musical numbers, which Kelly choreographed, gave him lots of opportunities to show off his terpsichorean skills. His pal in the film is played by another amazing hoofer, Donald O'Connor, who is now less known but deserves a lot of credit for his tap dancing, athleticism, and comedic timing. The leading lady is Debbie Reynolds, one of the last musical stars to get her start in Hollywood. The most common anecdotes about this film involve how hard Gene Kelly worked newcomer Debbie on the dance numbers, especially "Good Mornin'." He later admitted that he was too hard on both his co-stars, but the hard work shows in the finished film. Since Miss Reynolds lacked the classical dancing prowess Kelly's leading ladies often displayed, Russian-trained ballerina turned actress Cyd Charisse was featured in the musical movie sequence, The Broadway Rhythm Ballet.

Thinking about this movie probably makes you remember Gene Kelly's splashing around in puddles on a Los Angeles street while "singin' and dancing' in the rain." His signature routine in the downpour is just a fraction of the film's musical offerings, though. When we first meet Don Lockwood and Cosmo Brown, a flashback shows the duo's performances of "Fit as a Fiddle," including complicated singing, dancing, and fiddle playing, in hick towns around the country. Another great duet the two men perform is "Moses Supposes," as they overwhelm Don's uptight diction coach with singing rhymes and tap dancing. Of course, no one can forget "Good Mornin'," which features Kelly, Reynolds, and O'Connor dancing all over Don's mansion while making complicated moves, gags, and stunts look effortless and fun. Donald O'Connor gets the chance to shine in his solo, "Make 'Em Laugh," in which he performs every slapstick vaudeville stunt in the book on a soundstage to cheer Don up. The pièce de résistance is the Broadway Rhythm Ballet. Dramatic enough to be its own film, it tells the story of a young hoofer (Kelly) who breaks into show business in New York, only to be haunted by an unattainable flapper siren (Cyd Charisse). Their two balletic duets are contrasting masterpieces of strength and grace, one modern and daring, the other fluid and ethereal.
25 Years Ago
The 1920s were a unique decade of American history. Although they are now a century ago, "Singin' in the Rain" was made just 25 years after its setting in 1927. Costumers in the 1950s often overlooked historical accuracy in favor of style and convenience. The straight, boyish silhouette and dropped waistline preferred in the 1920s were very different from the exaggeratedly feminine hourglass silhouette which resurged in the 1940s and flourished in the 1950s. Sometimes more accurate modes would be used but would be "improved" with structured 1950s undergarments. Other times, the clothes would look fairly accurate, but the hairstyles would be modern. Even the men's suits often lacked the necessary details to make them look like styles from a past age. One reason for this is that it was easier and more affordable to reuse costumes for and from other films, and there were just more uses for modern clothes.

"Singin' in the Rain" doesn't fall into this category of inaccuracy. The fashion, the hairstyles, the silhouettes, and even the automobiles are accurate to 1927. I know they missed some details, but the overall look is very convincing. This adds to the impression that you're watching a musical history lesson. People who are less familiar with film history may struggle to remember when the silent film era ended. This movie serves as a good reminder, painting a vivid picture of what the film industry faced when Warner Bros' "Jazz Singer," the first major talking picture, was a hit. There are extensive sequences of black-and-white film, excerpts from the movies being made in the story. This cinematography indeed looks old enough to be from 1927. There even are caricatures of real silent movie stars in the cast. For instance, Rita Moreno as Zelda Zanders is a take on Clara Bow, Judy Landon as Olga Mara is based on Pola Negri and Gloria Swanson, and Don's painful first attempts at acting for sound are based on John Gilbert's struggles.
Lina Lamont's (Jean Hagen) struggle to transition to sound because of her obnoxious voice and strong New York accent is a funny plot point in the story, yet it was based on the real struggles of many stars. Many highly successful silent stars' careers basically ended after the 1920s because their voices were unappealing, their accents were too strong, or they sounded unnatural reciting dialogue. Overdubbing Lina's speaking and singing for an entire film is an elaborate and complicated solution, but, as publicity man Rod (King Donovan) says in the film, "The studio's gotta keep their stars from looking ridiculous at any cost." What makes this situation even more ironic is a bit of behind-the-scenes trivia. Anyone familiar with Debbie Reynolds's early work will remember that she had a rather squeaky speaking and singing voice. However, she musters a rich tone when overdubbing Lina's speaking and singing which we never hear any other time. Just like Lina in the movie, Debbie's voice was not considered right for these parts. Her singing on the two romantic ballads was dubbed by Betty Noyes, although Debbie's voice was used in "Good Mornin'" and "Singin' in the Rain." Ironically, Cathy's speaking for Lina was dubbed by Jean Hagen, the actress playing Lina, using her unmanipulated voice!

A Great Movie
There are so many reasons why "Singin' in the Rain" has remained in the public consciousness. It's terrific, of course, but hundreds if not thousands of wonderful movies have fallen into obscurity; that alone clearly doesn't explain its enduring popularity. The timeless entertainers and amazing musical numbers they perform have kept the dance scenes in the public eye as no dialogue ever could.
Above all, this movie encapsulates the glamour of Old Hollywood through a glimpse into the film industry. The whole story is about actors, actresses, and the exciting behind-the-scenes activity on a studio lot. It's even more intriguing because it's about one of the most frantic times in Hollywood history, the transition to sound in the late 1920s. In addition to providing great fodder for story content, the Jazz Age setting created a vibrant Technicolor background to the romance, drama, and creativity.
Seeing this movie on the big screen, I noticed details I'd never seen before during the dozens of times I'd watched it. For instance, I realized a couple of years ago that Cyd Charisse wears green-tinted stockings with her green dress in the Broadway Rhythm Ballet. It wasn't until TCMFF that I realized all the women's costumes feature color-coordinated stockings! That's just one of the numerous intricate details which can keep you watching and loving this film again and again throughout your life.
Original link : 'Singin' in the Rain' (1952): A Musical History Lesson