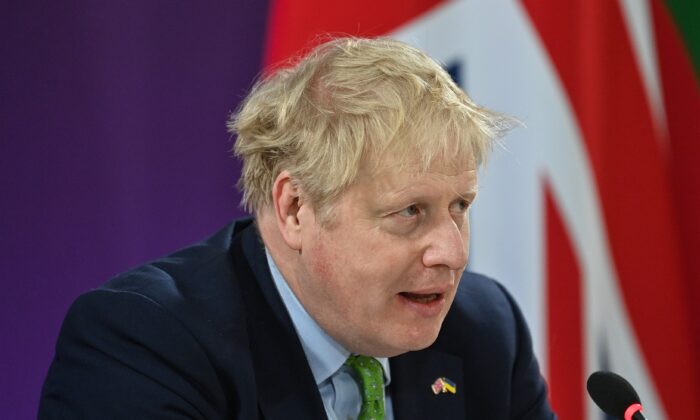 The West made a "terrible mistake" in 2014 when it allowed Russian President Vladimir Putin to get away with annexing Crimea, British Prime Minister Boris Johnson has said.
In a commentary in The Telegraph, Johnson wrote: "When Vladimir Putin invaded Ukraine the first time round, in 2014, the West made a terrible mistake. The Russian leader had committed an act of violent aggression and taken a huge chunk out of a sovereign country—and we let him get away with it.
"We decided we could somehow go back to normality. Economic relations did not just resume—they intensified, with the West taking more Russian gas than ever before, becoming more dependent on the goodwill of Putin and more exposed to the vagaries of the global gas and oil price."
He said the "addiction" to Russian fuel had "emboldened" Putin to bomb civilians during his invasion of Ukraine, while at the same time profiting from soaring global oil and gas prices.
The prime minister said Western dependence on Russian energy must now end because "as long as the West is economically dependent on Putin, he will do all he can to exploit that dependence."
"We cannot go on like this. The world cannot be subject to this continuous blackmail," he said.
"If the world can end its dependence on Russian oil and gas, we can starve him of cash, destroy his strategy and cut him down to size," he added.
The UK government said last week that it will phase out importing Russian oil by the end of the year.
Later on Tuesday, Johnson will jet to Saudi Arabia for talks with Crown Prince Mohammed bin Salman in the hope the kingdom can increase its production of oil and gas to make up for the gap in supplies.
In his Telegraph article, Johnson said he will set out a British Energy Security Strategy later this month to make the UK "more self-sufficient and no longer at the mercy of bullies like Putin."
He said there is a need to press ahead with investment in renewables, including expanding the number of offshore wind farms and creating more solar power.
Johnson also said there needs to be a "series of big new bets" on nuclear power, with a strategy that includes small modular reactors as well as the larger power stations.
He reaffirmed his ambition to achieve "net zero" emissions target, but said the country "will of course continue to use oil and gas as we make the transition."
"It is crazy that we are importing oil and gas from Putin's Russia when we have our own resources in the North Sea," he said.
Johnson said "it is time to give investors more confidence in British hydrocarbons," but stopped short of mentioning the prospects of shale gas mining in England, where a moratorium on fracking is still in force.
PA Media contributed to this report.
Original link : West Made 'Terrible Mistake' Over Russian Annexation of Crimea: UK's Johnson