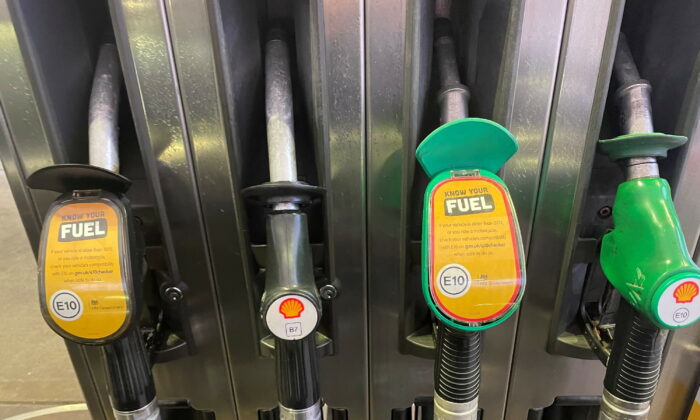 Britain's new sanctions on Russian oil and gas imports could have an impact on the cost of living in the UK, politicians and experts have warned.
Business secretary Kwasi Kwarteng announced on Tuesday that Britain will join the United States in halting the import of Russian oil and related products, to ramp up the economic pressure on Russia following the invasion of Ukraine.
Russian oil and related products will be phased out of UK imports by the end of 2022, Kwarteng said.
In a statement posted on Twitter, he said, "This transition will give the market, businesses and supply chains more than enough time to replace Russian imports—which make up 8 percent of UK demand."
He said that he was also considering ending the Russian supply of natural gas to the UK, which makes up 4 percent.
Ukrainian President Volodymyr Zelensky praised the new sanctions, saying that they sent a "powerful signal."
But Prime Minister Boris Johnson suggested that Britons would be experiencing more pain at the petrol pumps, where prices have already soared since the Russian invasion of Ukraine began last month.
Johnson told broadcasters on Tuesday that the UK was "less exposed" than some European nations but that dropping Russia from supplies couldn't be done overnight.
Conservative MP and former Housing, Communities, and Local Government Secretary Robert Jenrick told the BBC's "Newsnight" it could be "the most difficult economic year we've seen in my lifetime."
No UK petrol demand comes from Russia, nor heating or fuel oil, but 18 percent of the total demand for diesel comes from Russia, according to the Department for Business, Energy, and Industrial Strategy.
Robert Buckley, an energy analyst at Cornwall Insight, told the BBC that although the UK ban was "largely symbolic" because only 8 percent of its energy comes from Russia, it would likely combine with other factors and push up prices.
According to UK automotive services company RAC, drivers and businesses were hit on Tuesday by the second-largest daily hike in diesel prices for more than 20 years.
The average cost of a litre of diesel at UK forecourts reached a record 165.2 pence on Tuesday, up from 162.3 pence on Monday.
The RAC said the jump of more than 3 pence was the second largest since 2000.
The average price of a litre of petrol also increased, from 156.4 pence on Monday to 158.2 pence on Tuesday.
RAC fuel spokesman Simon Williams said on Wednesday, "Wholesale fuel prices have already risen dramatically this week, so more pump price increases in the coming days are inevitable."
Simon Veazey and PA Media contributed to this report.
Original link : UK Sanctions on Russian Oil Will Push up Living Costs, Britons Warned