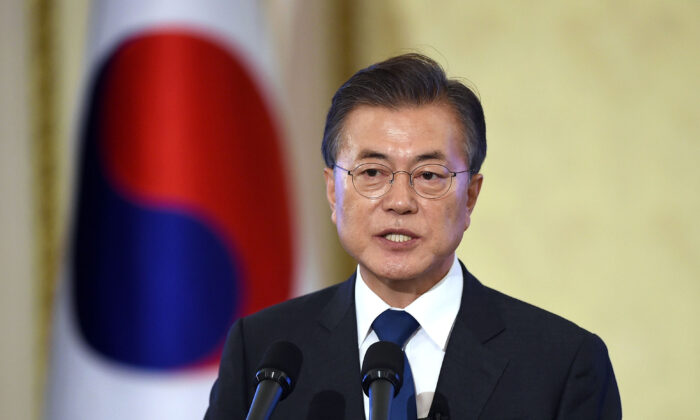 South Korea's government said Monday that it will join the international move to suspend transactions with Russia's central bank and impose sanctions on Belarus over Russia's invasion of Ukraine.
"The [South] Korean government has decided today, March 7, to join other nations in imposing additional sanctions including the prohibition of transactions with the central bank of Russia," the foreign ministry said in a statement.
The ministry said that it will review and announce details of the sanctions after consulting with relevant government agencies.
Belarus, an ally of Russia, will also be subject to new sanctions. The South Korean government said Sunday that it will implement export controls against Belarus for "substantially enabling Russia's invasion of Ukraine."
The ministry did not specify what sanctions will be implemented against Belarus, but stated that they would be comparable to those already taken by South Korea against Russia.
"The [South] Korean government strongly condemned Russia's armed invasion against Ukraine and decided to take export control measures on Russia for a peaceful resolution of the situation," the ministry said in a separate statement.
The government has previously halted financial transactions with seven major Russian banks and their subsidiaries. The banks include Russian state development corporation VEB, state-owned financial institution Sberbank, PSB, VTB Bank, Bank Otkritie, Novikombank, and Sovcombank.
Local public and financial institutions were also urged to discontinue trading in Russian state bonds. South Korea also banned Russian banks from the SWIFT global interbank network and imposed a restriction on strategic item shipments to Russia.
Russia retaliated by adding South Korea to its list of countries that have engaged in "unfriendly" measures. The Russian government, businesses, and citizens will be able to pay foreign exchange debts to foreign creditors from "unfriendly countries" in rubles under this decree, the Tass news agency reported on Monday.
U.S. Secretary of State Antony Blinken expressed gratitude for the South Korean government's commitment to joining the international community's efforts to impose sanctions on Russia, according to the foreign ministry.
Meanwhile, South Korean multinational conglomerate Samsung announced a temporary ban on product exports to Russia. The company pledged to donate $6 million to fund humanitarian efforts in Ukraine, including $1 million in consumer electronics.
"Samsung was forced to stop shipments to Russia due to various factors, including logistics issues and unstable exchange rates, like many other global companies," Samsung's spokesperson told Yonhap News Agency on Monday.
The move follows a request from Ukraine's Deputy Prime Minister Mykhailo Fedorov for the company to "temporarily stop supplying Samsung services and products to the Russian Federation, including blocking access to the Samsung Pay, Samsung-Galaxy Store, and Samsung Shop."
"We believe that such actions will motivate the youth and active population of Russia to proactively stop the disgraceful military aggression," Fedorov said in a letter to Samsung.
Original link : South Korea Joins Sanctions Against Russian Central Bank and Belarus